With the current status of the world I don't feel like traveling abroad, so I took the opportunity to visit four of my favourite people in the Dutch brewing world; Carina and Gert from brewery Mommeriete and Arjanneke and Gijs from De Gooische bierbrouwerij.
We also took the opportunity to visit Wildlands Zoo, since this is half an hour by train from Mommeriete. Wildlands is a gorgeous zoo with some fun rides as well. I wanted to visit some megalithes as well while we were in Emmen, but I overestimated the amount of traveling I can do these days, so those are for another day.
Mommeriete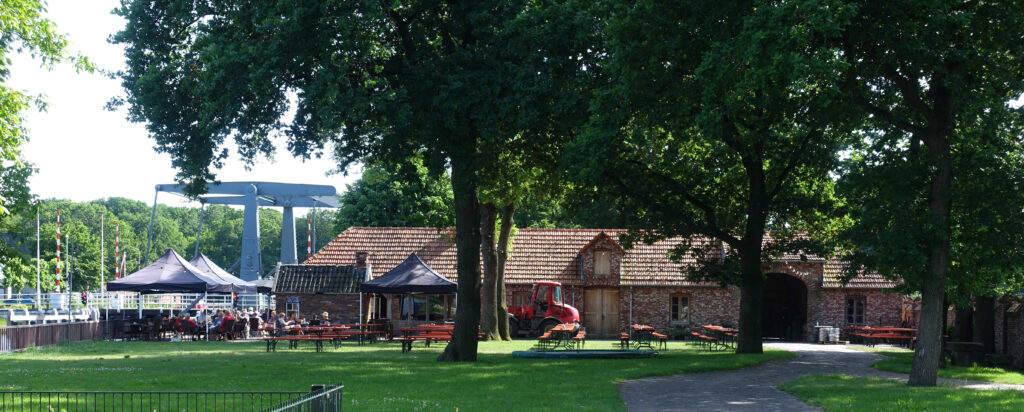 Mommeriete is a must-visit for every serious beer lover in the Netherlands. They have meant so much for the Dutch beer culture and beer in the Netherlands!
Mommeriete is based in the small village of Gramsbergen in Overijssel. It's 2,5 hours by train from my home city, but the brewery is conveniently located near the train station. Mommeriete is named after a former swamp area between Gramsbergen and Coevorden where the battle of Ane took place in 1227. I met Carina before at the Best Bokbier of the Netherlands competition in 2019 and we promised to visit her soon, but it took us another two years to actually visit.
You can find the brewery and cafe in a centuries old and authentic building (A sailor café) near the water de Vecht with a lot of the details still intact including a bedstead or cupboard bed. The brewery has been there since 2008. If you are looking for something typically and authentically Dutch, you really need to visit! From the building, to the terrace to the simple yet gorgeous dishes, for me it feels like home. If there is one thing I wish to be different, it would be the traffic on the other side of the Vecht, but you can avoid that by picking one of the other terraces farther away from the water. The building was way too small at first to accommodate all guests so over the years they subtly expanded the venue. It's hard to tell where the old stops and the new begins though, and a lot of people assume all of it has been there since the days of old. They also surrounded the lands and created three huge outside terraces and all in all created a perfect place to stay for a while. They have a lot of facilities and can give you a tour through the brewery. You can also take a boat trip to Germany in authentic boats with Vechtezomp.
Gert and Carina began their brewery in 2004 and still brew together to this day. They began brewing in the 80s and are one of the first in the Netherlands since the Dutch beer revolution, one of the reasons you should visit them! They live and breath beer and actually live in their brewery, hoping their children will someday take over. They are building/renovating a new house to live in nearby, which is positively gorgeous, but it will take some time before they can live there. It's part of their ambitious plan to restore the castle of Gramsbergen, but the castle itself is probably a project for the newer generation. But at least they already have a canon (which is an interesting story in itself). Carina showed us around, in the brewery and their future house and I might be a tad bit jealous. Even though they spend all their free time renovating, beer is definitely their life. You can find Carina early mornings in her pajamas already crushing the grains for that day and Gert can probably fix and build anything for their brewery. Together they brew the most gorgeous beers, and I'm not exaggerating.
They are inspired a lot by the German beer culture, and visit Germany often, sometimes together with Gijs and Arjanneke, although not even always on purpose, but ending up together anyway. Hence you can find a lot of smoked beers in their assortment like De Vaandrig (bock) and the Gramsberger Rauch (märzen), but also De Nachtwacht (Porter). They also have a Blond, a Weizen, a Vienna, a Tripel, a Quadrupel and more and they always have a gorgeous varied selection on tap every time you visit. I have been told their Vienna is the best, but I guess I have to go back in autumn to find out for myself. Next to their beers they also make gorgeous beer cheese and beer sausage and pasty. And they have their own whiskies and liquors. If that all wan't enough, they still love to experiment with beers as well and we got offered a gorgeous rauchbier when we were there.
Carina and Gert brew everything themselves and on location, so the batches are small and they mostly sell all the beer they brew themselves in Gramsbergen. Therefore it's hard to get their produce anywhere else, and you have to visit them to taste and buy their beers, and even then you have to be lucky to be able to buy something to take home. We wanted to bring something for Arjanneke and Gijs, but unfortunately they ran all out. So, all in all a lot of reasons why you have to visit them. So just do that! And enjoy your visit!
When are you going to visit Mommeriete?