As I visited Burton last year with the new students, I visited Dortmund in 2018 with my own study group. Our assignment was to brew a Dortmunder Export, but none of us ever drank a one before. I contacted a lot of shops and cafés around the country and some across the border, but no one had a Dortmunder Export. Well, no, yes, one shop hád beers in this beerstyle, but these beers didn't really sell. I bought them anyway, but when we tasted them in class, they all turned out to be old, too old for a proper tasting. So there was only one solution left: Go to the source.
Although the plan was met with a lot of enthusiasm, it turned out to be impossible to plan a weekend with everyone, so in the end we went with six people at the end of june. Turned out that in the weekend we chose, there was a massive Pokémon event in Dortmund. But we didn't let that stop us!
Before we went, I contacted some local breweries, venues and a local biersommelier to help us plan the trip. Turned out we could find all the information we wanted at the museum, so in the end we planned to visit The Brauereimuseum and several pubs.
Dortmund is a relatively big city a two hour drive from Eindhoven. We underestimated the massive surge of Pokémon hunters that weekend. It was extra entertainment for sure, but it also meant all the pubs were crowded. In these regions it's normal the waiters write your order on your beer mat and it's also customary to communicate with them.
Dortmund had quite some breweries back in the days, but these days all the major breweries became part of the Radeberger (Dr. Oetker) group. The most important ones are Brinkhoff's, Dortmunder Kronen, Dortmunder Actien-Brauerei (DAB), Dortmunder Union, Ritter, Dortmunder Stifts, Dortmunder Hansa and Dortmunder Thier Pils, which you can all find in the museum.
The museum is housed in an old brewhouse and one of the only brewing related buildings still standing from before the First World War. In 1912, the expanding Dortmunder Hansa brewery built a new brewhouse and machine house. They hired the architect and engineer Emil Moog, who also created the industrial buildings for the Dortmunder Union brewery with its famous Lagerkeller skyscraper in 1927. The Brewhouse has been used by other breweries as well, like DAB. The historic powerhouse with the 1968 built machine room (steam power!) has been the new home of the Dortmund Brewery Museum, which was opened originally in 1981 until 2001. In 2006, the museum was reopened. You can find it on the grounds of the Dortmunder Actien brewery in the north of the city.
The Brewery Museum Dortmund is dedicated to the long and successful brewing tradition of the largest city in Westphalia and the Ruhr area. Dortmund is known for its industrial brewing, with the use of steam engines and more. A large part of the museum is dedicated to that specific part of the Dortmunder brewing history. Witth coal and steel, the beer formed the triad that made Dortmund the leading German industrial city in the 20th century. In the museum you can find all the former big breweries of Dortmund.
We visited the museum first and it basically is THE place to be in Dortmund if you want information about beer and the Dortmunder beer history. The rest of our time we spent by exploring all the different beer venues, trying a Dortmunder Export style beer if they had one, and other local specialties.
We began our pub crawl at The Bergmann kiosk, to try our first Dortmunder Export in a plastic cup. It was not a typical Dortmunder Export, since this was a naturtrüb version (unfiltered) while it's normally a filtered beerstyle. Bergmann is a smaller brewery, one that is NOT part of the big Radeberger group. After that we went to Hövels Hausbrauerei brewpub (a part of the Radeberger group), where they unfortunately didn't rinse their glasses very well, so some of our beers tasted like detergent. The food was nice though… Very German…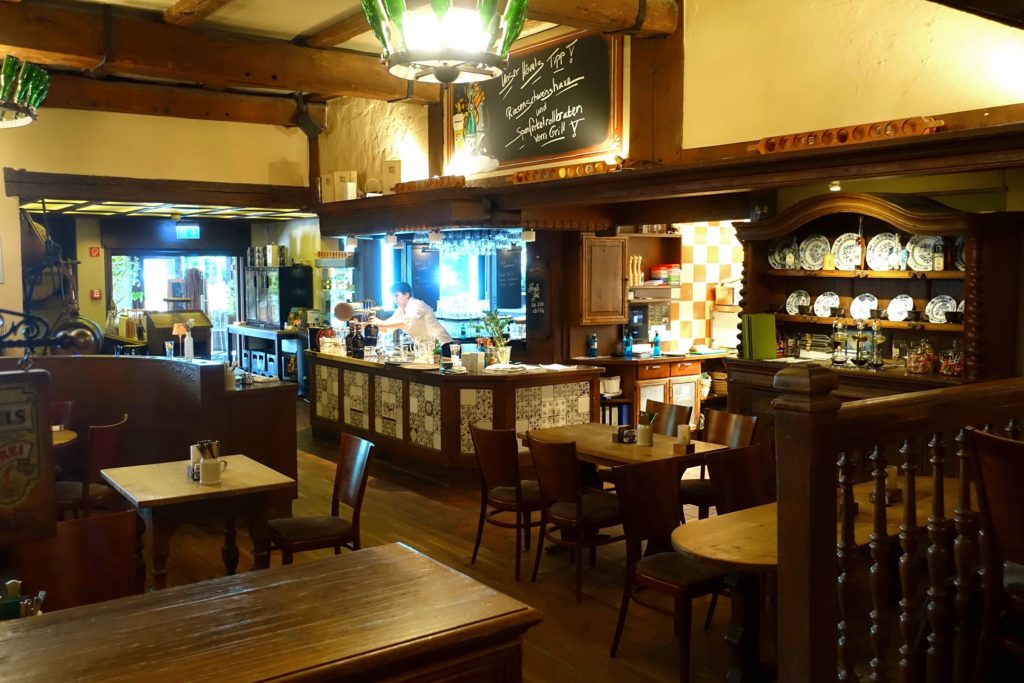 We moved to the market square after that and tried several bars there. We wanted to go to Zum Alten Markt first, but the place was so crowded, people were hanging out of the windows just to catch some air. So we went to Wenkers am Markt instead. This place was also packed, but we did find a table. It took more than an hour however before we got our beers.
At Wenkers we decided to try some other local specialties. You have probably heard of the Reinheitsgebot. As a German brewer you are only allowed to brew with barley malt, hops and water (exclusions were made for several specific brewers to brew with wheat). Apparently these strict brewing rules led the German people to be very creative AFTER the brewing process with serving the beers, that's why in Germany you can find all kinds of beer mixes on the menu. Radler is a widly known example. There's a story about Herr Kugler who got more customers in his place than anticipated one day – most of them cyclists, hence the name radler – so he started to mix his beers with lemonade because he knew he wouldn't have enough beer for everyone. The most famous one is probably the custom of adding syrup to a Berliner Weisse though, which is called Berliner Weisse mit Schuss: Berliner weisse mixed with Waldmeistersirup or Himbeersirup. In Dortmund we tried a Bierbowl at Wenker which is Wenker Urtrüb with a whole peach in the glass, and a Hefeweisse with a banana in your glass at the Zum Alten Markt later that evening.
Because these mixes are so very German, you should try them once, but I cannot say I'd order them again.
In the afternoon we went to the Bergmann brauerei. To get there you have to follow a remote walking and cycling path into the middle of nowhere, a walk which is interesting in itself and the brewery is worth it! You cannot visit the brewery in the weekend, but you can try a lot of their beers straight from the source. The Stehbierhallen is a bit like Oedipus in Amsterdam or the Tower brewery in Burton.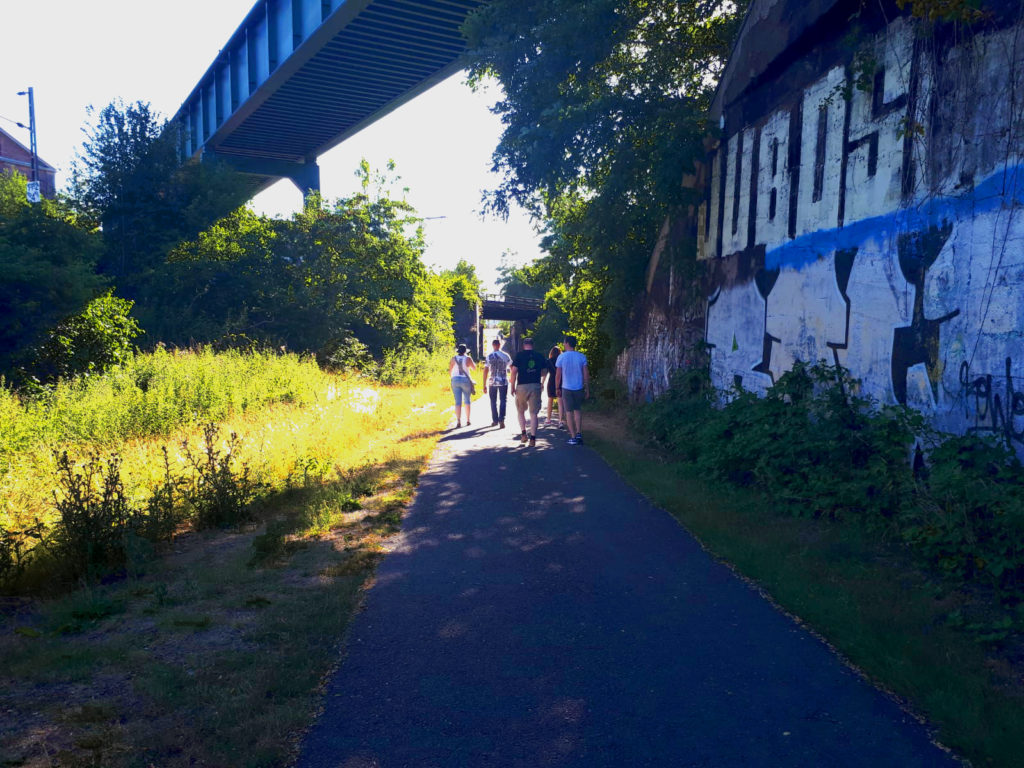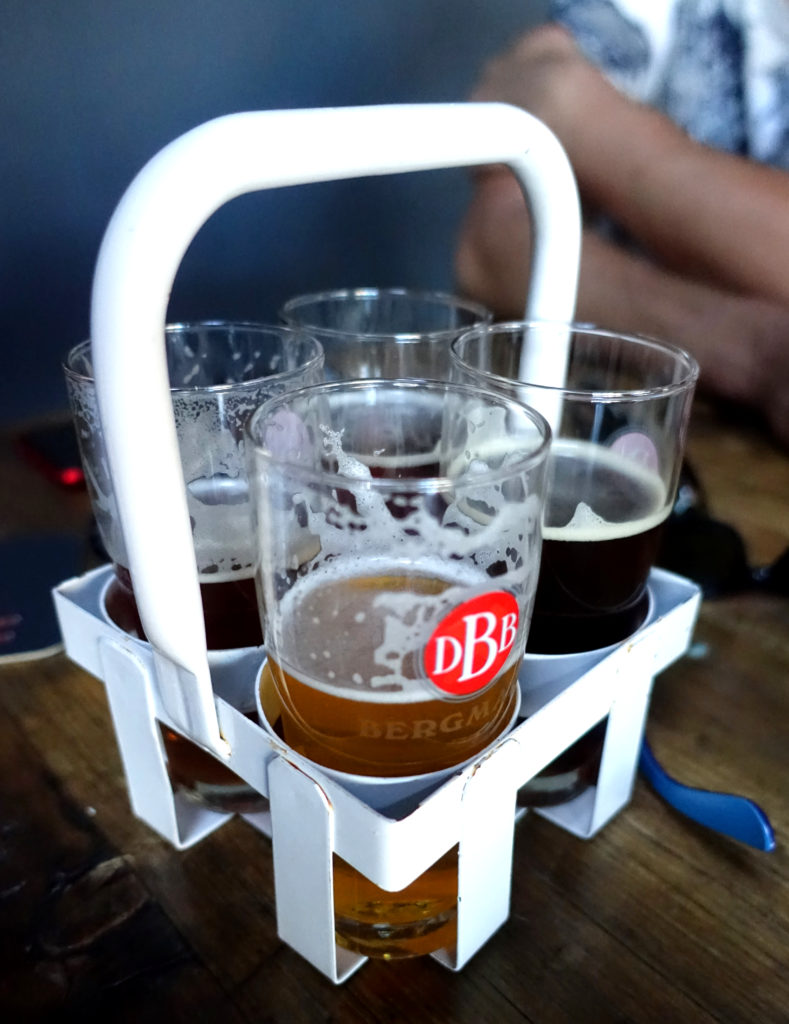 Later that evening we did make it into Zum Alten Markt. And we also visited a very cute, local bar named Gänsemarkt.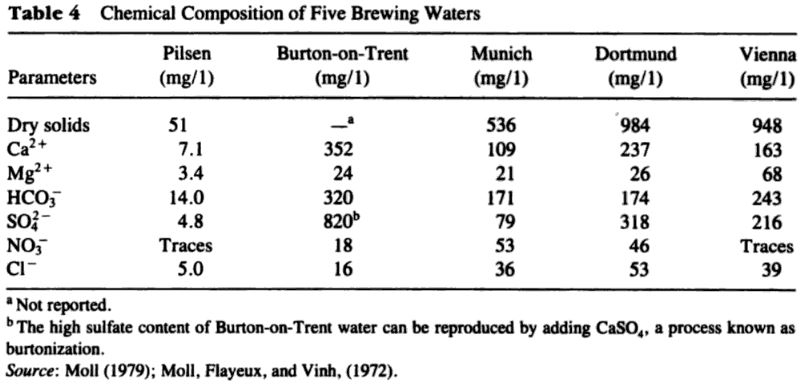 Did we learn a lot about the Dortmunder Export? We certainly got to taste some different ones! A Dortmunder Export earns its distinct flavour to the local water, just like the Burton ales. It's labeled export, which means it's slightly higher in alcohol, but don't confuse it with the Dutch Dort beerstyle. It is somewhere between a Helles and a German pilsner. It's malty, but not helles malty, and it's hoppy and bitter, but not as much as a pilsner. It has a moderate body, thicker than a pilsner, comparable to a helles, but less than a märzen. It's a lager, which gives it quite a clean yeast profile. A sulfuric note is possible, but we didn't find that in the beers we drank.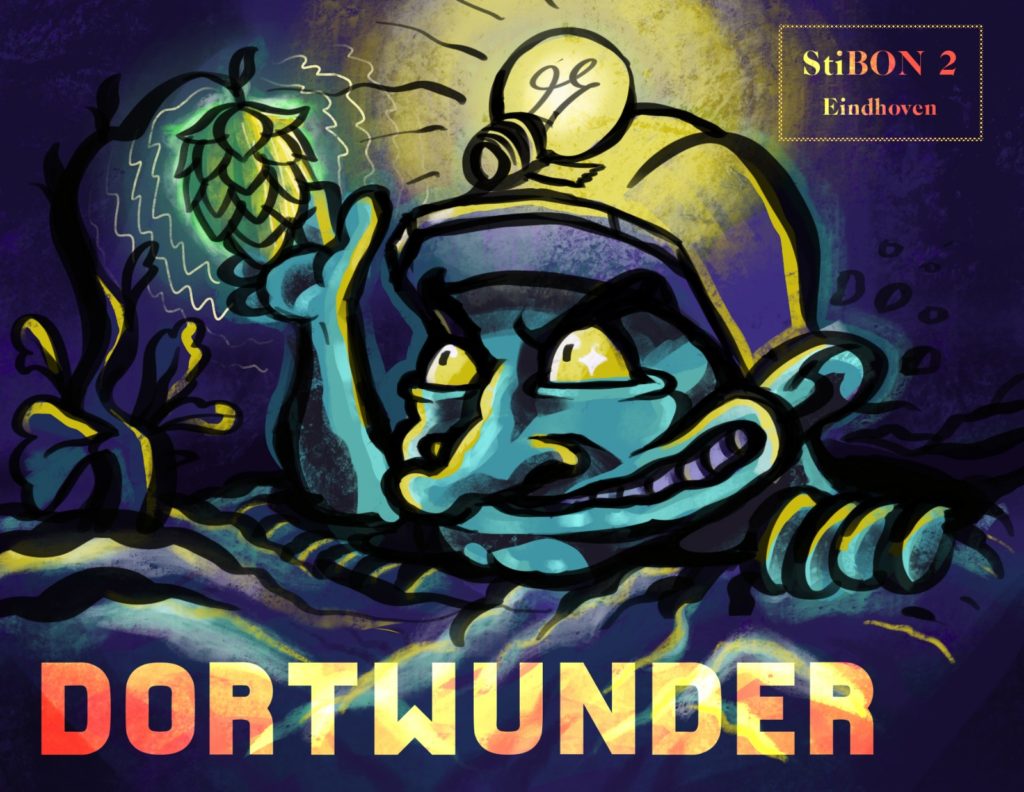 So now we knew what our future Dortwunder had to be like.
Have you ever had a Dortmunder Export? What did you think?