This post is way overdue, but to be honest, I was waiting for a time I would be in good health again to make new pictures and visit all to gather some more information, instead of working on my fragile memory. But it turns out life doesn't work like that and it will be some time if ever before I'll be in a similar health again that I was say 5 years ago. That said, I have tickets for Van Moll Fest upcoming weekend, which frightens me a little, but it will be awesome, the more because we planned to do some exercises for the Dutch Championships at the festival.
I plan to come back in detail to several of the venues I'll name in this blog, but that will be after I had the chance to talk with them in more detail about everything. So this post is mostly going to be an exercise in memory.

Eindhoven is an awesome city, and I'm not just saying that because I'm born and raised here. Well… Maybe a bit, but it's not without reason I came back after some years living in other cities like 's Hertogenbosch, Amsterdam and Zaandam. In the '90s Eindhoven was rock heaven, with several alternative stores and alternative cafés (I soooo much miss you Big Ben, Begijntje, Thunderroad house, and even the hardrock café under Dynamo a bit), but what we lost in rock, we gained in beer.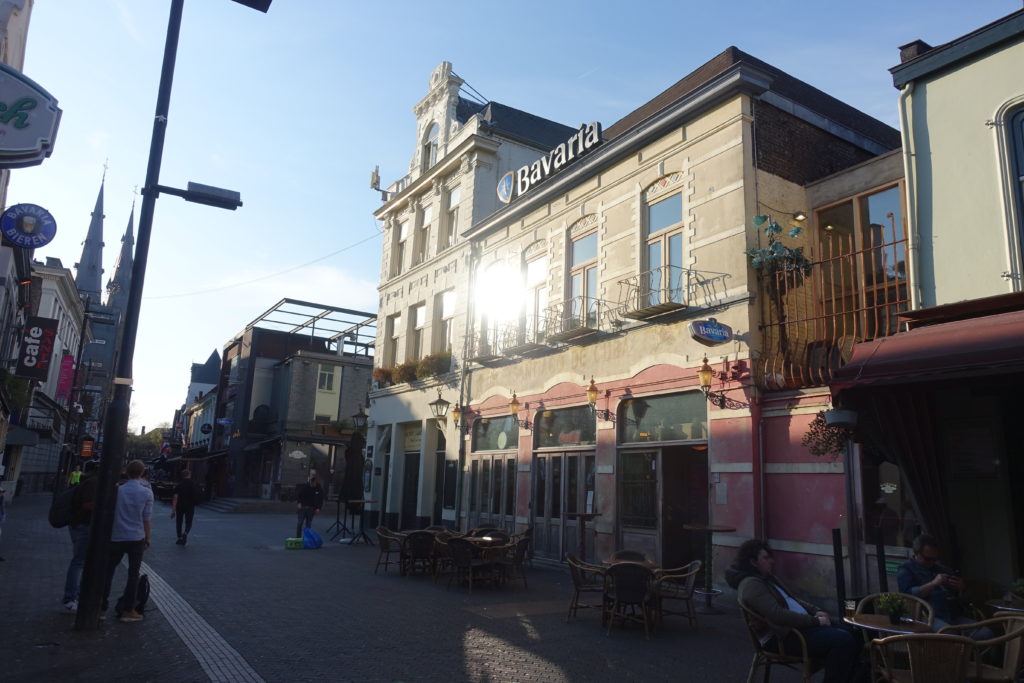 For me it started with De Bierprofessor in 2002, which you can still find on Stratumseind. I know De Baron was older, but I mostly remember the Baron as a restaurant where we ate frequently when I was 12. (I am talking about after the 1990s now, I know we had a lot of breweries and all decades before in Eindhoven, but, yeah, those Dutch wastelands happened. I hope to come back to that Eindhovense beer history in a later post though, but you can find some pictures here). It's not that you couldn't get non-pilsners before, a lot of cafés sported the standard (Belgium) beers by then and there are also the Trafalgar Pub and O'Sheas, but the beer menu of De Bierprofessor was definitely something different. Leefcafé Het Spiegelbeeld closely followed by opening in 2003 or 2004.
After that it all happened quite fast. Several biercafés opened as well as microbreweries and specialised shops. They started organising beer festivals and fast forward to 2019 Eindhoven is beer awesomeness! Places you should at least visit when you are here: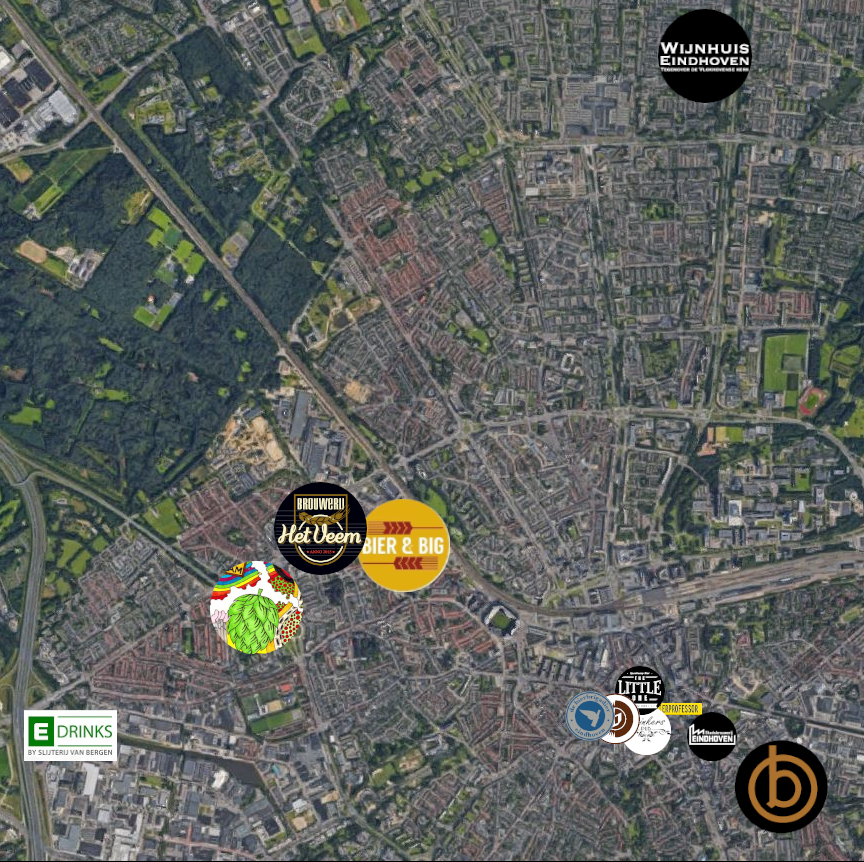 Van Moll: a brewpub where you can sit on top of the brewery in typical Eindhovens industrial surroundings. They have an extensive beer menu, ciders, also some other drinks, pretzels and an interesting board game collection. Van Moll brews quite some beer over the year, so only a small part is brewed in the pub.
100 Watt and their pub is also a microbrewery based in an old factory, at the periphery of the city centre. They organise a lot of brewery tours and beer-food tastings and have an extensive food menu. One of their volunteers was in my beersommelier course group and we passed our biersommelier exams together!
Drinkers Pub: a semi-rough pub with over a 1000 beers and 30 taps, and also a very interesting whisky and cider menu. They serve some pub food and you can watch sports if you want to, or just sit and talk in the dark while enjoying your beer.
De Bierprofessor is a very small café at the infamous Stratumseind with 250 beers on their menu
Café The Jack is an official BrewDog seller, so they have BrewDog on tap. They're above all a rock café though.
The Underdog is an official Lagunitas seller with a lot of other American guest beers as well. They call themselves an American dive bar in Eindhoven.
Belgisch Bier Café Eindhoven: since a few weeks you can find the Belgium beer café Eindhoven at the infamous Stratumseind as well, sporting a lot of Belgium beers from tap and lovely Belgium meals to accompany them.
Edrinks (closed since 2021) is a beer shop with a massive inventory and the owner is a diplom biersommelier as well, but it is a bit outside of the city centre.
De Bierbrigadier has a smaller inventory, but is in the city centre and has a very enthustiastic owner
de Bottle shop is at the periphery of the city centre with a very specialized beer and wine assortment, also run by a diplom biersommelier and a wine expert.
Het Wijnhuis or winehouse also has a massive collection of beers, but is mainly a huge wine store, with a side assortment of several liquors, outside of the city centre
Brouwerij het Veem: a micropub based on the very popular Strijp-S in the big food court and food hall.
The Little One is not a beer café, but it's just so cute, being one of the smallest cafés you'll find anywhere
Rabauw is a brewpub that landed in Eindhoven in 2020 at Strijp-S.
And there are so many more interesting venues like the Trafalgar pub, the O'sheas, Proeflokaal De Gaper, the Altstadt (where I spend a major part of my youth), etc etc etc. There are also several breweries you cannot visit. You can find an updated list on my Eindhoven page.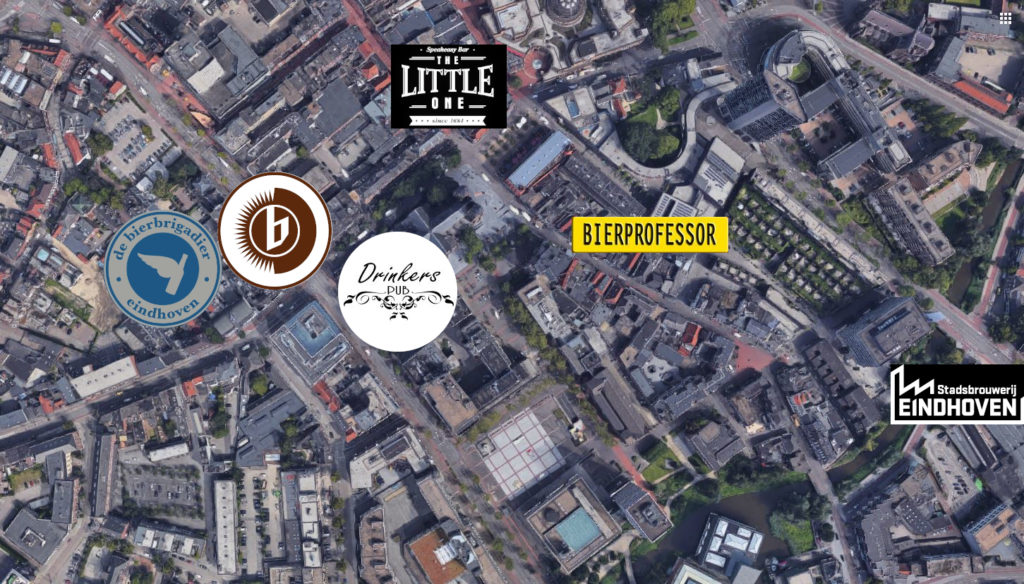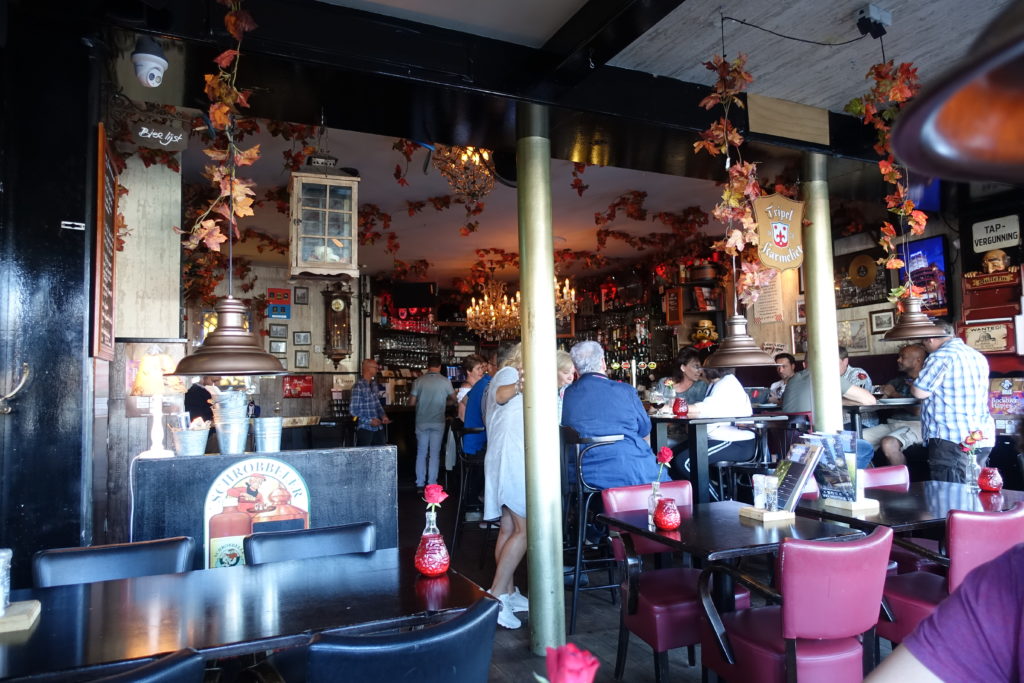 When you plan your trip just right, you could also visit one of the following events
Van Moll Fest, which is next weekend. The festival is in the park around the Evoluon, a futuristic flying saucer like building that used to be a museum about the future. There will be a lot of interesting breweries present as well as some foodtrucks
Bier and Big is organised by the Bierbrigadier and takes place twice a year at Strijp-S, a former Philips terrain that has been transformed to one of the most popular quarters of Eindhoven over the years
The Bockbierwandeling or bock beer walk, which takes place in autumn and takes you via several cafes where you can drink a bockbier with a food pairing. The same goes for the
Lentebierwandeling, or spring beer walk which takes place in spring.
So, ready to visit Eindhoven yet?