Don't get me wrong, I love all the beer venues in Eindhoven dearly, but the one place you will probably find me the most is the Drinkers Pub. So yeah, I realise this post is ridiculously overdue.
You can find the Drinkers Pub in the Kerkstraat near the infamous Stratumseind and around the corner to Van Moll. It looks small from the outside, but don't let looks deceive you: Inside you will be welcomed by the beer paradise it is, with an assortment of close to a 1000 different beers and 23 taps, a knowledgable and welcoming staff, proper pub food, good music and overall a great place to explore the world of beer. You can visit the pub every day of the week and at least 350 days a year.
The Drinkers Pub has been established in 2015, when it began with 370 beers. That quickly became the assortment of over a 1000 different beers and 30 taps they are known for though, even though the assortment is a tad bit smaller nowadays because of well, the obviously these last two years.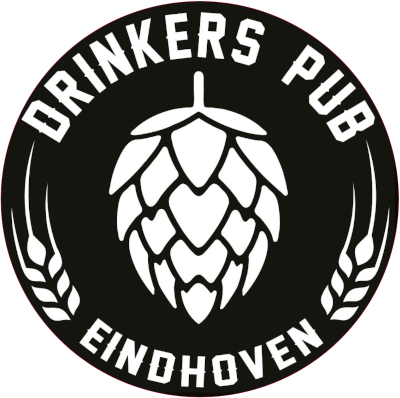 A year and a half ago Anouk and Huib took over and together with supplier Dennis and a staff of seven employees they are slowly transforming the pub into a place of their own, so you will find both exterior and interior gradually changing the upcoming year. They will keep the name, but the logo is changed. The current logo is designed by one of the staff of the pub, and resembles the pub much better. You can now actually see that beer is an important part of the pub. The fact that it is designed by one of the staff says all you need to know about the pub. The team is a wonderful bunch of people with a variety of backgrounds, a close-knit group, with a lot of knowledge of beer, and a very welcoming attitude and that is one of the major draws of the pub for me.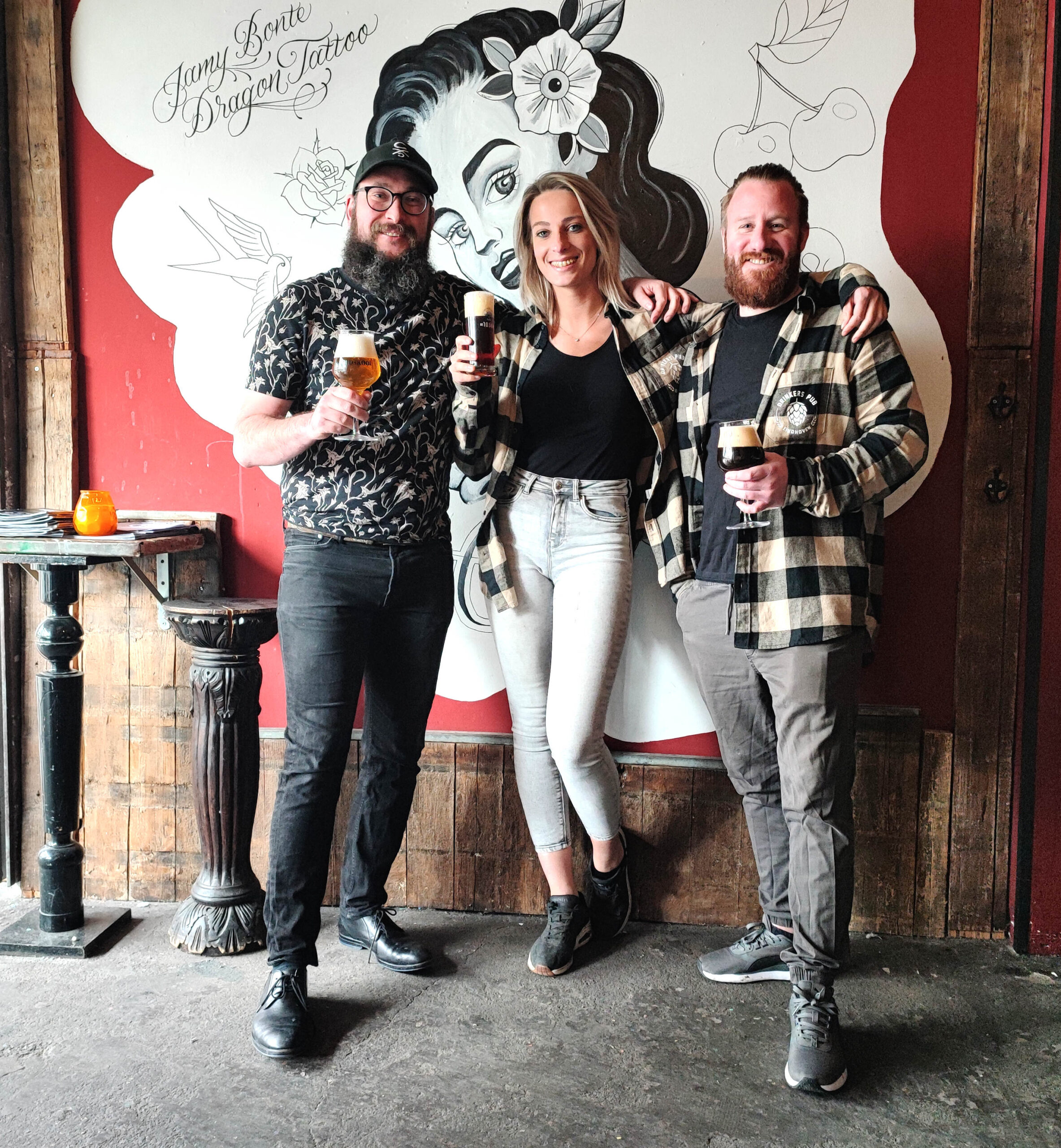 The pub is decorated with a fair amount of vintage and industrial features, mainly furnished with high chairs for a more personal interaction between staff and customers and a more active ambiance. On the wall there is a beer tank to collect beer caps for KIKA. There are also shelves with games and they organise regular events, ranging from game tournaments to beer tastings and beer workshops. Most events come with specially selected accompanying beers or are inspired by something beery. It is a cosy and private venue for people who just want to enjoy a nice afternoon or night out, or even just want to play a board game and enjoy a nice meal, as well as people who want to explore the world of beer and this reflects in the public that frequents the pub. You do not need to know your beers to enjoy the Drinkers Pub, you do not even need to like beer, they have so much more than that. So of course the crowd is always very varied ranging from expats, to sport lovers (thanks to the tv's hanging around), to students, to beer lovers and to that nice old couple that just wants to enjoy a nice meal outside of their home. Overall a very pleasant and welcoming place to be. Or as Dennis says: a michelin venue in the world of beer, a place where people travel to from far regularly, even including a pair of Swedish regulars, and it is awesome to have a hot spot like that in Eindhoven.
And the location is great! It is just out of the way of Stratumseind, but still a lively place with a lot of nice restaurants, other cafés and shops in the street. The street will be refurbished over the upcoming years, which will lead to a bigger and safer terrace for the pub. Because that is a bit of a downside of the current infrastructure, at the moment the terrace opens directly to a bicycle lane, which is not ideal.
The pub has a nice assortment of whiskies, liquor, cocktails, some wines, ciders and sodas. The kitchen supplies a nice mix of good food and luxury snacks, sometimes made with beer, a lot of times combined with a beer advice. And you can be sure of good advice. The pub employs several trained biersommeliers and if it is up to Anouk more of the staff will be trained in the near future.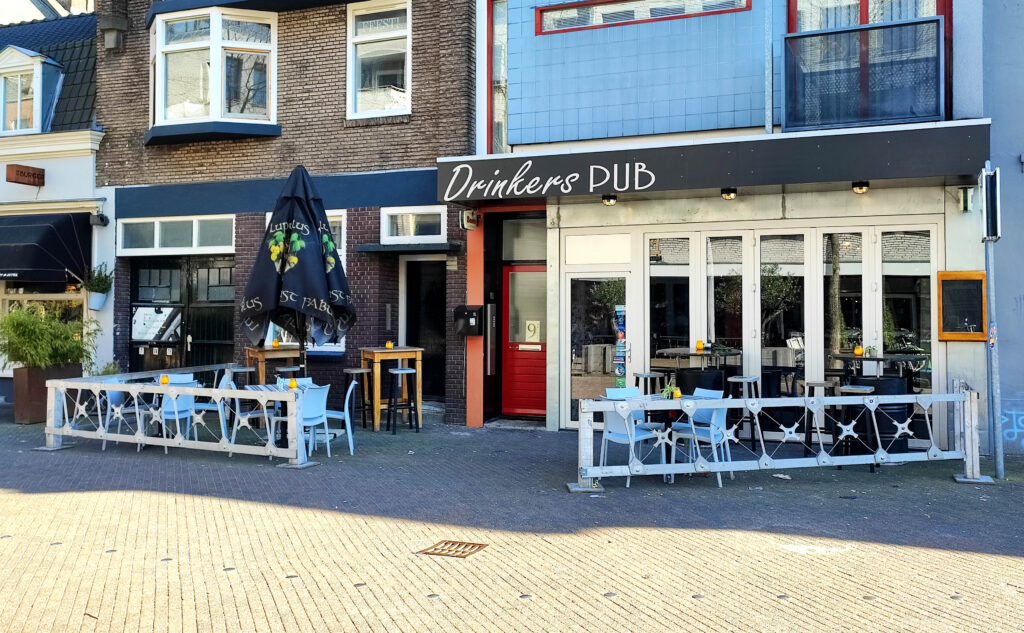 But you are probably reading this, not because of the ciders and whiskies (although you really should try them as well), but because the pub carries the most interesting, huge and varied assortment of beers in Eindhoven, even in Brabant, which is reflected in the tome they call a beer menu. This menu is categorised in beer types and every chapter consistes of similar beer types, so you can be reasonably sure that if you like a beer from a certain page, you will probably like the other beers on that page as well, which is a great way to discover new beers and flavours. The menu is divided in sixteen main categories, which correspond to the refrigerators, which all have their own temperature and assortment, and the taps with their own different pressures, so you can be sure the beers will be served just right. How you treat a beer is just as important for the taste as the brewing process and they take that treatment seriously at the pub. Because they love beer. The beer menu is also peppered with advice from acquainted beer specialists, but of course you are also always welcome to ask the staff for advice.
You will not find the usual suspects on their menu, the beers you would normally expect to find on an average beer menu in an average Dutch pub. The assortment is managed by Dennis (of course in conjunction with Anouk, Huib and the staff) and the original assortment were beers out of Dennis' own collection, classics and specials everyone just had to know about, that were unique in their own way. Nowadays the collection is a bit more modern and very varied, in types and countries of origin, but rest assured it still contains a lot of must-knows. A lot of the beers come from Germany and the UK, although there are also beers from China and Japan on the list. Of course there are some Belgian beers as well, and especially the sour beer collection is impressive. Maybe not yet DeRat in Utrecht or Foeders in Amsterdam impressive, but they are working on it 😉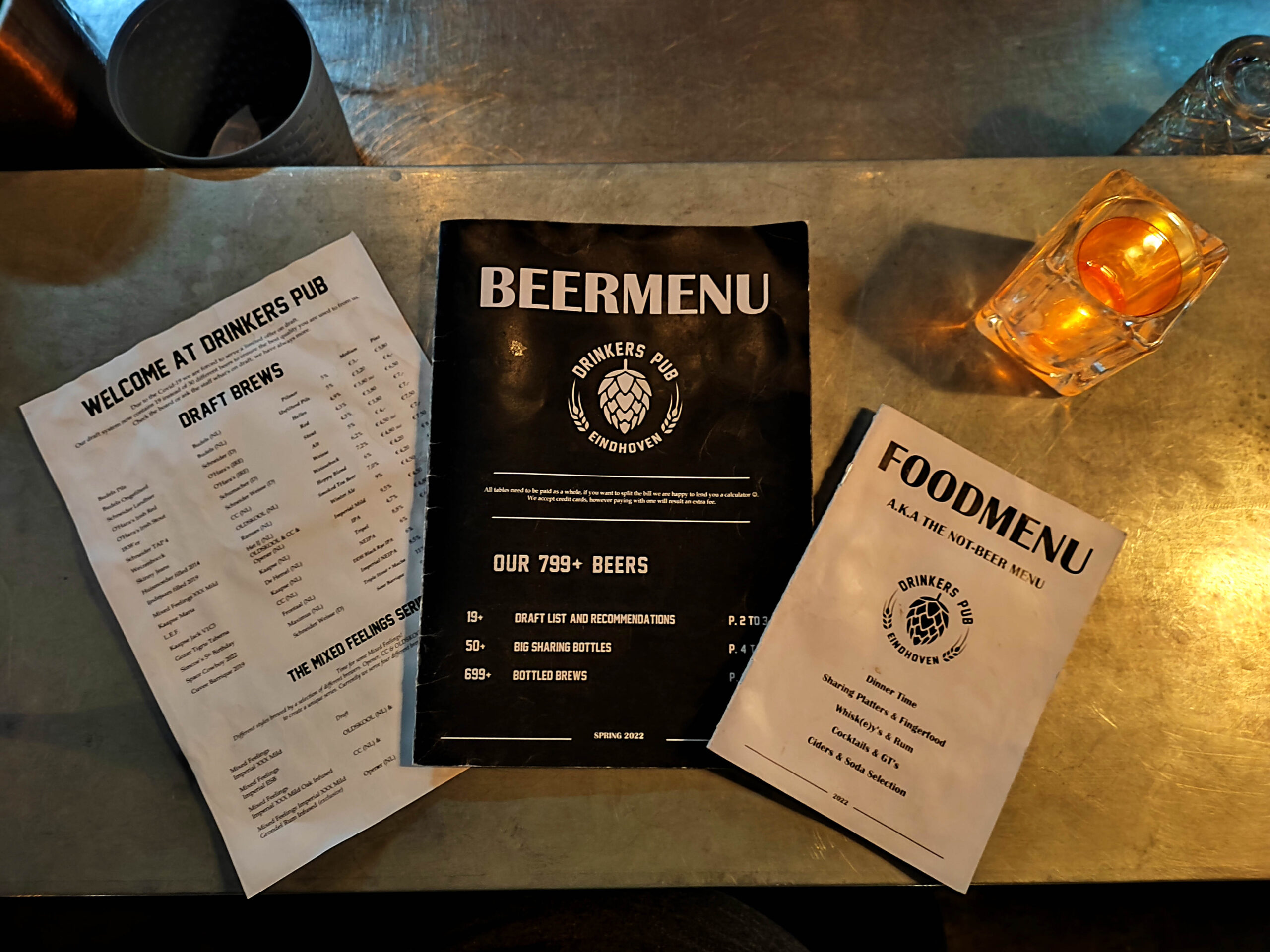 About 50% of the beers are from the Netherlands which are mostly collected by Dennis personally. Because of his trips you will also always find one or two beers you cannot get anywhere else because of the specific brewery he visited that week. The assortment is thought through and very well balanced, which is always the main consideration in adding or removing beers to or from the menu. You will find beers in nearly every beer type there is, from classic UK IPAs, tripels and hopfenweisse to pils and altbier, so long as it is a good beer quality wise. Which could even include the stray pastry sour. No hyped up beers or Untappd led beers on the menu though. Overall there is a preference for beers with less additives, beers brewed according to the Reinheitsgebot, beers that are still… beers. There is also a very distinct preference for beers that are not from one of the major beer companies. They are not shunned per se, but also not very there. The pub probably carries the widest assortment or the most beer types of any pub in the Netherlands, although their assortment is not the biggest. That title goes to Burgbieren in Ermelo (2500), followed by Delirium in Amsterdam (1200). The pub does have the biggest rauchbier assortment and they are working towards the nicest sour beer collection as well. Although the pub has served over 5200 different beers over the last seven years, about 450 beers are a regular part of the collection, like the sours, some classic barleywines, Schneider Weisse, St. Bernardus, Maximus, Jopen, and a lot of Trappist beers of which of course Orval.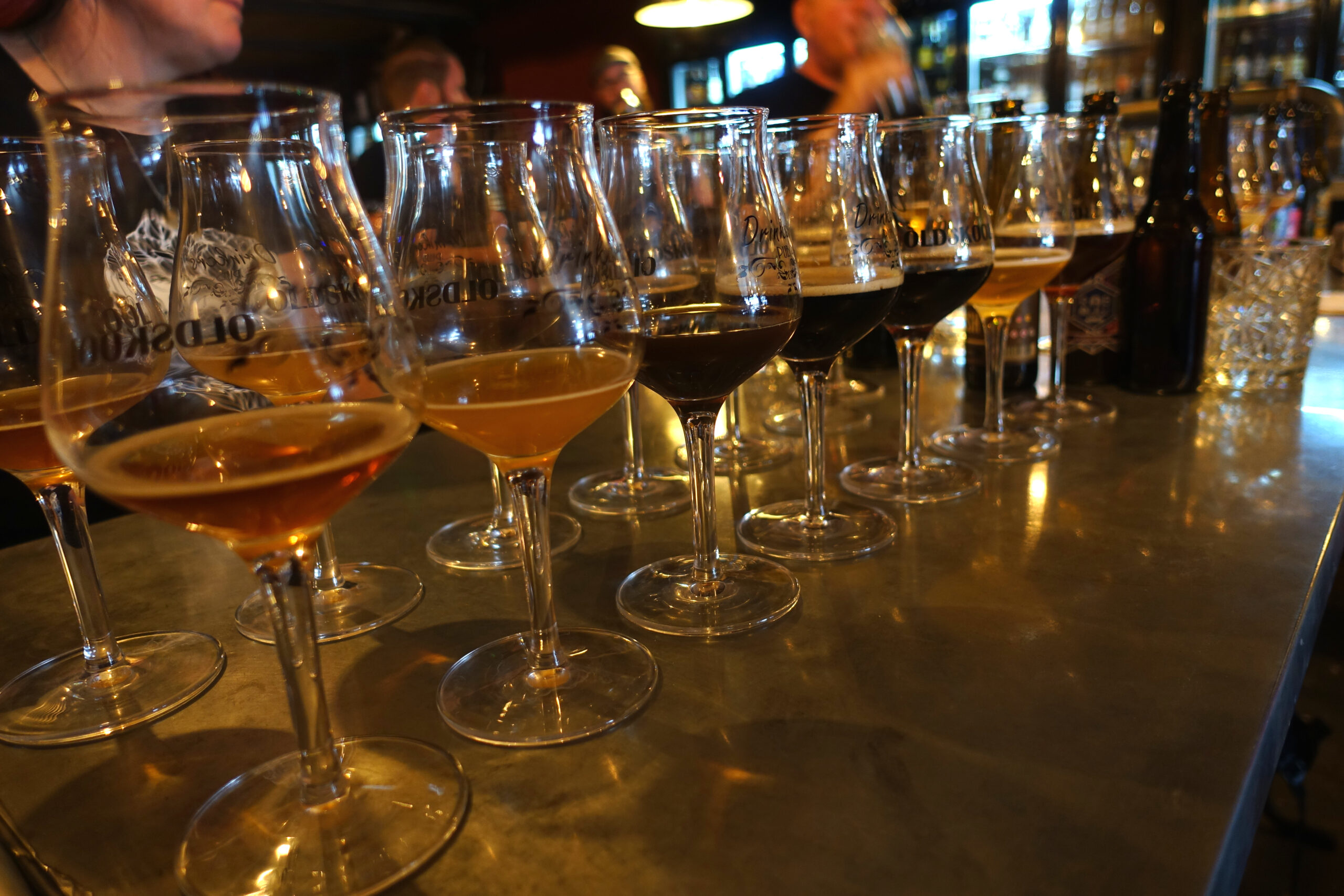 The Pub has some unique beers on tap hardly anyone if not just no one else has in the Netherlands, like Schumacher 1838 and several specific beers from Schneider Weisse, like the Festweisse. Knowing the people from the pub, this should not come as a surprise though. Dennis and several of the staff are part of the Schneider Weisse Fanclub and they also have a very special and close bond with Brauerei Schumacher. Anouk and Huib or Dennis drive to Düsseldorf personally regularly to get the newest 1838 and it is always gone within a few weeks. And it is not out of the ordinary to find people of Schumacher at the pub. The choice for this Altbier is a story in itself. They did not want a pils as the regular beer, but something just as easily drinkable. The first choice was a Kölsch, but Päffgen did not agree with selling their beers outside of Köln. But that is ok, because Schumacher turned out to be the better choice by far and the relationship they have has grown only stronger over the years. It also spurned Schumacher to do more export and you can now find their beers in five other countries, which is quite special taking the German beer traditions in to consideration. You will still not find any Kölsch beers from Köln outside of Köln. Another fixed part of the tap assortment of course are at least 10 varying beers out of the OLDSKOOL, CC and Witte Konijn collections. All in all a unique collection you will not find anywhere else.
At the moment the assortment is around 800 beers, brought back by the whole Covid situation, but Anouk hopes to bring it back to 1000 in 2023 and go towards 1200 or more in upcoming years. Not all refrigerators are on again yet, but last month the collection of sours was brought back up to a 100 as well as the collection of IPAs. There will also be more obscure beers of Korean, Portuguese and Brazilian origin added, which are not readily available around here. And I am very excited that in the future they will also add their own unique beer on tap, a DDH WCIPA specially brewed by and for the Drinkers Pub and OLDSKOOL brewery. The future of the pub is certainly beery and the collaboration between Anouk, Huib and the staff and Dennis promises a lot of interesting things to come.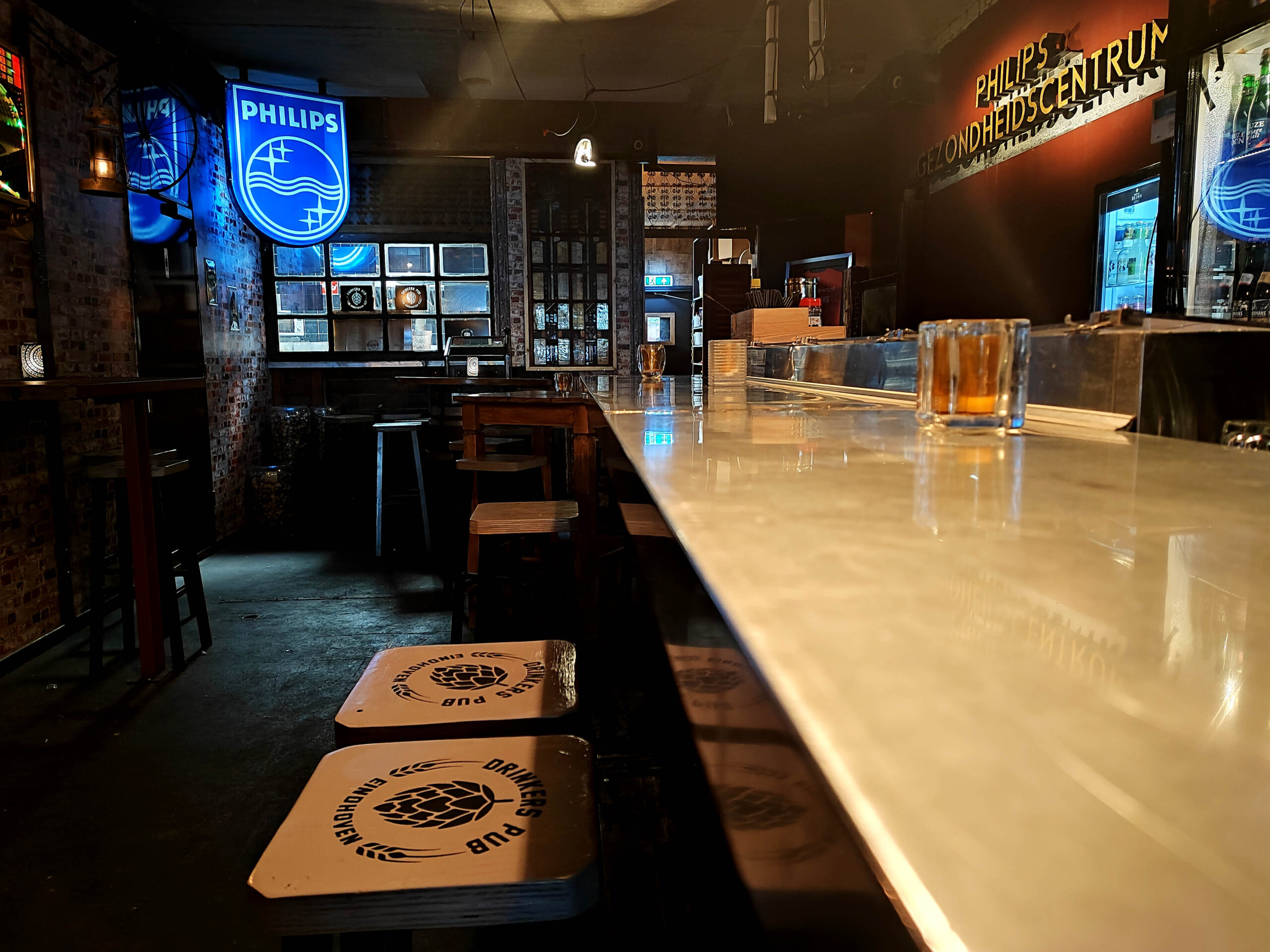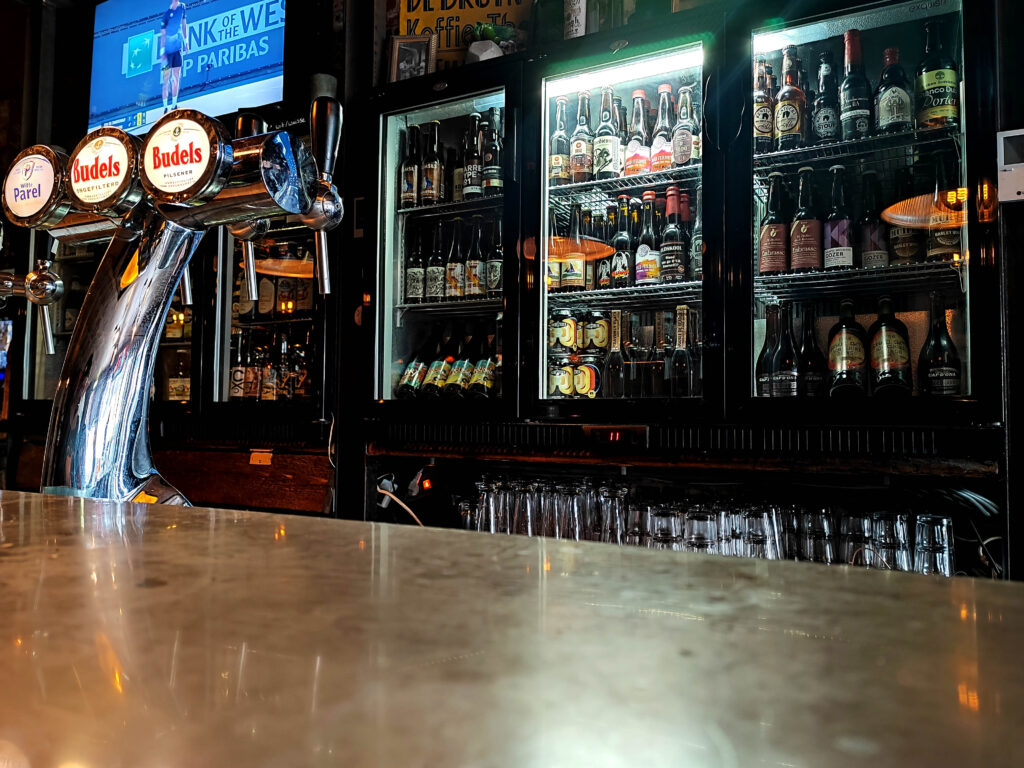 But back to one of the people behind the pub, one of the owners Anouk, who never expected to own her own beer café, especially not considering her age, but she loves it nonetheless. Once upon a time she was a teacher and she always said she would never work in the food service industry, but life had different plans. After her international food service industry experience and work at Stratumseind, she ended up as an employee at the pub first, before becoming one of the owners. She loves that she can now experiment with the pub, make it her own, try out new ideas and she will do just that the upcoming years. She also likes to see how beery Eindhoven grows, not only in beer specific venues, but also the regular pubs expanding their beer menus a bit. You can now probably get some interesting beer or another at any pub and café in Eindhoven Her own interest in beer is also growing, for a big part thanks to the beer lessons of Dennis and other biersommeliers in the pub, although you will probably still find her in the kitchen most. She does not have a favourite beer, although her favourite beer type is probably the NEIPA. What they all, Anouk, Huib, Dennis and the staff, love most though is how close the staff is and you will find them all out in town regularly together.
What I like about the pub is that they have an overwhelming amount of beer, but you still do not need to be a beer connaisseur to enjoy your time in the pub. What I love most though, is how cosy, welcoming and safe it is. So welcome that if you print this article and show it at the bar, you will receive on free OLDSKOOL beer from the tap!
So which beer out of their beer tome do you want to try first?