In 2019 the choice of beerfestivals was enormous. If you wanted, you could go to one every day of the weekend and sometimes even more than 1 a day. How to make a choice between all of those?
Sometimes we choose based on logistics, how easy can we get at he festival with public transportation? Or we decide upon a festival in a big European city we've never been to and make it a long weekend away. Or we just go for a small festival convenient in the neighbourhood, so we can go by bike.,. But every year there are a couple of festivals you have to have been, like Billies in Antwerp, Borefts in Bodegraven and Van Moll Fest in Eindhoven.
But why are these so called "must go to" festivals? First of all the selection of breweries, not just from the Netherlands or Belgium, and not only the usual suspects, but from all over the world, already known or the ones you must get to know. And then in case of van moll fest you have the location, an iconic building combined with lovely summer weather (perfect scenery for the best Untappd pictures), what else do you want/need? But not only the location is worthwhile, also the brewery list, Erwin van Moll tries to have a unique list of breweries form all around the world every year. And they don't bring their most ordinary beers, no almost all bring some specialties sometimes even brewed just for the festival.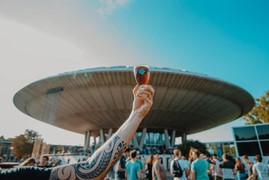 Festival specials
Next to the festival specials the different breweries bring, Erwin manages to do something special every year. 2 years ago the festival hosted a Spanish area, with only Spanish breweries (with food) and in preparation of the festival Erwin van Moll went on a Spanish road trip to all the invited Spanish breweries for a collaboration brew, especially for the festival. In 2019 for the 5th year anniversary of van Moll fest they extended the festival, instead of only 1 day, this year the festival was 2 days!! And for the festival special Erwin organized the Magnificent Seven: 7 UK breweries where he did an epic road trip with. Resulting in 7 special festival collabs. Who knew what the 2020 festival would bring…
Besides this Magnificent Seven group a long list of breweries was present. And to make it more interesting for people to come both days the 16 dutch breweries were divided over 2 days. Also each brewer is asked to bring different beers for both days, so if you want to taste them all (as a real beer geek) you have to come both days ?.
Van Moll Fest 2020
After 5 very successful editions, of course a 2020 edition was planned, organization started, the first breweries were invited and then COVID-19 happens. Quit early is was clear that the original plans needed to be cancelled, but Van Moll wouldn't be Van Moll if they immediately thought of something else, why not organize an online version of Van Moll Fest: Van Moll Fest bij je thuis. For this occasion they made a festival box with 4 beers of Van Moll (with 1 first special release) and 6 guest beers, but also a piece of cheese made with Zoltan – Bowmore BA, a bingo card and some more stuff: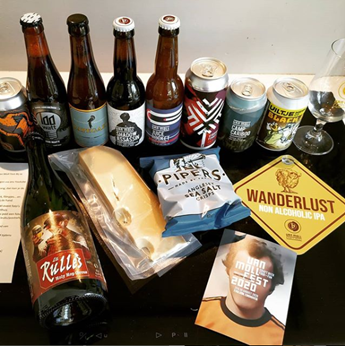 The festival was live from 16.00 – 20.00 and during this time they organized a some stuff to keep your attention: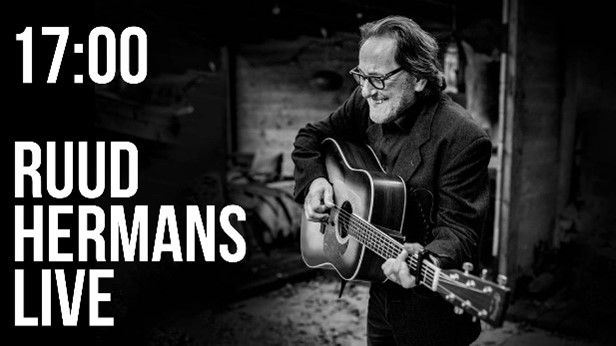 And to make the festival ambiance complete, all the photos placed on Instagram with #vanmollfestbijjethuis were incorporated in the liveshow. This day was quite the success, so 1 month later it was already time for Van Moll Fest bij je thuis V2. This time 1 hour longer, with more first edition beers in the box and more entertainment in the stream!
Even though there have been 2 successful online editions of Van Moll Fest, of course we would still like to come together for a real Van Moll Fest at the Evoluon. The date was set (January 23rd & 24th) in 2021 , the location was booked, this time INSIDE the Evoluon and everything was organised: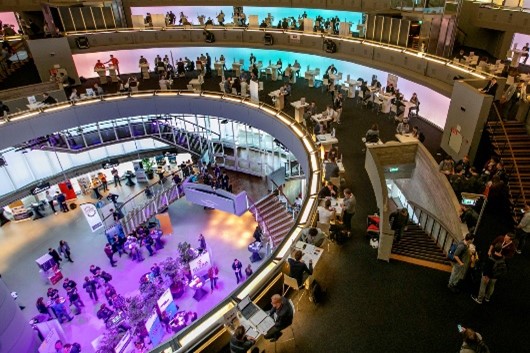 Unfortunately just before the festival the Netherlands went in a total lockdown. So in 2021 instead a smaller festival in the brewpub itself was organised for the summer.
2022 will see the last Van Moll Fest at the Evoluon! And it will be a bit earlier than usual on 9 and 10 July! Be sure to get your tickets at

Will we see you at the Evoluon this summer?