I haven't got a lot of knowledge about the Austrian beer history yet and I hope to get back to this topic better educated. But for now I'll just share with you our beery adventures in Salzburg.
Austria certainly has a long history and like Germany, has its own customs surrounding beer drinking. We now know (or do we?) that Austria was a year earlier in the invention of a lager beer than Pilzn. But that Vienna lager, that was that first lager beer, wasn't made in Austria for ages. It has only been reïntroduced in Austria 4 years ago. According to story the Jews took the recipe for Vienna Lager with them when they left Austria in times of unrest to migrate to Mexico. So in Mexico it should be a beer style that's been around for a while.
Salzburg. A gorgeous, but very touristic city. When you visit, be sure to wander the Altstadt, the castle and the medieval Steingasse. When you are in normal health, it's all easy accessible by foot, but the busses also drive frequently and have very convenient routes. We could do almost all travels with the one, sometimes two busses.
As for beer, craft beer bars are up and coming and they should serve quite some quality, because auditing beer venues in Salzburg is part of the Doemens diplom biersommelier course, and adjoined restaurants and bars are visited by Biersommeliers in Training at least thrice a year. You can find them mostly in the red part on the map. (The orange part is the Altstadt + park between Kloster Mülln and Festung Hohensalzburg, the blue circle is Kloster Mülln and the red lonely circle above Kloster Mülln is the Trumerei, a very nice restaurant from the Trumer brewery).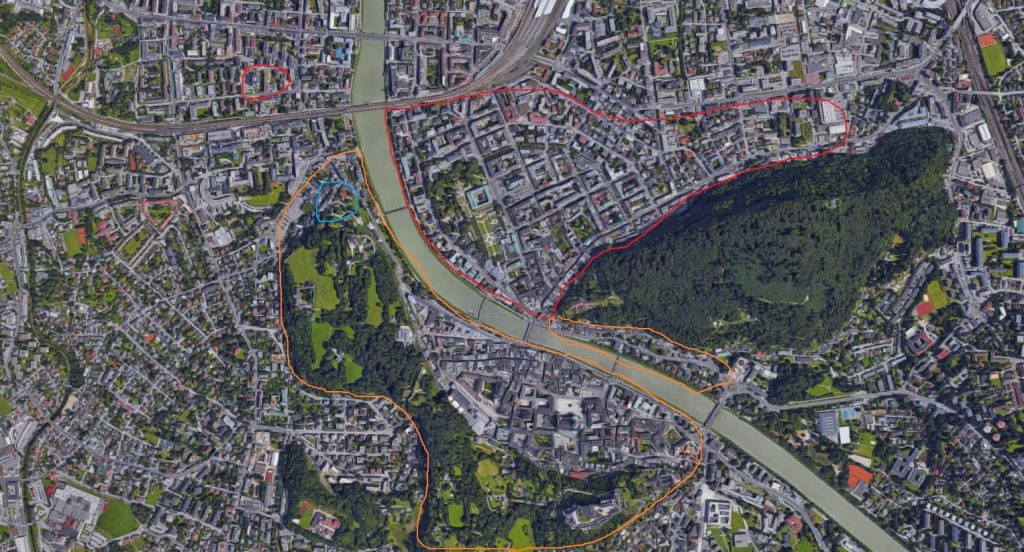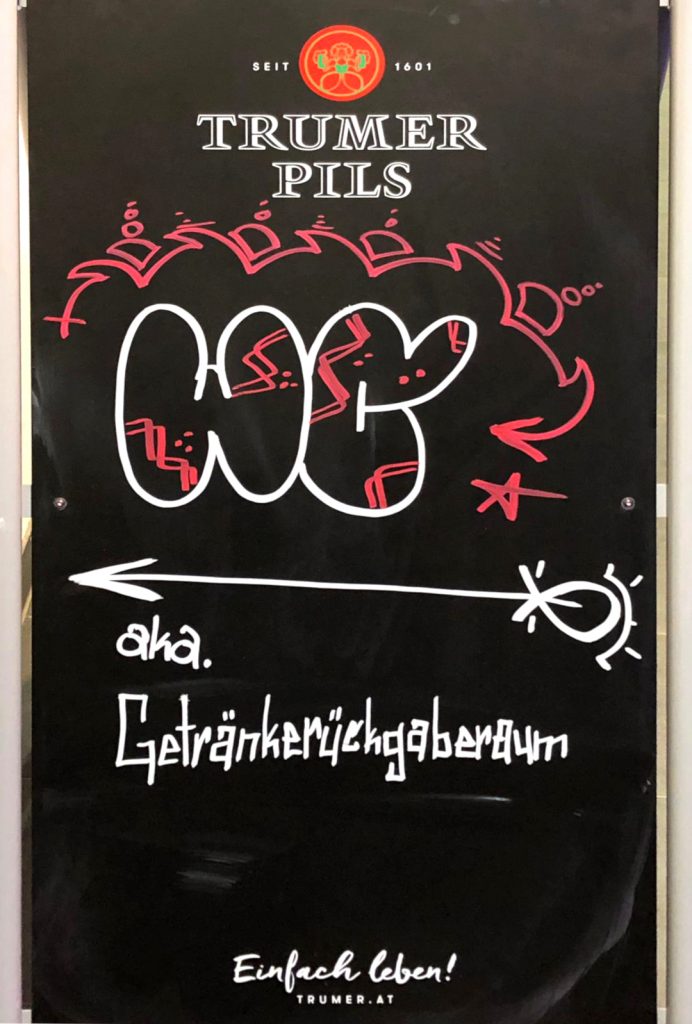 We had to do an audit as well and in seperated groups went to Imlauer braurestaurant, Stieglkeller (below the castle), Trumerei and Beffa bar. I went to the Trumerei and really loved it. They had a nice food menu, beer-food pairing suggestions and an extensive beer menu. It's surrounded by offices and you wouldn't expect to find a beer venue here if you weren't looking for it. The furniture is eclectic, it's an adventure to locate the toilets and it is crowded though, but that could be the thursday evening, although I don't think so. All in all a nice place to visit when in Salzburg.
There are also some classic venues, the most prominent and impressive one being Augstinerbräu at Kloster Mülln. Kloster Mülln is a massive monastery that you can enter by the modern front door, or the much more gloomy and mysterious back door (of which I have no pictures, Eilazen). You can find the back door on the Augustinergasse, which is also a start for a gorgeous walk above Salzburg to the castle by the by. Through the back door you enter the monastery on the first?, maybe second floor and you have to descend a long and gorgeous stairway that ends in the food hallway. In the food hallway you'll find several independent stalls where you can buy all kinds of food and noms. Crossing that hallway towards the main entrance, you'll find several doors to your left and right to giant halls where you can sit down, drink your beer and eat something bought from the food hallway or something you brought yourself, which is perfectly allowed.
To get a beer though, you first have to cross that food hallway to the other end to the main entrance. There you'll find giant cupboards full of one-liter and half-liter beer mugs. You can take one, rince it yourself at the fountain and buy a beer at the register. The beer is tapped from kegs and the choice is none; only Austrian märzen (which is like German helles; thinner and less alcohol than German märzen). Ok, during the time we were there you could choose a second beer: Fastenbier, because of the Fast period. Kloster Mülln is more of an experience in itself than just a beer venue. You can easily get lost in all the halls and hallways. The hallways are strewn with stammtisches by the way, but some seem to be more important than others, and apparently it's accepted to sit down at some (but not at others) at certain times. It's an experience you really cannot miss when in Salzburg.
Salzburg also has a huge brewery museum at Stiegl's Brauwelt. It's a bit comparable to the Heineken Experience in Amsterdam, just a tad bit less showy. It is very informative however, especially when you can get hold of one of the real brewers that walk around in the basement part of the museum. The basement is a real brewery, still in use, with open fermentation tuns. The museum itself was a bigger brewery ánd malt house. You can still see all the equipment and parts when you walk to the attic via the old malt house and the attic is strewn with all kind of equipment, although not necessarily in a logical order these days. Back on the first floor there are some games, a smelling test and a Maßkrugstemmer, a competition device using balloons to see who can hold their maß the longest (I dislocated a bone holding a maß by the way, but that's a story for another time). At the end you get to taste three beers and it's a nice location to have some lunch as well.
With only two days, my visit to Salzburg was way too short and I hope to come back some day soon. For now I think I like Klostr Mülln the best as a beer experience, although the Trumerei was very interesting as well.
What is your favorite beer spot in Salzburg?