It's autumn and I live in the Netherlands, which makes it impossible to ignore bock beers. As said before, the Netherlands were beer wastelands in the second half of the twentieth century. We had mainly pilsner, and pilsner was therefore synonym to beer. But there were other beerstyles available: Oud Bruin (which is sweet in the Netherlands, contrary to the more sour Belgian version) and the seasonal Bock beers.

Bock beers in the Netherlands are based on their German counterparts but is now a proper all Dutch beerstyle on its own. The Dutch bock beers are mainly red or dark, where the German ones are more varied in colour. In Germany the term bock mainly says a beer is higher in alcohol and originated from Einbecker, in the Netherlands it's one style and thus a bit more defined, at least in the expectations of the beer drinkers. As said it's red or dark, it's a bit higher in alcohol (mostly around 6,5% alc vol), and it's only drunk in autumn, when the weather gets colder and the drinks more warming. They are generally quite sweet, but can be bitter as well. Mostly they have some roasted malt aromas, and can have some hoppiness, but hardly ever distinctly. It can be top fermented as well as bottom fermented, it wouldn't surprise me if this is a 50/50 distribution. Probably every self respecting all Dutch brewery has one or more bock beers in their assortment. There certainly are hundreds different ones available at this moment.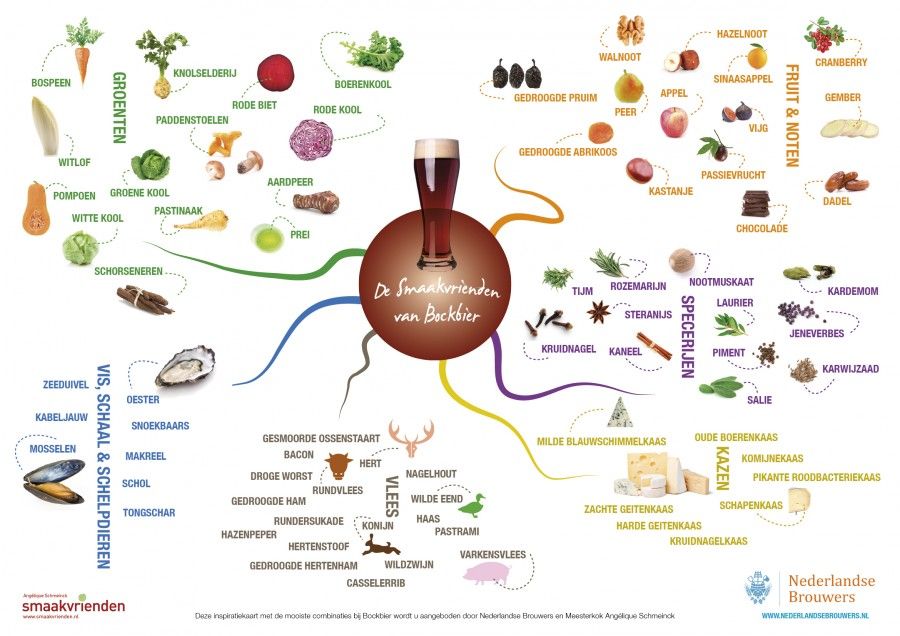 So, of course, we drank 20 of them. Well,17 bock beers and 3 bockish beers, so I skip the last 3 for this post. Since there are so many Dutch bock beers we chose to only drink beers from breweries of De Nederlandse Brouwers, Jopen being the exception to this rule. We wanted to compare them to each other on taste and quality.
We divided them in several groups. First the beers that were bottom fermented with an alcohol percentage of 7,5 % and less, a small separate group of beers with wheat in the same category, then the top fermented beers with 7,5 % and less, again the beers with wheat separately and lastly the not really bock beers with an alcohol percentage of 10%.
The first beers were:
1. Brand herfstbier: has an aroma of red fruit and marsepan, but also a bit of old hops unfortunately. It is a red misty beer, with a white head, very, very sweet and maybe a bit of umami, a taste like a bitter plum and a bit of tea, a lot of CO2, not a lot of body. The Brand website doesn't mention this beer
2. Alfa herfstbok: unfortunately had a strong sulfur like aroma, like a stove, tempered a bit by a roasted bread smell. It's a dark red clear beer with a steady white head. It's equally sweet and bitter with the taste of cane sugar, butter and cedar.
3. De Leckere Rode Toren: smelled like the backside of an IKEA cupboard: board and glue, mixed with grape and wine candy. It's a red misty beer with a cream head, It's sticky sweet, like sweet liquorice, with a full body and not so much CO2.
4. Budels Herfstbok: has a caramel, red fruits and peardrops aroma with a bit of butter. It's a dark brown clear beer with a steady beige head. It tastes like sweet liquorice and is not overly sweet like Dutch bock beers tend to be. According to the website this beer has been brewed for over 50 years now.
5. Gulpener Herfstbock: has a decidedly cane sugarish aroma, which I apparently associate strongly with this beer style. it's a misty red brown beer with a dark beige head. It's quite sweet, has some toasted notes and cedar, is a bit sticky and has a full body
6. Grolsch Rijke Herfstbock: has that cane sugar aroma as well, is a red brown clear beer with a steady mocca coloured head. It has the taste of cedar and sigar, but is heavily sweet, which is probably due to being sweetened with sugar.
Out of these six I liked the Gulpener best and we kept the Gulpener and the Grolsch to compare to the next batch
The second group of beers were:
1. Grolsch Gerijpte Bock: a special edition of the Rijke Herfstbock, being matured in the ammunition bunkers of Twenthe. The maturation does the beer well, it's much more balanced, not as sweetly and a tad bit more bitter. It still has the sugar cane aroma, is a clear dark brown beer with a steady beige head. It tastes like cedar and sigar with a bit of sugar cane and has a distinct aftertaste of honey liquorice.
2. Amstel Bock: smells of roasted bread and liquorice, with some fruitiness as well. It's a clear dark brown beer with a white head. It's taste is subtle, a bit more sweet than it is bitter and sour and even a bit salty and umami. In this it's a very balanced beer with the taste of salty liquorice. I really liked this one!
3. Brand Dubbelbock: is a bit higher in alcohol. The double stands for a double maturation according to the website, although I'm not sure what they mean by that. It has a liquorice (trekdrop) and almond aroma and is a clear dark red beer with a beige head. It has a balanced sweet and bitter taste with a bit of sourness and probably some umami. It tastes like sweet liquroice and cane sugar without beig actually overly sweet. It has a full body and a light alcoholic feel
Because they are made with wheat as well I mention these seperately
1. Heineken Tarwebok: has a cane sugar and marsepan, fruity aroma, is a clear dark brown beer with a white head. It is very sweet, overly sweet even. I expected a bit more wheat attributes, like some sallowness and a bit more sourness but if they are in here they are masked absolutely by the sweetness. It tastes like honey and sugar and cedar and is very sticky. Heineken doesn't mention this beer on their site either
2. Bavaria bokbier: has a light sulfuric aroma. It's a misty dark brown beer with a cream coloured steady head. It tastes like liquorice and toastiness is not too sweet, a wee bit bitter and a wee bit sour. It has a nice body and is overall subtle and pleasant.
Out of these six I equally liked the Amstel and the Bavaria, the Amstel having a higher drinkability/being more thirst-quenching, where Bavaria is more of a tasting beer. I liked them both more than the Gulpener from the first batch.
The third batch were all top fermented beers:
1. Gerardus Herfstbok: is from Gulpener, but is not mentioned on their website. It has a slight brakkish water aroma, but also some honey and sugar cane. It is a dark brown, misty beer with a cream coloured head. It has a bitter taste which borders on the unpleasant side, a taste of artifical sweetners.
2. Hertog Jan bockbier, Hertog Jan claims to be the first Dutch (top fermenting) bock beer. It has the aroma of peardrops, sweet apples, roasted bread and some banana. It's a black brown clear beer with a steady cream coloured head. It is balanced sweet and bitter and has the taste of apricots and peaches.
3. Texels Bock: has a haylike, fruity and marsepan aroma, a bit like the Old Dutch candy Borsthoning. It's darkbrown and misty and has a steady cream coloured head. It's balanced sweet and bitter and tastes like apricot, cedar and honey.
4. Gouverneur Dubbelbock: has a sweet, fruity marsepan aroma. It's balanced sweet, bitter and sour, the sour being a toasted sourness. This is also the main flavour of the beer. It's a blackbrown, misty beer with a steady beige head.
1. Jopen 4-grains bokbier: has quite the background story. It's 4 grains on purpose being that the city of Harlem issued that beers should be made from barley, wheat and oats, while, according to their website, German bock beers were made of rye. It has a cane sugar and earthy aroma, some sweet marsepan and a bit of old hops in it as well. It's a brown misty beer with a white head. It tastes roasted and like cedar and is balanced sweet and bitter
2. La Trappe Bockbier: claims to be the only Trappist bock in the world. It has a borsthoning aroma, is dark brown with a beige head. It tastes like borsthoning and marsepan, is slightly sweet, but also bitter and has a bit of an alcoholic feel.
Although I liked the Jopen, the Amstel and Bavaria from the former batch are still better
There were some off flavours here and there, but all in all I like the Dutch bock beer style, even though the sweetness levels are higher than I generally like. The winners for me are on the third place:
3. Jopen viergranen bokbier. It's a nicely balanced beer with tons of flavour, but still quite subtle. You can pair it nicely with all kinds of baked and roasted food, hooking on the maillaird flavours of both. I would not recommend to cook with it or make a glühbier because of the higher bitterness.
Second place is for:
2. Bavaria bokbier: a nice complex, subtle beer, with a high food pairing value. Although it works very well with roasted food, be aware that the intensity of the beer is not very high, so make sure to pair it with lower intense flavoured foods as well
The winner today is:
1. Amstel bock. This beer is very nicely balanced and has all the base flavours in it in almost equal degrees. I like the interesting taste of salty liquorice without being actually salty (not as a gose, but it's still distinctly present in the beer).
Have you drunk any Dutch bock beers already this year and which ones? What did you think of it?