I told you about the Dutch championships. Well, a week ago I was at the world championships Biersommelier! Dennis Kort, Pepijn van der Waa and Hubert Hecker were the Dutch delegation and Maurus, Uwe, Frans and I joined them as their cheerleaders., sponsors and trainers
Ever since 2009, the World Championship of Beer Sommeliers strives to recognise those who bring their skills to bear in this particular field of expertise. The event occurs every two years at a different location, organised and presented by the Doemens Academy, From among more than 5,000 beer sommeliers trained by Doemens and his partners worldwide, 80 biersommeliers participated in the championships at the Grand Hotel in Rimini in Italy.
The championships have been won before by: Karl Schiffner (Austria) in 2009, Sebastian Priller (Germany) in 2011, Oliver Wesseloh (Germany) in 2013, Simonmattía Riva (Italy) in 2015 and Stephan Hilbrandt (Germany) in 2017.
Rimini is not the first place you'd think of when you think of beer, but Italy does have its own beer culture and even specialty beer styles. Italy is known in the beer community for its chestnut beers and grape must beers. Unfortunately chestnut beers are seasonal, worst part being that the season starts in October, so we missed those beers by mere days! We had plenty of grape beers though.
Maurus and I traveled to Florence on wednesday, stayed there for the night and traveled further by train to Rimini on Thursday. I made a separate post about our travels.
In Rimini we hardly had any time for anything else than the championships and we didn't even participate. At Thursday the event began with a luxurious welcome dinner and a presentation of all the teams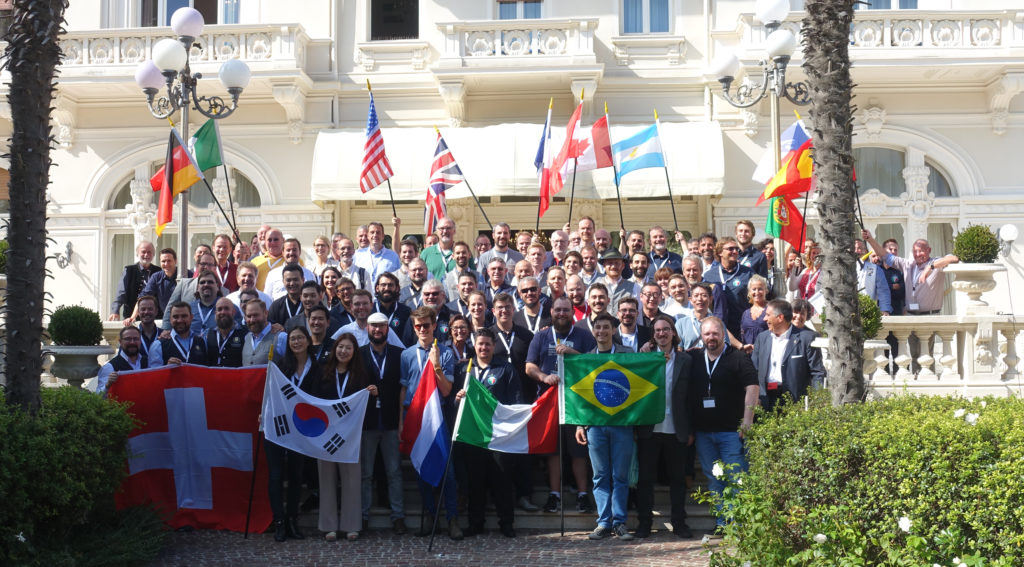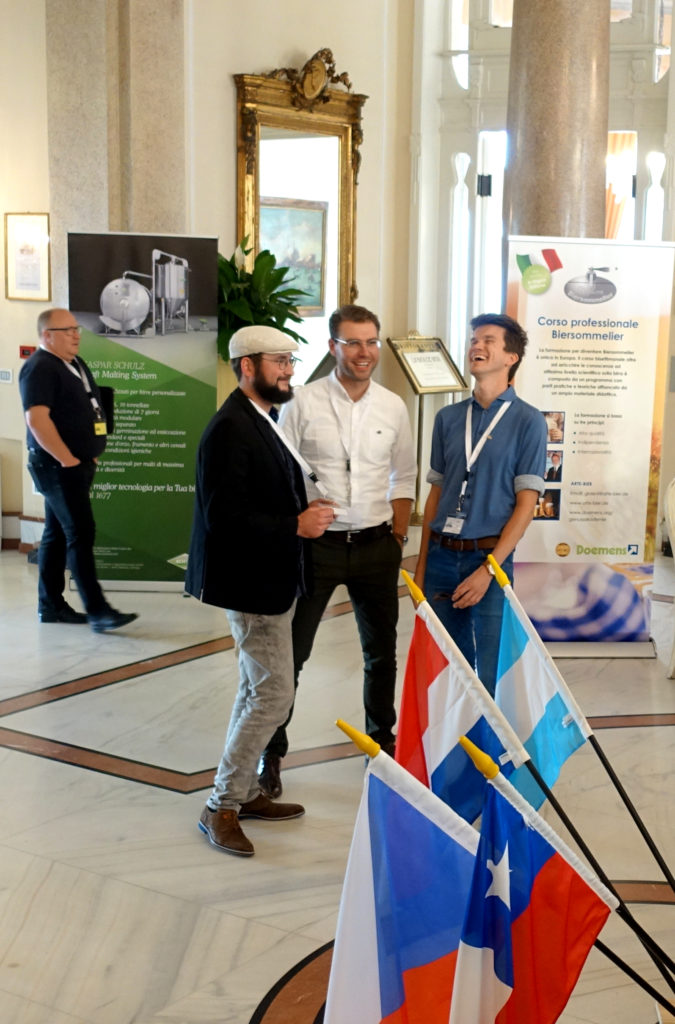 The championships themselves were on Friday. To qualify, most countries had their own National Championships. Some countries don't have enough biersommeliers though, so they could apply individually for participation in the World cup. From 9 to 12 were the qualifying rounds, which were behind closed doors. Those were the same as the were for the Dutch Championships. Blindly recognizing ten beerstyles, a multiple choice test about beer theory and blindly recognizing ten off flavours. This sequence was on purpose, so you had time between the tastings, while the off flavours wouldn't influence the beerstyle tasting. For both tastings they received a list of 30 possibilities. As said before, these were an extract out of 119 defined beerstyles and over 90 defined off flavours. This was all behind closed doors. We met our team again during lunch and straight after lunch the semi-finales began.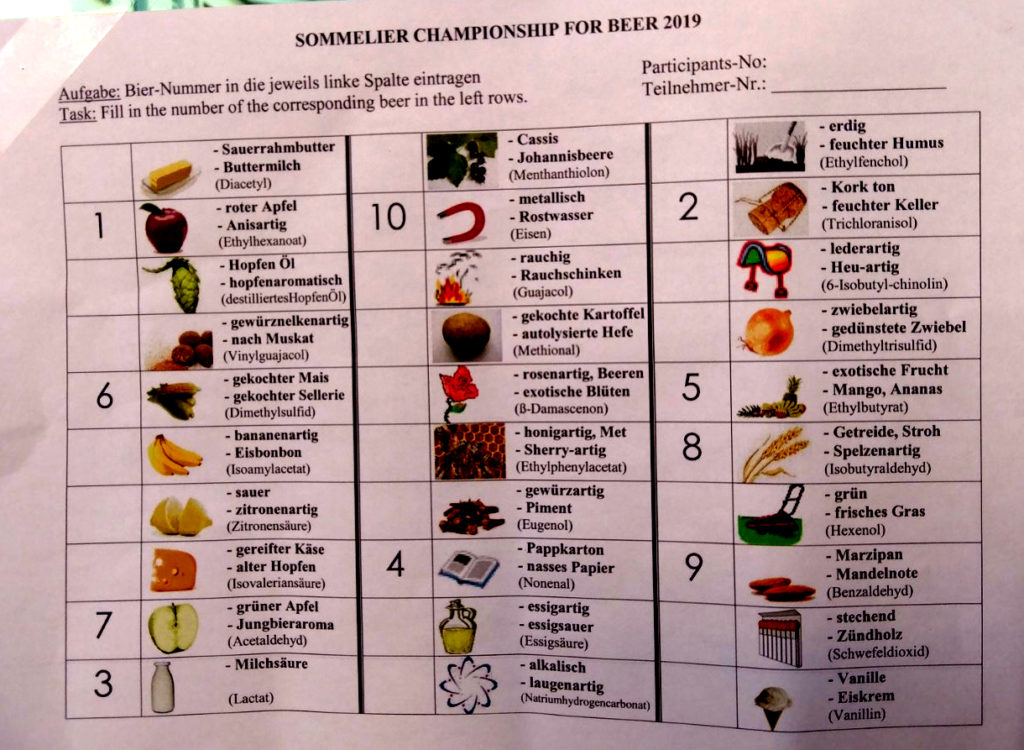 The semi-finales are a knockout round. 10 contestants are split in pairs of two. Each pair presents the same beer. However, the contestants do not know which beer. So they do not only have to present the beer, they have to guess its beerstyle and all as well. The beers were Union Jack IPA, Orval, Samuel Smith Imperial Stout, Paulaner Salvator and Hoegaarden Wit. All the contestants did really well, but of course only six could go to the finals. Felix, Martin, Tobias, and one other didn't make it.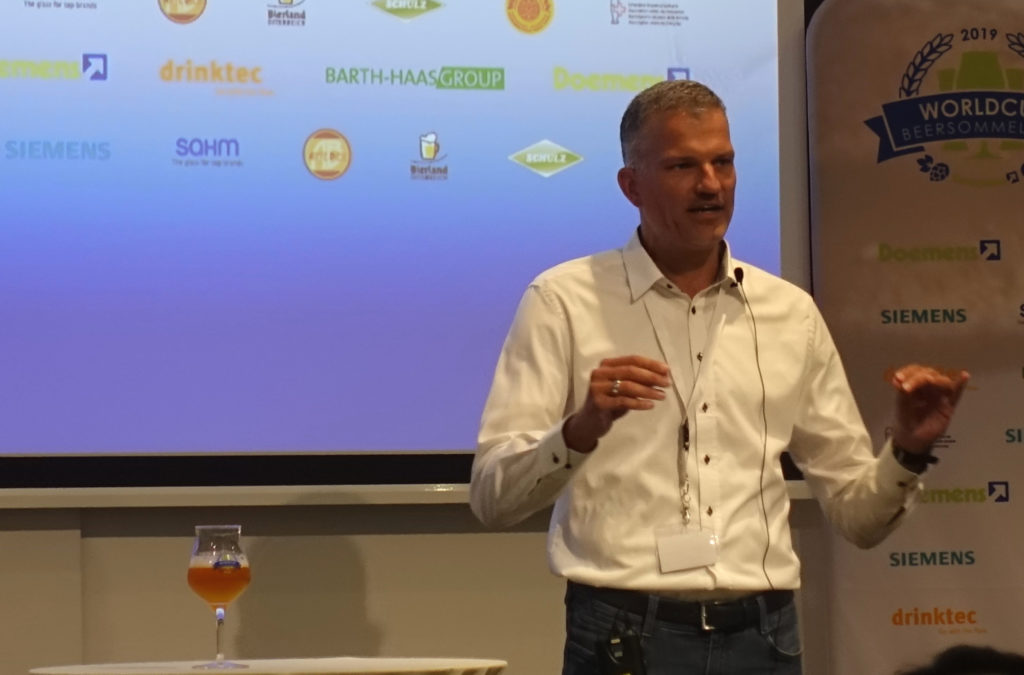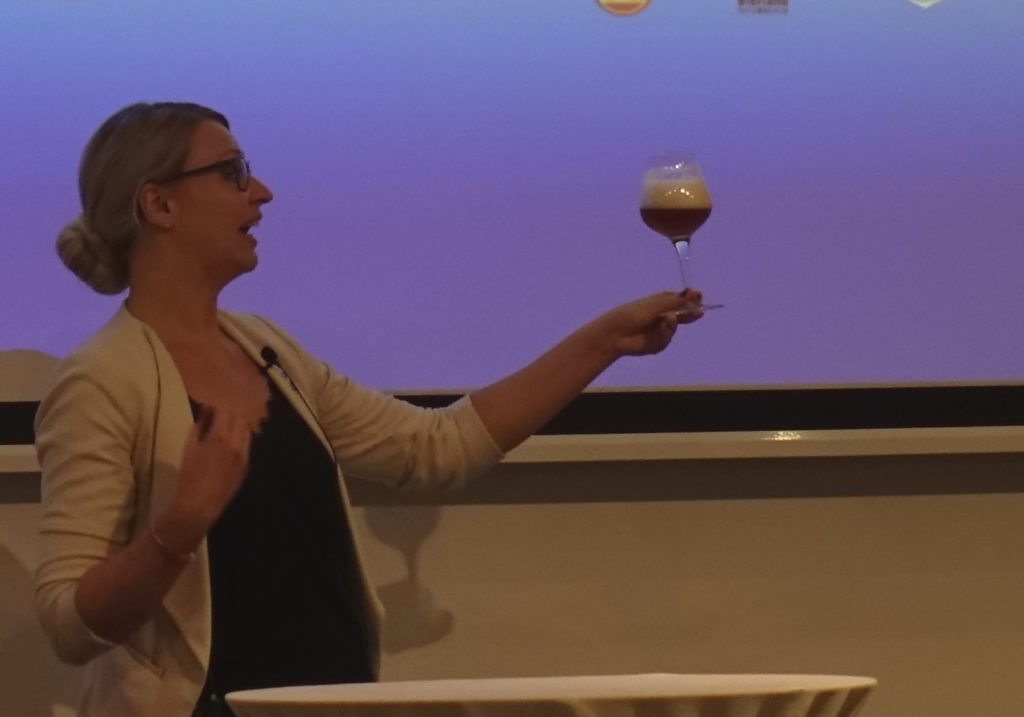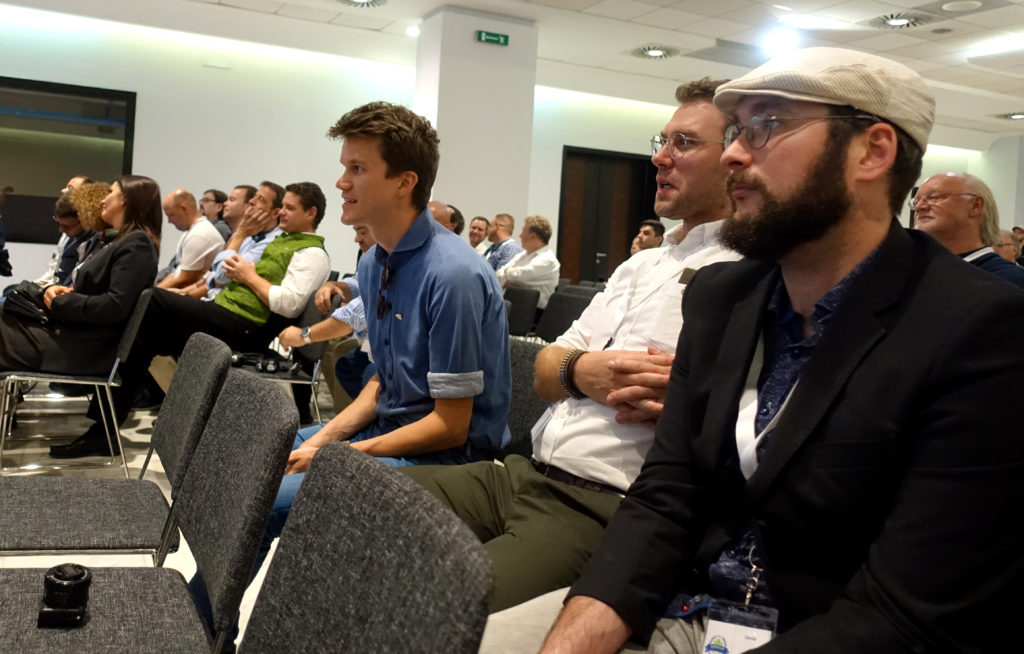 The fnales began half an hour later than planned. This gave everyone some time to change and all. The finalists were Michael Friedrich, Elisa Raus, Philipp Ketterer, Patrick Thomi, Julian Selinger and Markus Fohr. All contestants had three beers to choose from to give a presentation of 7 minutes. They would be judged on:
1. What they told about the beer itself, the brewery, the style
2. Sensory description: aroma, taste, sight and more
3. Beer-food-pairing
4. Overall presentation skills
5. Probably some unwritten things like serving the beer to the judges and more
The judges were:
– Dr. Christina Schönberger, expert in beer & hop sensors and hop aroma research, Joh. Barth & Sohn
– Cilene Saorin, Doemens partner of beer sommelier training in southern america and on the iberian peninsula
– Petra Westphal, Jury member at many international tasting competitions, Exhibition Group Director, Messe München
– Stephan Hilbrandt, World Champion of Beer Sommeliers 2017
– Simonmathia Riva, World Champion of Beer Sommeliers 2015
– Dr. Wolfgang Stempfl, former CEO of the Doemens Academy and founder of beer sommelier training
– Fabio Nalini, Vice champion of beer sommeliers 2011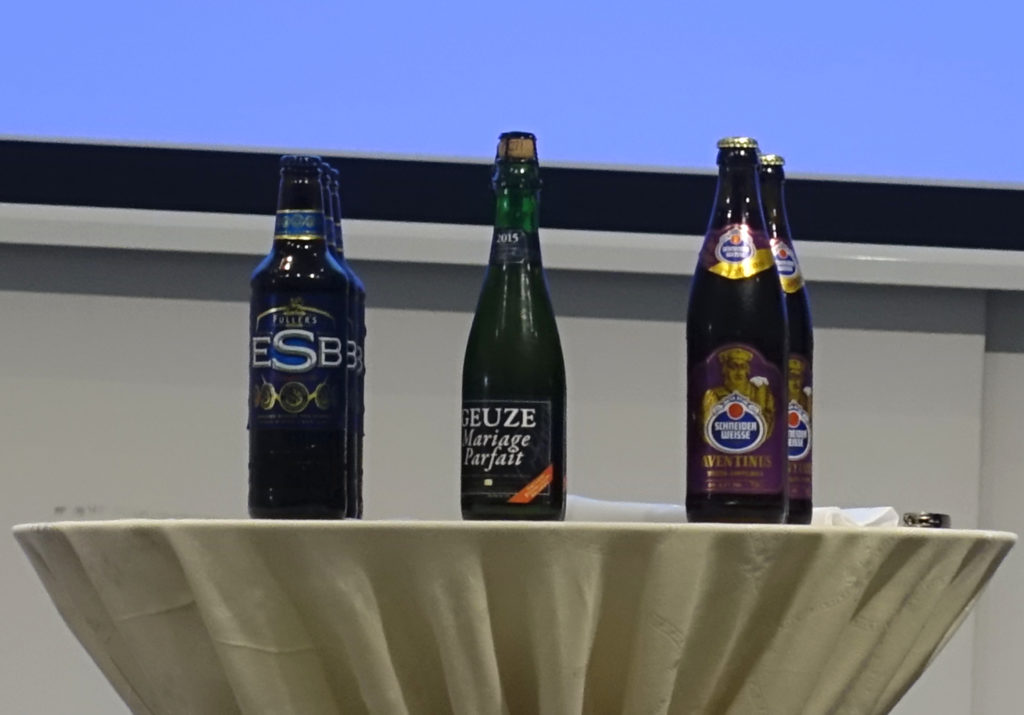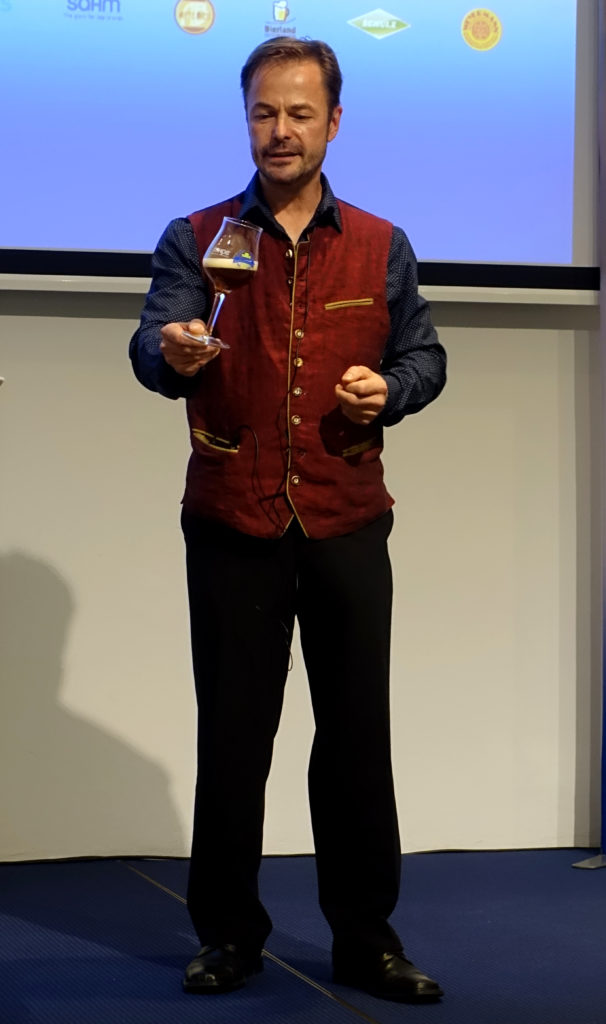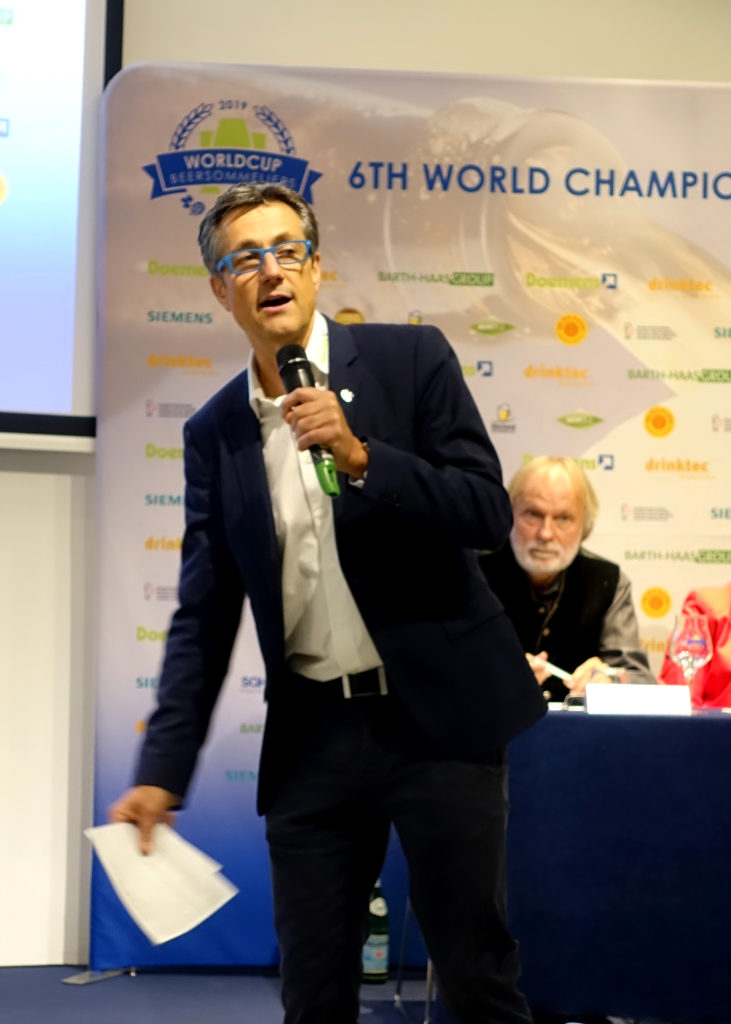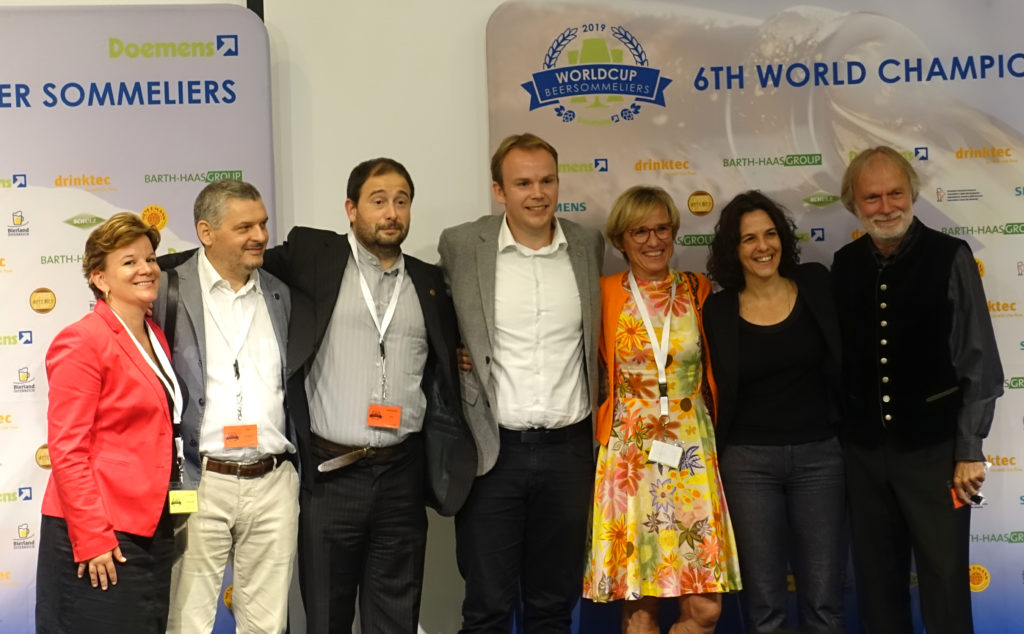 Michael chose Schneider Mein Aventinus, Elisa chose Westmalle Tripel, Philipp chose Brewdog Punk IPA, Patrick chose Geuze Boon, Julian chose Mikkeler Beer Geek Breakfast and Markus chose Duvel Tripel Hop Citra. Although the contestants were understandably nervous, some more than others, they still all did really well. I think I would have a blackout, just having to choose one of the beers and sticking to that. In the end: Michael became third, Patrick second and ELISA WON!!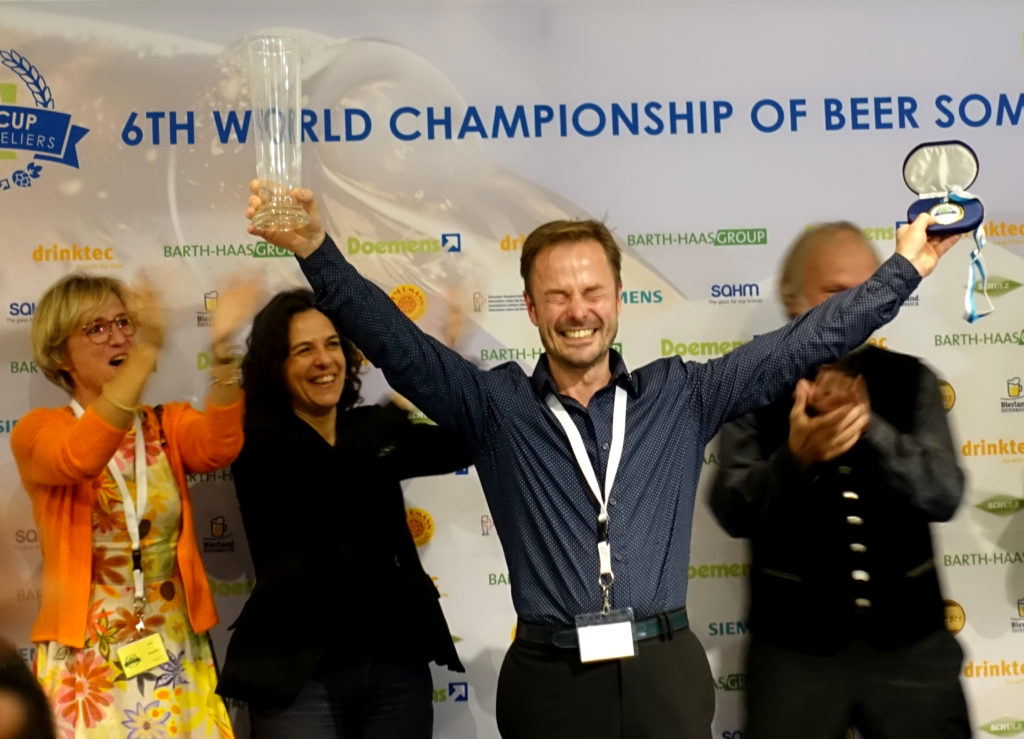 The day ended in a wonderful festabend with a gorgeous 6 course beer-food pairing and a …. Polonaise… I'm not judging….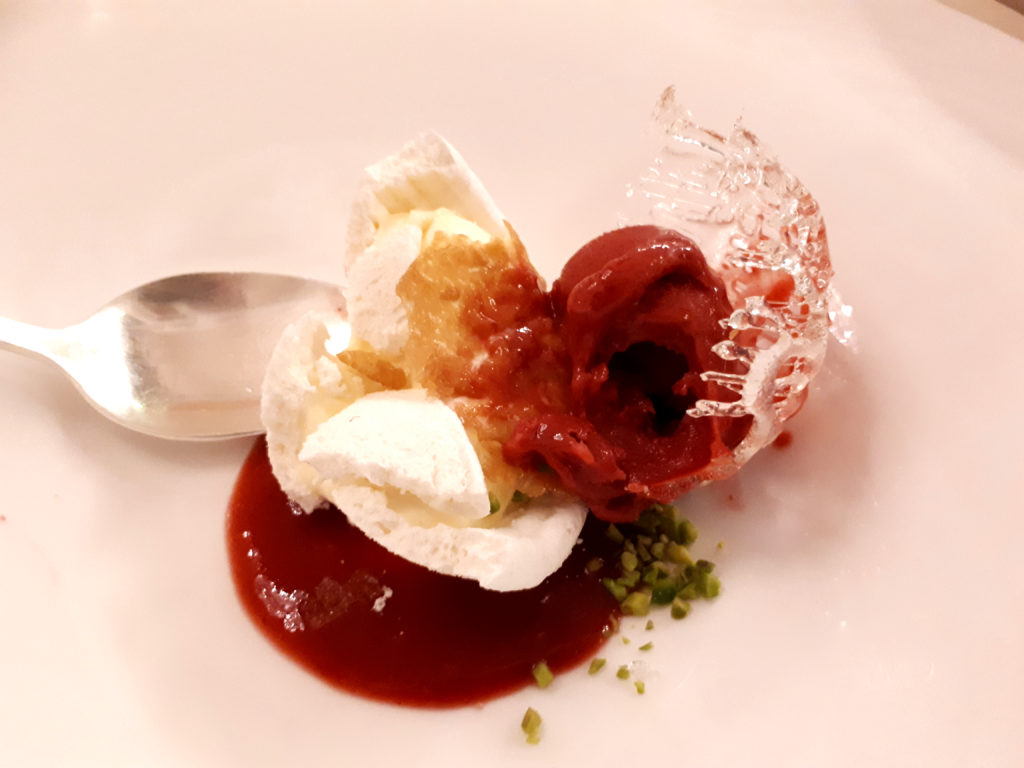 It was so awesome and I am so glad I was there to experience it all! Still trying to get back to the world of the living and normal. It was too bad our team didn't make it to the finals, but we'll be there next time! It does make me realise we still have a LOT of training to do
Oh right, the next morning Radio 2 called me for a short interview about the contest:
If you'd had half the chance, would you participate in such a world cup?