One of the recipes for one of the beers has been updated significantly, worthy of a new tasting and new description, so I had to update this post as well.
Those who know me, know I love De Efteling, a fairy tale theme park nearby. Some friends and I used to have a major story telling website about it, the WWCW. We still keep the site online and it has been declared digital heritage, so it has been archived as well, but a part of the group moved on to a less fictitious and more factual wikipedia like fan website: Eftepedia, most certainly the biggest Efteling fansite out there by far and one with more information about the theme park than the theme park itself could provide. I'd still recommend reading some stories on the WWCW though, it's still fun!
I write sometimes for Eftepedia, mostly about subjects starting with a b, like board games and beer. Are you surprised? No, me neither. For the beers I went to the breweries to interview the brewers and since Eftepedia is in Dutch, I will give you the gist of that in this post. Since the Hotel beers came much later, I wrote a separate article about those.
De Efteling is a family friendly theme park, but being situated in Brabant, also a Burgundian theme park. So when they made an attraction about an even more Burgundian people – the Laven – they took that opportunity to launch their own beer: Laafse Lurk. Lurk means gulp or suck or sip or something like that. Laven means refresh and laveloos means blind drunk. Laafse Lurk was available at the Lurk en Limoenhuys, together with other alcoholic drinks like Laafse Lebber. You could also buy Laafse Lurk for at home in specially made bottles, together with specially designed glasses. These glasses cannot stand on their own, so you had to buy special holders as well. The beer was served in these special glasses in the park as well. Fortunately the tables in the park had special holes drilled into them, so you did not have to hold your glass the whole time.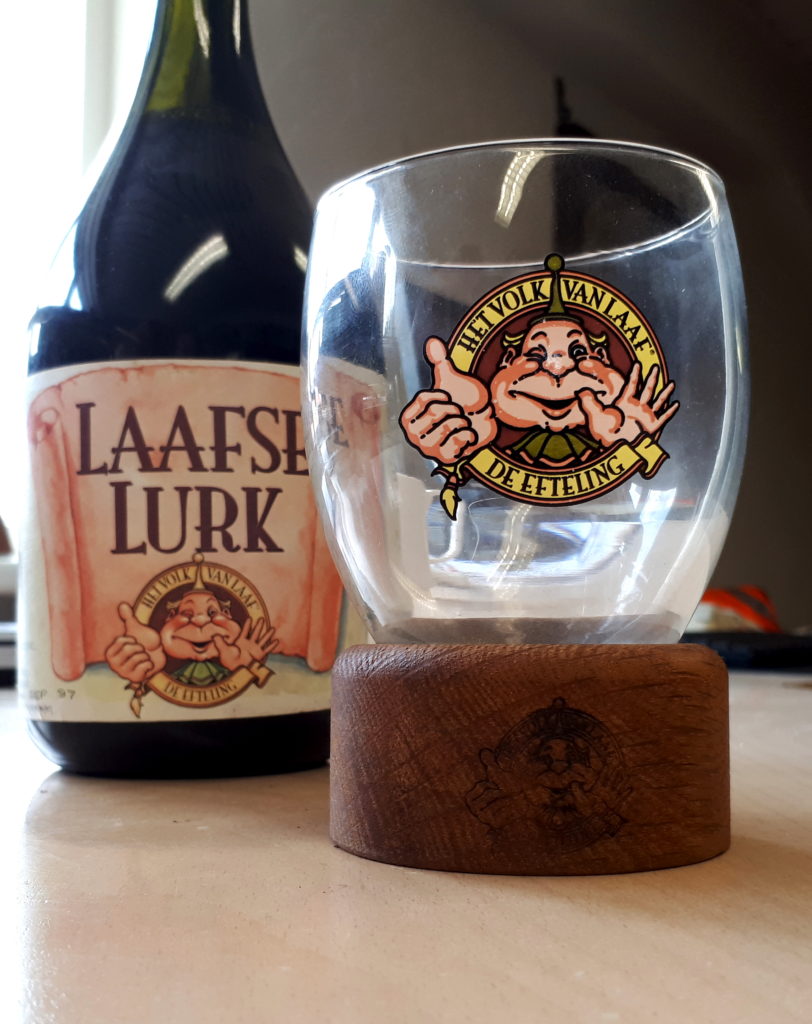 Laafse Lurk was brewed by the Arcense Stoombierbrouwerij (steam brewery), which is now Hertog Jan, an AB-inbev brewery. The beer was sold from 1990 until 2003. In 2003 De Efteling and by then Hertog Jan decided it was probably not the best of ideas to sell such a beer in a theme park, especially not in an area, het Lavenlaar, which was essentially a giant themed playground for smaller children. So they stopped all production and the Lurk en Limoenhuys was closed.
Laafse Lurk was a dark beer of 6,9% with the same recipe as the Hertog Jan Dubbel except it didn't have fermentation on the bottle, which the Dubbel has.
It was sold in round, large bottles. The story was that the beer was brewed by brewer Lal, who you can still find in the Lavenlaar. The beer is top fermented and made with pilsmalt, munichmalt, chocolate malt, wheat, Hallertau mittelfrüh hops, Brewer's Gold hops, Magnum hops and Perle hops. It smelled like tangerines, red fruit and honey and tasted like red fruit, juniper, and roasted malt. You can probably still find closed bottles around, but don't expect it to taste the same after 20 years. If you want to experience this beer, it is better to just drink the Hertog Jan Dubbel.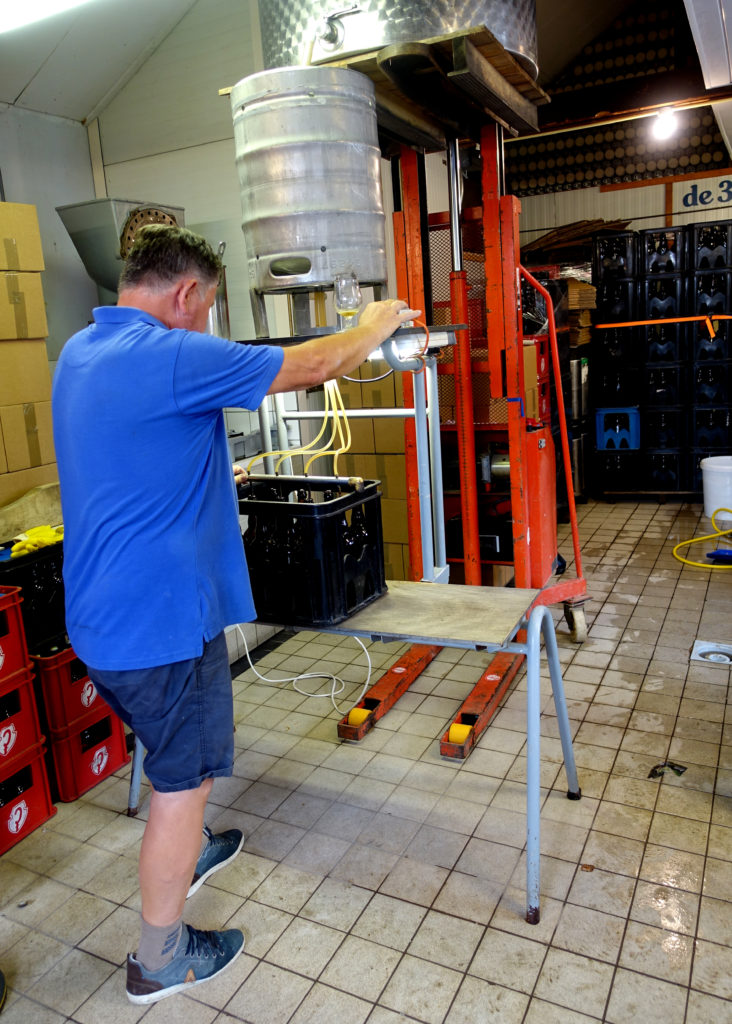 Even though the production of Laafse Lurk stopped, you could still buy beers in the park, but mainly in the bigger restaurants and mainly from the AB Inbev assortment.
Ten years later, De Efteling decided to try their hand at a house beer again. Laafse Lurk wasn't an option anymore because of the AB Inbev policy not to brew beers for other brands again. The park also decided they did not want to have an in-park beer. Instead they decided to brew special beers for their holiday parks, starting with their then new holiday park Bosrijk. For this beer they approached local brewery De 3 Horne, which is literally a stone's throw away from the park and is one of the first craftbeer breweries in the vicinity. De 3 Horne came with: Bosrijkse Brouw.
You can buy Bosrijkse Brouw exclusively at Bosrijk.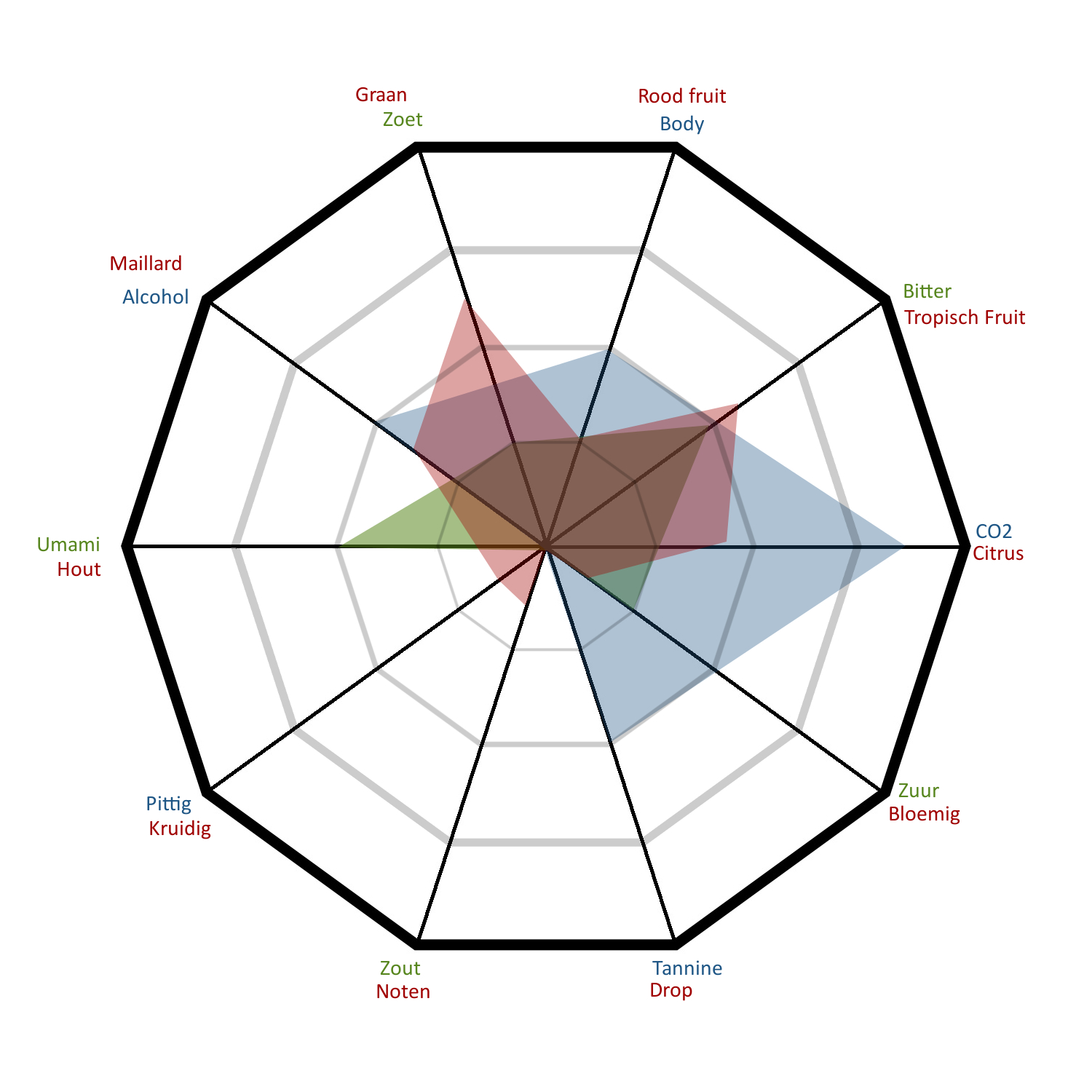 It's a bottom fermented beer (labeled blond) of 5,3% and is sold in 750 ml bottles. It's made with munichmalt, pilsmalt, Northern Brewer hops and Tettnanger hops. Bosrijkse Brouw is an unfiltered, almost orange coloured beer. It is a crisp beer with flavours of mango and tangerine and aromas of pear drops, which is a bit unexpected for the type of beer. The beer is very high in its carbonation.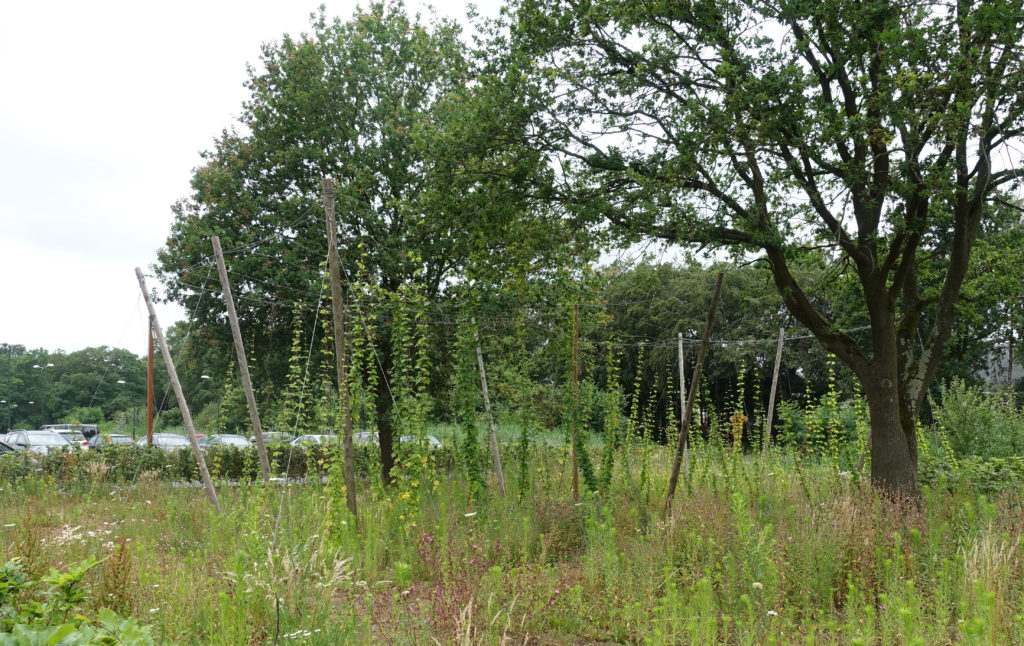 With the opening of their second holiday park, 't Loonsche Land, De Efteling launched a second own beer: 't Verdiende Loon. Although in all the commercials we saw brewer Gerard from Hertog Jan, the beer is actually brewed by Sint Crispijn in Waalwijk. The beer was launched in 2018. It is the intention to use hops that are grown in a special garden on the holiday village itself, but they weren't ready yet for the first few batches.
The first version of 't Verdiende Loon was a hoppy ale (labeled blond) of 6.8 % alc. vol. made of pilsmalt, munichmalt, Saaz hops and East End Goldings hops. It was a golden beer with a firm foam head, with a sweet, slightly haylike aroma with hints of honey and oranges. The beer tasted surprisingly bitter, but was well-balanced. Even though the request was the same as for Bosrijkse Brouw; a blond, drinkable beer, this one was more IPA like. The beer was exclusively available at the holiday village.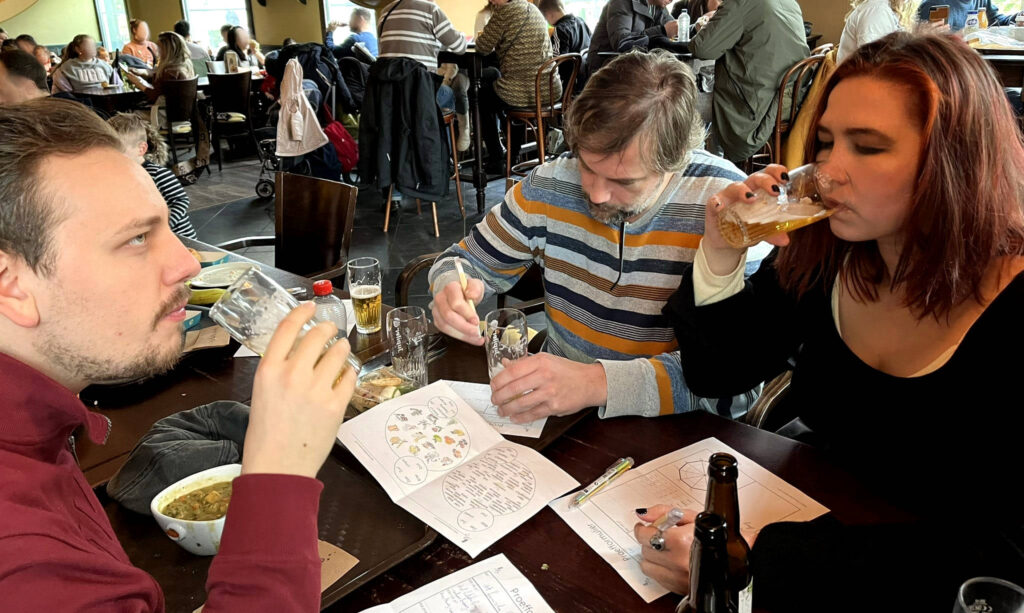 In 2023 they decided to radically change the recipe of 't Verdiende Loon. They added wheat malt to the mix and now use hops from 't Loonsche Land. But the real kicker is the use of Kveik yeast!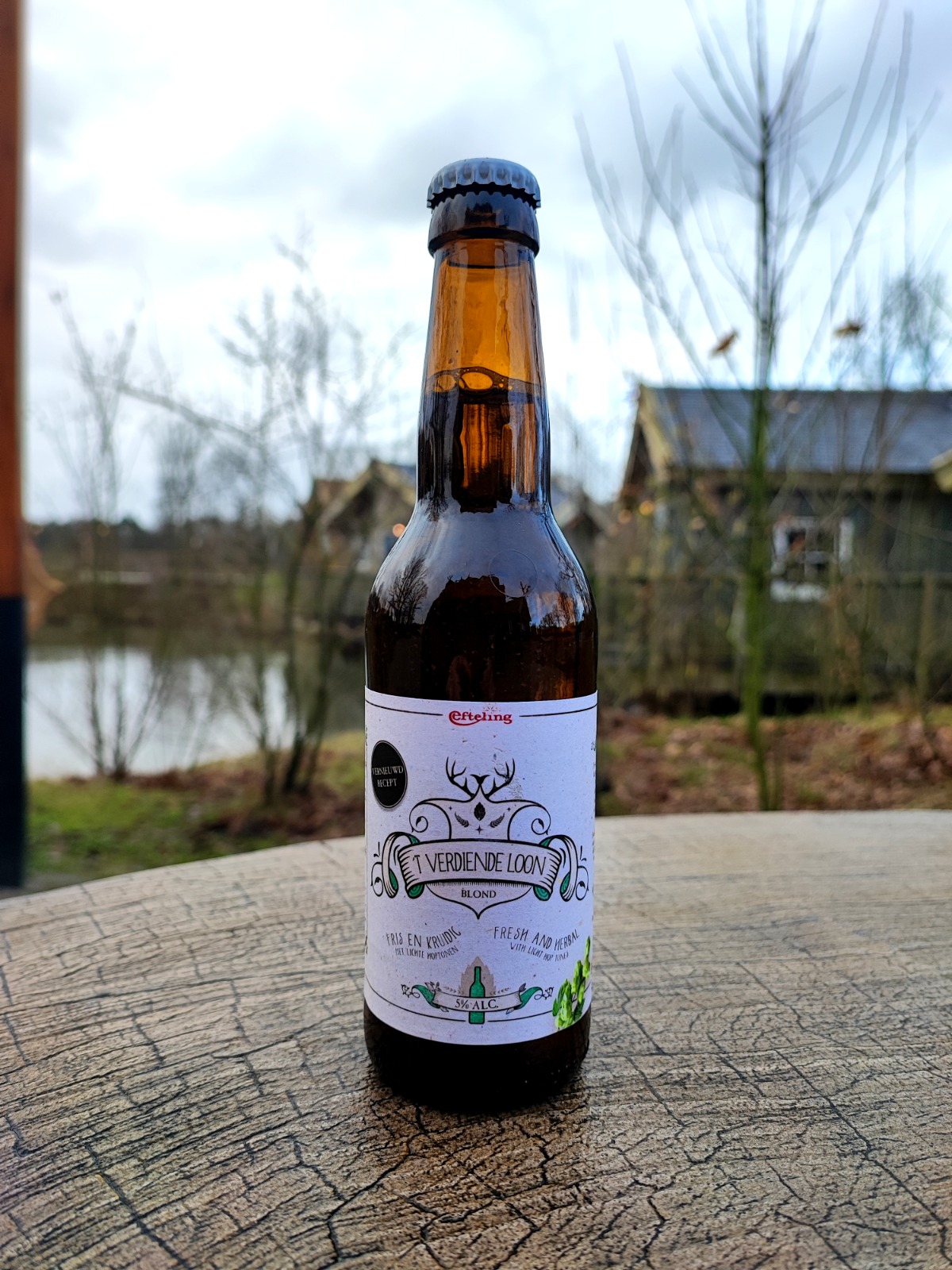 This Norse yeast is mostly a mix of several yeast strains and has a very rich and long history. A very interesting historical curiosity is the use of yeast rings to keep and domesticate the yeast. Susan Verberg has done some very interesting research into this subject. Kveik is a very quick and enthusiastic yeast, which is one of the reasons we also used it for our own historical beer brewing project. Because it is so quick, it gives bacteria less chance to infect a beer. It is also a very alcohol tolerant yeast, so it is possible to brew beers up to 16 % vol. alc. without any destillation. It can handle pretty high temperatures, sometimes up to 43 degrees Celcius, and it has a high attenuation. Because kveik is such a quick yeast, you have a drinkable beer pretty quickly, although it will yield better flavours when you wait a bit. Kveik has a wide variation of flavours and aromas, ranging from fruits to earthlike. Funky flavours are not unusual.
't Verdiende Loon 2.0 is a light bright yellow, almost clear, sparkling beer, with a firm, delicate foam head. The nose is surprisingly pils like with a light hint of sulfur, together with grainy aromas and slight touches of grapefruit and nuts. The beer has a fuller body than expected, with very subtle carbonation and astrigent qualities. It is quite bitter, but also sweet and a slight sour note, with woody and grainy flavours and a very dry aftertaste.
In 2019 De Efteling launched a third ánd fourth accommodation beer, this time especially for the hotel. I wrote a separate blog post about those beers.
What do you think of the renewed 't Verdiende Loon?