Those who know me, know I love De Efteling, a fairy tale theme park nearby. Some friends and I used to have a major story telling website about it, the WWCW. We still keep the site online and it has been declared digital heritage, but the group moved on to a less fictitious and more factual wikipedia like fan website: Eftepedia, most certainly the biggest Efteling fansite out there and one with more information about the theme park than the theme park itself could provide. I'd still recommend reading some stories on the WWCW though, it's still fun!
I write some times for Eftepedia, mostly about subjects starting with a b, like board games and beer (And bellydance in the future). Especially for the beers I went to the breweries to interview the brewers. The site is in Dutch though, but I'll give you the gist of it. I wrote a separate article about the hotel beers.
De Efteling is a family friendly theme park, but being situated in Brabant, also a Burgundian themepark. So when they made an attraction about an even more Burgundian people – the Laven – they took that opportunity to launch their own beer: Laafse Lurk. Lurk means gulp or suck or sip or something like that. Laven means refresh and laveloos means blind drunk. Laafse Lurk at the Lurk en Limoenhuys, together with other alcoholic drinks like Laafse Lebber.
Laafse Lurk was brewed by the Arcense Stoombierbrouwerij (steam brewery), which is now Hertog Jan, an AB-inbev brewery. The beer was sold from 1990 until 2003. In 2003 De Efteling and by then Hertog Jan decided it was probably not the best of ideas to sell such a beer in a children's park.
Laafse Lurk is a dark beer of 6,9% not unlike the Hertog Jan Dubbel except it didn't have fermentation on the bottle. It was sold in round bottles and had a story on it about how it was brewed by brewer Lal, who you can still find in the Lavenlaar. It also came with special footless glasses, for which holes were made in the tables. The bottles and glasses were specially made for the Efteling. The beer is top fermented and made with pilsmalt, munichmalt, chocolate malt, wheat, Hallertau mittelfrüh hops, Brewer's Gold hops, Magnum hops and Perle hops. It smelled like tangerines, red fruit and honey and taste like red fruit, juniper, and roasted malt.
Ten years later, De Efteling decided to try their hand at beer again. It wasn't Laafse Lurk, by then the AB Inbev policy was not to brew beers for other brands again. Instead it was the opening of the new holiday park Bosrijk that inspired the new beer: Bosrijkse Brouw.
You can buy Bosrijkse Brouw only at Bosrijk. It's brewed by local brewery De 3 Horne, one of the first craftbeer breweries in the vicinity. It's a bottom fermented beer (labeled blond) of 5,3% and is sold only in 750 ml bottles. It's made with munichmalt, pilsmalt, Northern Brewer hops and Tettnanger hops. The first label (and name) looked a bit like Laafse Lurk, but they decided to change that to the current label. It was the perfect time to launch an own beer again because regional products were very popular those days.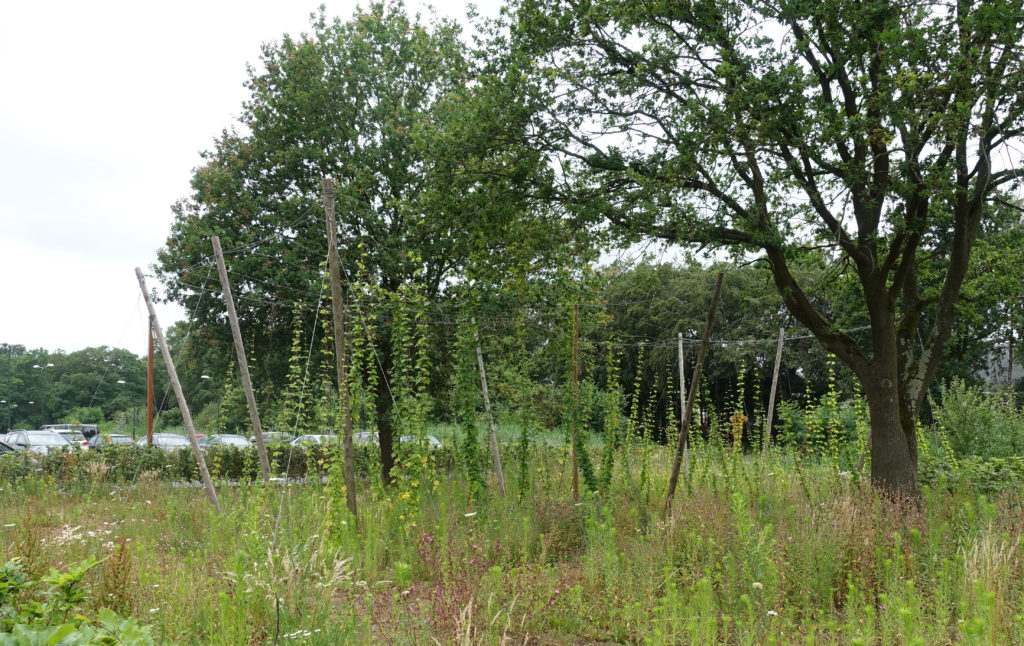 With the opening of their second holiday village, 't Loonsche Land, the Efteling launched a second (or is it third) own beer: 't Verdiende Loon. Although in all the commercials we see brewer Gerard from Hertog Jan, the beer is actually brewed by Sint Crispijn in Waalwijk. The beer was launched in 2018. It is the intention to use hops that are grown in a special garden on the holiday village itself, but they weren't ready yet for the first few batches. 't Verdiende Loon is a hoppy ale (labeled blond) made of pilsmalt, munichmalt, Saaz hops and East End Goldings hops. The beer is exclusively available at the holiday village.
This year the Efteling will launch a third accommodation beer, this time one especially for the hotel. We didn't know what it would be yet when I wrote this, but now we now it is Hotel de Bottle by Brouwerij Opener. I will talk about this a bit more in the podcast of Kleine Boodschap
What do you think the style of the next Efteling beer will be?