12-03-2023: UPDATE: As of February 2023 De Bierbrigadier in the Bergstraat in Eindhoven has been closed as a brick and mortar shop. You can still find De Bierbrigadier as a webshop online, and is now managed together with Jimmy Hendrikx. The Bier & Big Festivals will also still take place. Next to that, Casper started a new project: Club Craft!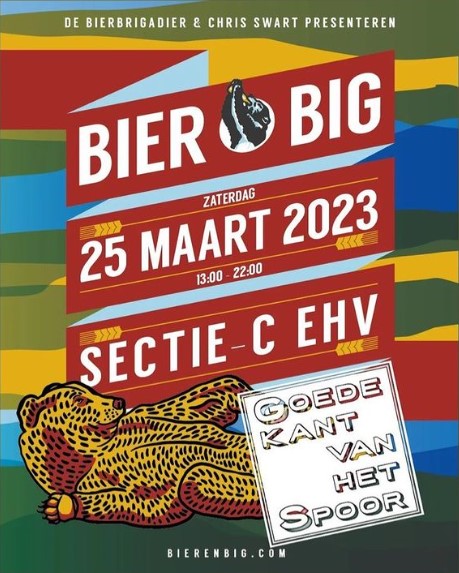 June 2020: This week it has been exactly five years since Casper opened De Bierbrigadier in Eindhoven! I have known Casper all my life, so it was extra fun to interview him about his beer shop in the city centre of Eindhoven.
De Bierbrigadier opened on June 17. or 19. in 2015, therefore he is celebrating it the entire month with special sales, give-aways and a beer television marathon on June 20. There will also be a beer tasting on the 20th for which you can still buy the beers.
Casper already hired an awesome venue for a great party and was planning on some collabs, but since that's not an option at the moment, he thought of the next best thing. The beer tv marathon will be from 10 to 22 and you might spot yours truly as well. There will be beer tastings, DJs, digital tours in several breweries and more. He also invited some of his neighbouring entrepreneurs, so in addition to all the beer you can also win a new tattoo! It will be one big party, so be sure to tune in!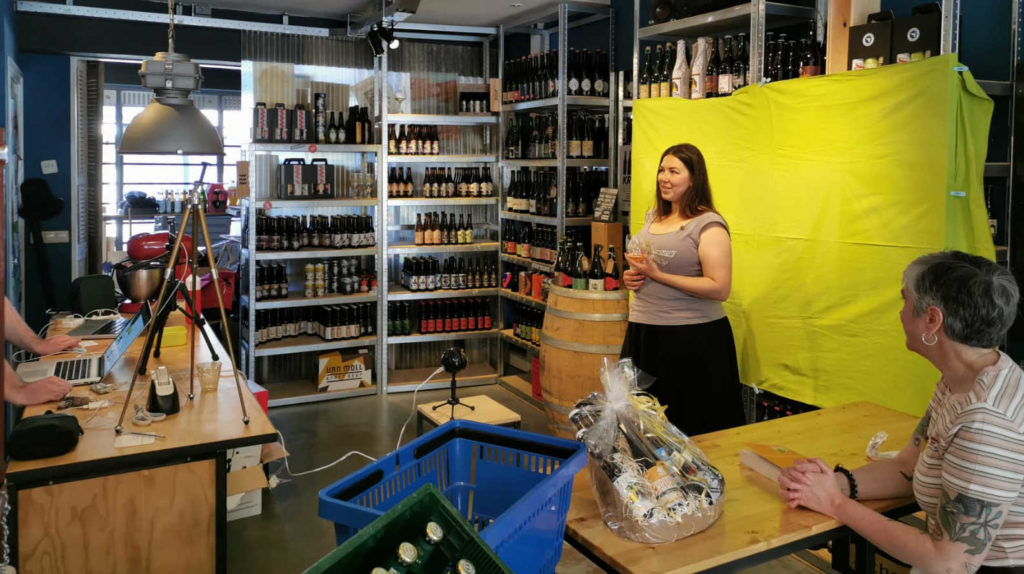 Casper always wanted to have his own place, his home away from home. He began a course in entrepreneurship when he was 20, but most of his classmates were 15 and didn't even know what percentages were, so he quit within the first year, figuring he could learn it some other way.
In 2013 he worked at Van Moll, then still a start-up. In those years they played with the idea to open a bottle shop as well, next to the brewpub and brewery. A location nearby was available, but it was too early back then, the focus was on the brewpub. However, when Casper reached the end of his second contract, he jokingly mentioned he might start that bottle shop anyway. He was done learning at Van Moll and wanted something for himself. This was the beginning of May 2015. In that time he already had the idea together with a friend to start a specialty beer delivery service, hence the name and logo. That friend already had a fulltime job though and he didn't mind Casper using the logo and name for a new shop instead. So, Casper put a Facebook page for De Bierbrigadier online and started asking around if people were interested in helping him making this shop come true. Not in his wildest dreams could he imagine what happened then:
Within 4 weeks he had the money he needed and within 7 weeks he had opened a specialty beer shop in the city centre of Eindhoven! That's within 7 weeks of the conversation he had at Van Moll about starting that bottle shop!

By then he also already had organized his first Bier & Big Festival which was in June 2015 as well. It was still small, with only some Eindhoven breweries and De Muifelbrouwerij and Brouwerij De Natte Gijt, but it still attracted 800 people and was an instant success!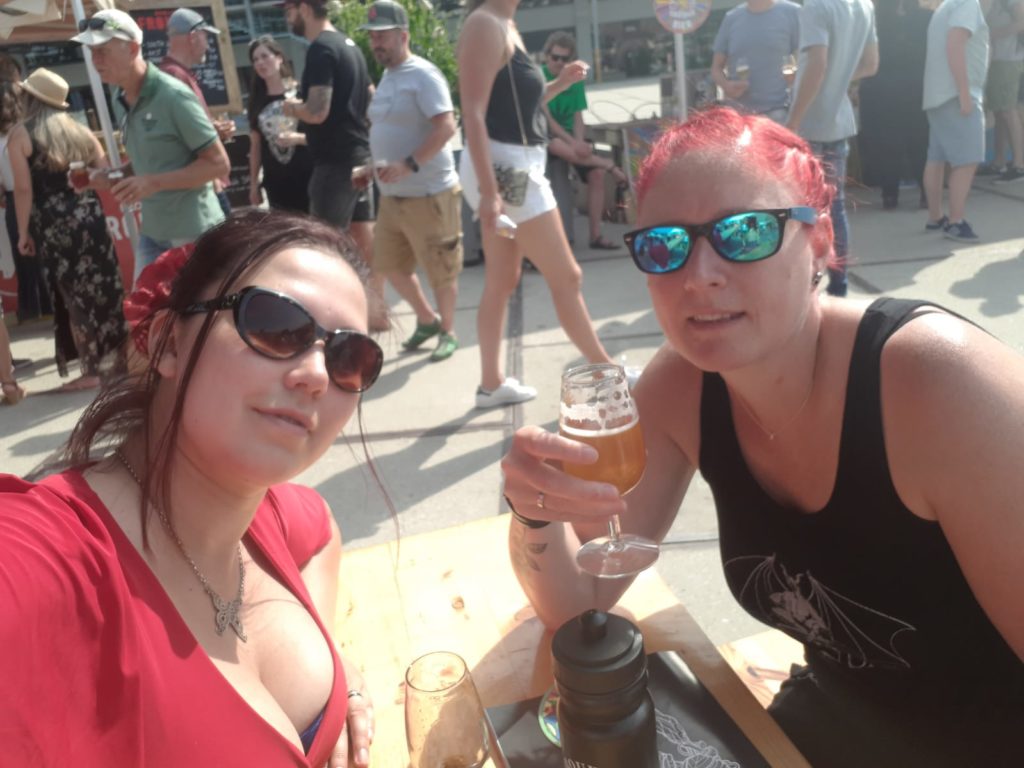 For Casper those first two months were the most astonishing of all! Not that the rest was bad, but that start was like a dream come true and confirmed his idea that a shop like this would work.
He had found a location in the quirky Bergstraat, about which I told you before. It's thanks to a former factory in this street that Eindhoven has the nickname Lichtstad (City of Light). These days, the whole Bergen area is at the fringe of the centre where you can find a lot of small, peculiar, specialty shops, some of which have been around for a very long time. My favorite childhood shops are still here, like the Eppo and 't Smitje.
At the start he only had half the space he has now. He began with a cash register, some shelves, about 200 beers and a very small store front. He sold enough to keep the shop going, but that was it. It was fun though and he also did a lot of beer-related things outside of the shop. Casper really wanted to put specialty beers in the picture one way or the other. As Papa Brews he did collabs with other brewers like OLDSKOOL, he organized beer tasting and events, festivals and more. In 2017 the venue next-door became available and he knew that íf he wanted to expand, he had to make that choice there and then, because if a new proprietor would start shop, he would never get the chance to expand again. And so, after some negotiations with the landlord and the tattoo shop two doors down to split up the venue, he went for it. He doubled the floor and tripled the store front and that was the perfect move to really boost business. With so much time walking past the shop, people really see it's there and walk in more often than they did before. But that wasn't all. Casper realized pretty quickly he wouldn't be able to manage with just one store. There is too little exposure and the procurement of a variety of beers is expensive.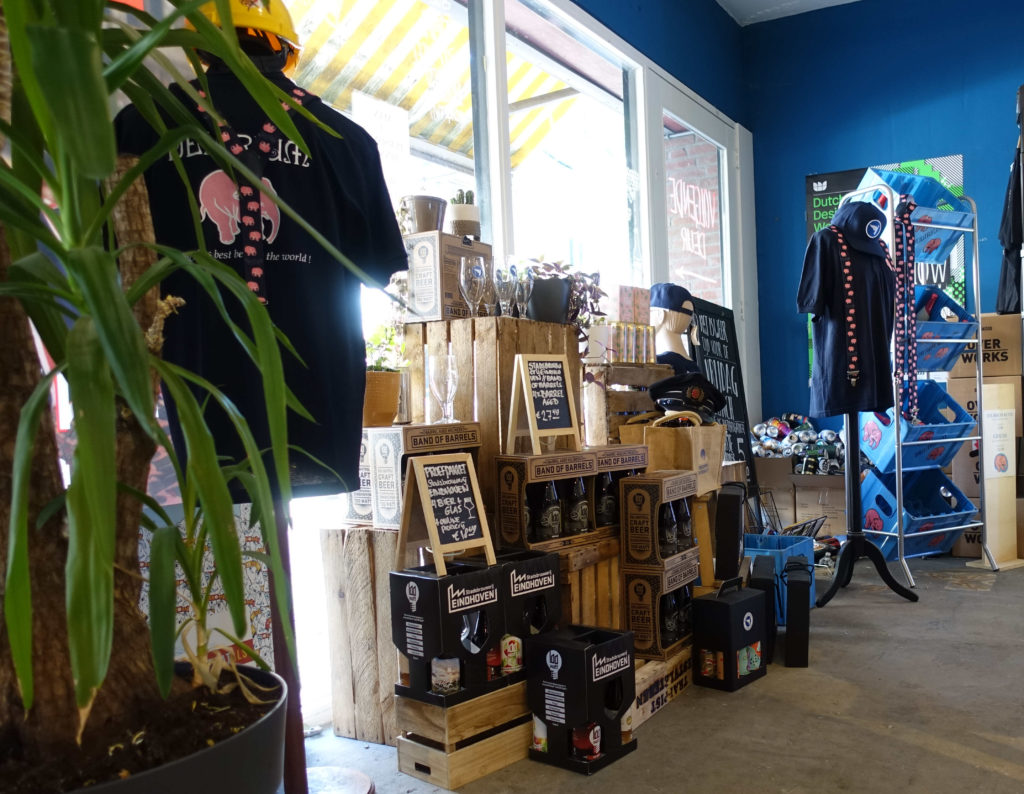 Casper went to Tilburg first, talked to Roy Maas of the Loc brewery and found out that Koen Gijsbers was also looking around to open shop in Tilburg. Koen and Casper talked and this soon led to De Bierbrigadier Tilburg. De Bierbrigadier is a collaboration between the different shops, they all run their own shop under the same name. Not much later a very enthusiastic Wouter walked in. Casper and I both know Wouter from a long time ago, Eindhoven is small like that. He really, really wanted to open his own shop in Helmond. Casper and Wouter both had some doubts, but his enthusiasm was convincing and Wouter went for it. Helmond is also strategically placed for all the villages around, so it could have been an interesting move. However, it didn't work out as hoped, despite Wouter's enthusiasm with which he could sell wood to a forest, life got in the way and he closed the store in Helmond. In came Aniek van Zutphen, a fellow diplom biersommelier working for Mr Hop, who wanted to open a store in Nijmegen. Nijmegen already had De Bierhoeder though, so she first went to work for Casper in Eindhoven, setting up the website and organizing the wholesale business that was still a part of De Bierbrigadier back then. But after half a year she still really wanted to open her own shop and began De Bierbrigadier Nijmegen. There has also been a Bierbrigadier in Roermond for some time, but he decided this year to start a shop under a different name. So nowadays you have three successful Bierbrigadiers and they all have their own style. Koen has a small base assortment but is going strong on the specialty IPA's. Aniek is very fond of sour beers and wild yeasts. Casper is a real everyone's friend and has a very varied assortment.
That assortment has changed quite a bit over the years, although his sales pitch hasn't. He went from 200 to 600 beers and back again to an assortment of 350. It's a balance between as much variation as possible and an average turnaround time of two weeks. Because one of the important things to Casper is selling fresh beers. Therefore, he also hasn't got much storage. He has tried a lot of different styles over time, but some just don't sell. English IPA's don't do as well as American IPA's, and the only German style beers that sell are Weisse beers, of which he sells a lot! Especially Schneider Weisse . Remember Casper helped us with the Schneider Weisse Fantreffen?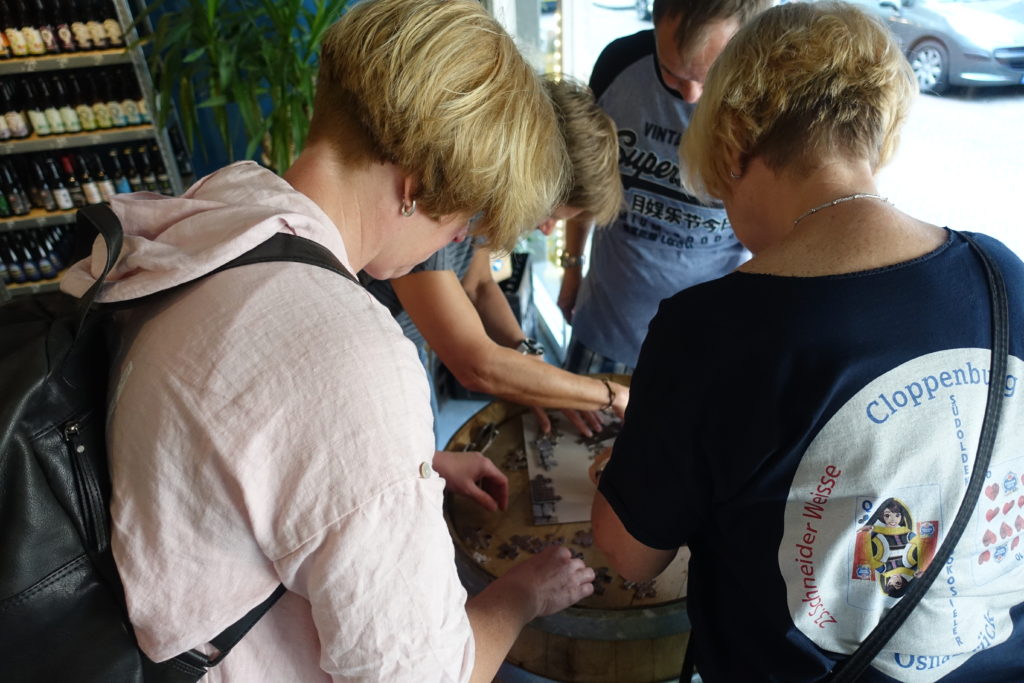 Sours are very popular, as are stouts, saisons, and of course beers from Eindhoven. Casper makes a point of selling beers from breweries he believes in, have a good story and preferably have their own physical brewery because that says something about the risks you are willing to take to brew that best beer ever. But even with the ever-growing group of beer geeks, he still has to remind himself once in a while most customers just want a tasty beer and don't know what a stout or a sour is. Just the other day a couple came in and bought two expensive IPA cans and they were wondering why this beer they love so much is this expensive. "Well, because of all the hops that go in" thus spoke Casper. "Ah, so an IPA has more hops?" asked the customer. They had been IPA fans for years, but never realised what an IPA was. And that's fine. It's awesome that so many different people enjoy beer for so many different reasons! That's also part of having a store in the city centre, the audience will always be varied, and everyone could and will come in. According to another customer De Bierbrigadier is special because it's no-nonsense, local, honest and you know Casper has such an interesting assortment that you never make a bad buy. And even then Casper will not assume, nor neglect some base assortment because it's not trending at the moment. For one, brewers always seem to enjoy a good pilsner instead of the next hip and happening style.
Maybe one day De Bierbrigadier can sell enough Helles to keep in his assortment, I keep my fingers crossed! For now, he mostly had to drink all Helles himself, because they didn't sell.
As said, next to the store Casper brews occasionally as Papa Brews, but only as collabs and only on very special occasions. My favorite is Archibaldt which he brewed together with OLDSKOOL as a tribute to the man who tattooed my backpiece (not because he tattooed my back) and which is a very tasty brown ale and no, I'm not prejudiced because of the three awesome people involved producing this beer. The first time I tasted that beer I didn't even know.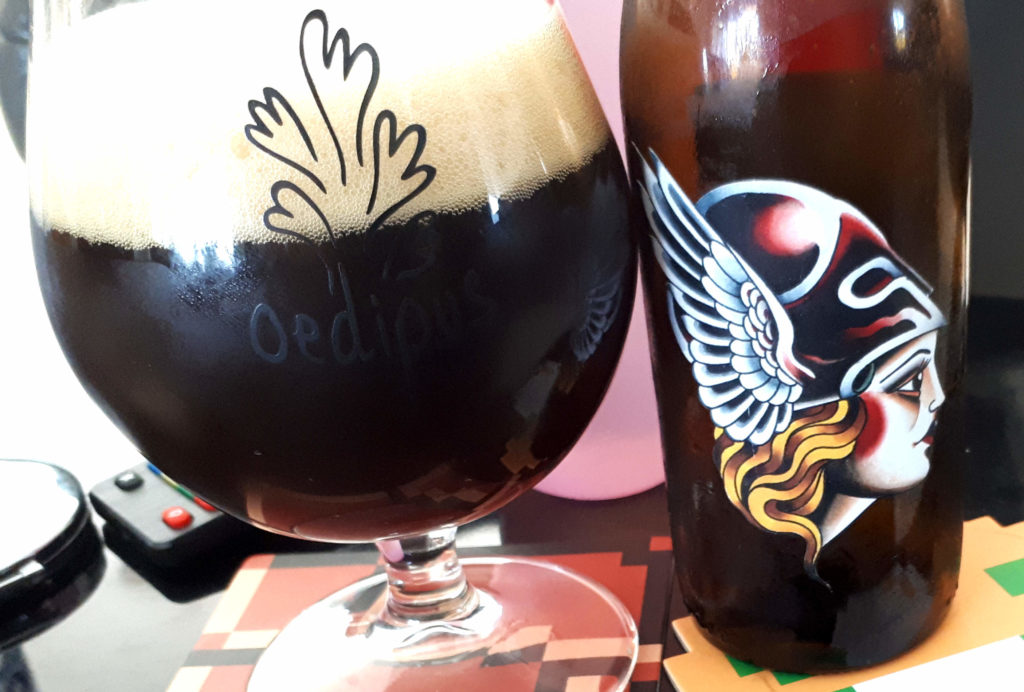 He also organises the highly successful beer & big festival. Last March would have been the 13th time! A lot of the audience there don't even know he also has a shop, but that's ok, everything to get specialty beer in the picture, and eventually they'll find De Bierbrigadier anyway. Casper was only glad stores like the Albert Heijn started to sell specialty beer. It only meant more people became aware of specialty beer, and once they were through the whole Albert Heijn assortment they would find De Bierbrigadier.
Casper loves the Eindhoven beer culture, although there seems to be some sort of levelling at the moment. Everyone is doing pretty well and steady for themselves; the breweries, the bars, the shops and it's a bit quiet overall. Casper believes it's time to shake things up a bit. The Eindhoven beer fests were less crowded than hoped for, but it's okay for now.
In the future he wants to do more, create a specialty beer platform, pushing specialty beer and the Eindhoven beer culture to a higher level. He wants De Bierbrigadier not to be just a liquor store, but a specialty store for specialty beers, but one where you can also buy ciders, mead, craft wines and craft sodas. There's also space for a specialty bread seller to be in the store some days and he wants to sell special local produce like a very interesting cherry wine he has now from a cherry farmer from Tilburg.
What was your favourite memory of De Bierbrigadier shop in Eindhoven?