Dennis Kort, Enfant Terrible 😉 (I mean this affectionately) of the Dutch Beer World since 2007, brewer, distiller, distributor, beer judge and speaker of the Dutch Schneider Weisse Fanclub. Also international biersommelier and one of the best in the Netherlands, proven twice now in the Dutch Cup of Beer Sommeliers and will therefore again represent the Netherlands together with four other extraordinary beer sommeliers at the World Cup in München in September (If you want to know what such a World Cup looks like, read my post about the last World Cup in Rimini). Always in for fun beer activities and overall mostly a very enthusiastic beer ambassador who tries to stay on top of all aspects concerning beer. Hence he also has his own brewery OLDSKOOL.
And OLDSKOOL has been established 10 years ago september this year, so time for a party! For one, ten of his favourite OLDSKOOL beers will make a comeback this year! Including a new addition to his Hopfen Weizen serie, the CC Walden, Wo Ist Mein Fahrrad?, and Norwegian Christmas Ale (ØLDSKEUL). Some beers that he has not brewed in a while, so be sure to catch them while you can. Furthermore there are also several new beers in the making and other upcoming interesting projects as well like the Fresh Hopped projects and collabs with Schumacher and Kundmüller.
Dennis has a range of about 120 beers, including the beers from his other breweries CC (together with Wolter de Bes in Arnhem) and for now 't Witte Konijn (The best beers that Witte Konijn has to offer will become a part of OLDSKOOL branding throughout the year), and the beers he brews for a local group of waterpolo players under the name of Brabants Chlorie (which is a clever pun in Dutch).
A big part of the OLDSKOOL values are sustainability and reducing the environmental impact in as many ways as possible, including distilling batches that are less than stellar, reusing bottles and a minimum of waste. Other core values for OLDSKOOL are brewing true to beer type, honest food and ingredients, and of course the namegiver of the brewery: going back to the core; Honouring a different time, honouring the classics. Which is also reflected in the black and white house style of OLDSKOOL and the other breweries.
But the one thing Dennis and by extension OLDSKOOL are definitely known for in the Netherlands is that, as one of few breweries in the Netherlands, OLDSKOOL is grounded in the German Reinheitsgebot. Scratch that, Dennis probably breaths the Reinheitsgebot. So except for the one collab with the Kaapse Brouwers, all his beers are free of any additions besides the usual suspects. You know: malt, hops, yeast and water. This makes for some interesting experimentation. At first glance, it can seem very limiting to only have these four ingredients, but don't be fooled. These four ingredients offer an infinite range in flavours and beer types. Sure, not áll beer types are feasible if you want to stay true to recipe, although not for lack of trying on Dennis his part, but you would be surprised by all the beer types he did and does make with just the basics. And really, if you really really think about it? All four ingrediënts have so many variations and a wide range of flavours on their own, so really, should it be that surprising there is even so much more possible with the four combined? I mean, that is exactly what I like so much about beer, so many possibilities, so much variation, just with slight variations in the malts, hops, yeast and even the water you use. So within the confines of the Reinheitsgebot, Dennis does not shun beer types like tripels, even though those traditionally do have some additives, because with the fenols and esters it is perfectly possible to create similar characteristics those additives normally provide. So I would not be surprised at all if Dennis would manage to make a good pastry stout some time soon, within those boundaries of the Reinheitsgebot.
So maybe it is not possible to brew every beer type true to type with just the four base ingredients, but would that really be so bad? Just because you can do it, does not mean you should. As Dennis states you see brewers with an awesome range of beers and then they spend time, resources and energy into a mediocre stout at best because stouts are trending, while it does not add to their range at all and is done so much better by other brewers. So was it really worth it? To adhere to the trend? To what is popular? Or is it better to stick to your own strengths and leave those stouts to the hundreds other Dutch breweries that do produce gorgeous stouts? Of course it can be interesting as an experiment or just plain fun to do it, but sometimes it is also interesting to even better the good beers you already have and exploit that.
But true to type means true to type, which also means Belgian malts, hops, water profile and yeast for Belgian beer types, British malts, hops, water profile and yeast for British beer types and German malts, hops, water profile and yeast for German beer types. Because if anything, Dennis is thorough and a perfectionist to a fault. Which also means an OLDSKOOL beer is not just brewed on a whim. Instead a lot of research goes into every recipe, research that includes historical, cultural and other aspects of a beer. Because Dennis brews beers as a tribute before anything else. A tribute to the classic beer types and the rich (cultural) history of every beer he brews. That has not always been easy though. It is only recent that the malt and hops market is as international and accessible as it is nowadays. In the beginning it was so hard to get specific British malts in the Netherlands, that he decided to import these himself, which marked the start of the import part of his business. These days luckily there are more and more distributors with a right range of malts and hops from the island, even though some of his ingredients are still obscure enough that he cannot get it on a whim, but at least he can get them now.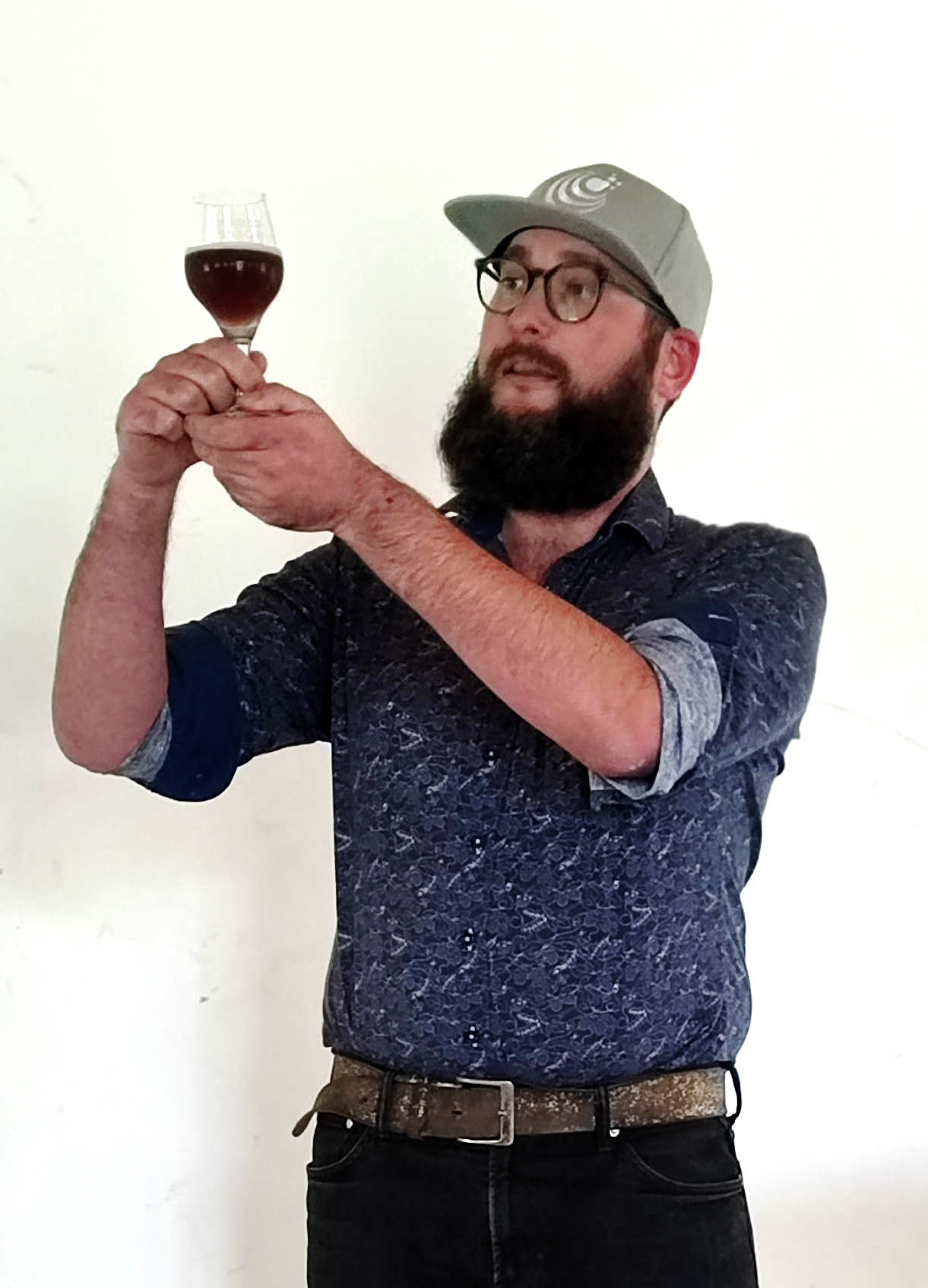 So what does this 'Eindhovenaar' think of Eindhoven? That Eindhoven could do a lot better, especially being the fifth city of the Netherlands, but he is optimistic, because there is a lot of opportunity in Eindhoven as well. Dennis is less optimistic about the future of the Dutch Beer Culture as a whole. Where Eindhoven has a lot of potential and a lot of active projects in the world of beer, with a major hobby scene as well, the rest of the Netherlands seem to be in the hold of the craft and extreme experiments, making it potentially more niche again instead of more mainstream, a market led by Untappd medal collectors, instead of the average restaurant or pub visitor. He sees hope for the future of Eindhoven though, especially with all the up and coming smaller breweries settling in the city, but it is a beer poverty row at best now with really only three bigger breweries who actually brew in Eindhoven, some smaller ones and then the cold breweries who are basically only Eindhovens on paper. As for beer pubs, it could also be a lot better for such a big city. There are of course some brewpubs slash brewery associated places like 100 Watt, Van Moll, Het Veem and Rabauw, and then some smaller pubs specialised in beer like De Bierprofessor, but the biggest that is not directly tied to one brewery is still only Drinkers Pub. But at least it is possible to organise a decent beer walk or Golden Mile, which Dennis does regularly.
Despite his broad brewing experience at other breweries, Dennis only began brewing seriously for himself after he became an international biersommelier. It was only then he thought about bringing something new to the table by bringing back the old, the classics, true to the Reinheitsgebot, which translated into old school OLDSKOOL. Next to his brewery and all the things I mentioned before, Dennis also works for concour mondial (Dutch/Brussels/etc Beer Challenge), he entertains with beer on cruiseships, teaches for StiBON and organises other beer and hygiene related courses and advise for the food services industry and other breweries. Weeks of 60 and more hours are his sweet spot and he all but died of boredom during the last two years. Luckily everything is back in business again, including his work for Drinkers Pub and of course brewing for his OLDSKOOL. So, chances are, you probably met Dennis one time or another, or drank one of his beers, and I am sure we have not heard the last of him and OLDSKOOL.
What is your favourite OLDSKOOL beer?