By now you cannot have missed that just a week ago the World Cup Beer Sommeliers 2022 took place at the Doemens Academy in Gräfelfing near München. The Netherlands were represented by an excellent team of five beer sommeliers to compete in this competition and what a competition it was!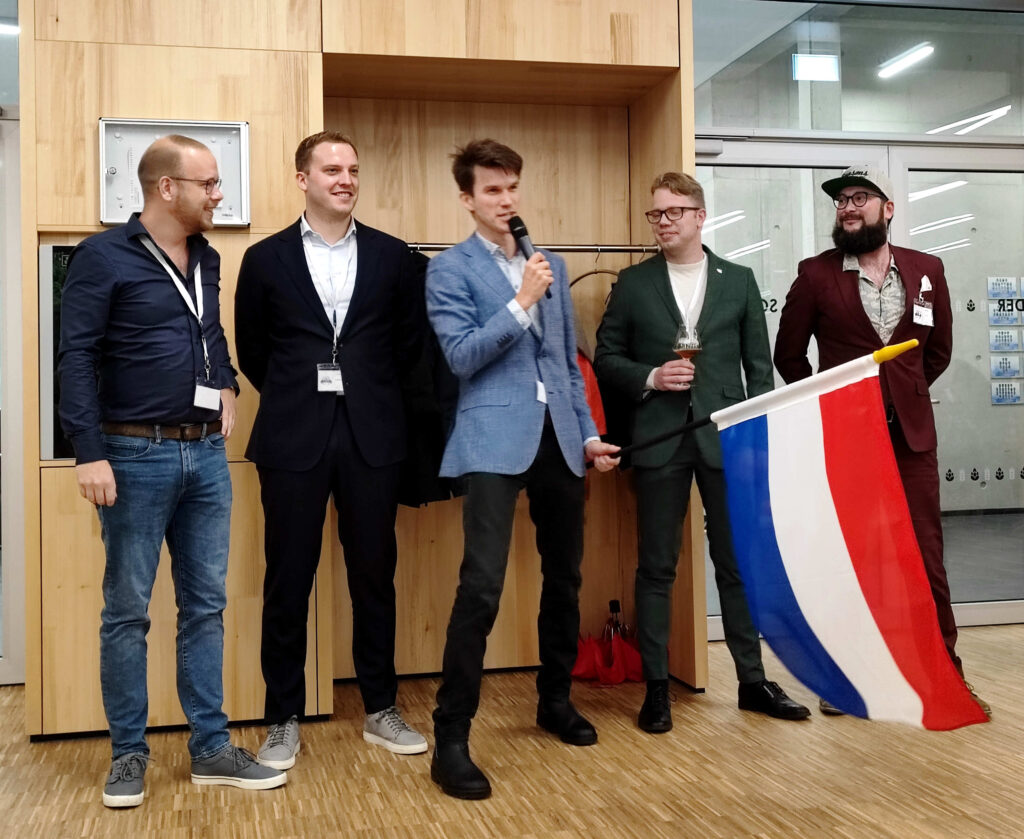 As I told you earlier, our champions Léon Rodenburg, Bas Schampers, Yoran Zonneveld, Dennis Kort and Hubert Hecker won the Dutch Cup of Beer Sommeliers earlier this year, and together with Ton van Opstal as their backup, and their team of dedicated cheerleaders and trainers, namely Uwe, Bart, Wendy, Maria, Maurus and me ( 😉 ), they were as ready as can be to rise to the challenge! In the short time they got between the Dutch Cup and the World Cup they trained their asses off together, helped each other get better and really bonded as a team! By right a team to be proud of!
This would be the second Weltmeisterschaft for Dennis and Hubert, the first being the World Cup in Rimini in 2019.
Ever since 2009, the Weltmeisterschaft der Biersommeliers strives to recognise those who bring their skills to bear in this particular field of expertise. The event is held every two years at a different location, organised and presented by the Doemens Academy, From among more than 6,000 beer sommeliers trained by Doemens and their partners worldwide, 82 beer sommeliers from 18 different countries participated in these championships this year. Former world champions are Karl Schiffner (Austria) in 2009, Sebastian Priller (Germany) in 2011, Oliver Wesseloh (Germany) in 2013, Simonmattía Riva (Italy) in 2015, Stephan Hilbrandt (Germany) in 2017 and Elisa Raus (Germany) in 2019. Maybe this year we could add the Netherlands to that list?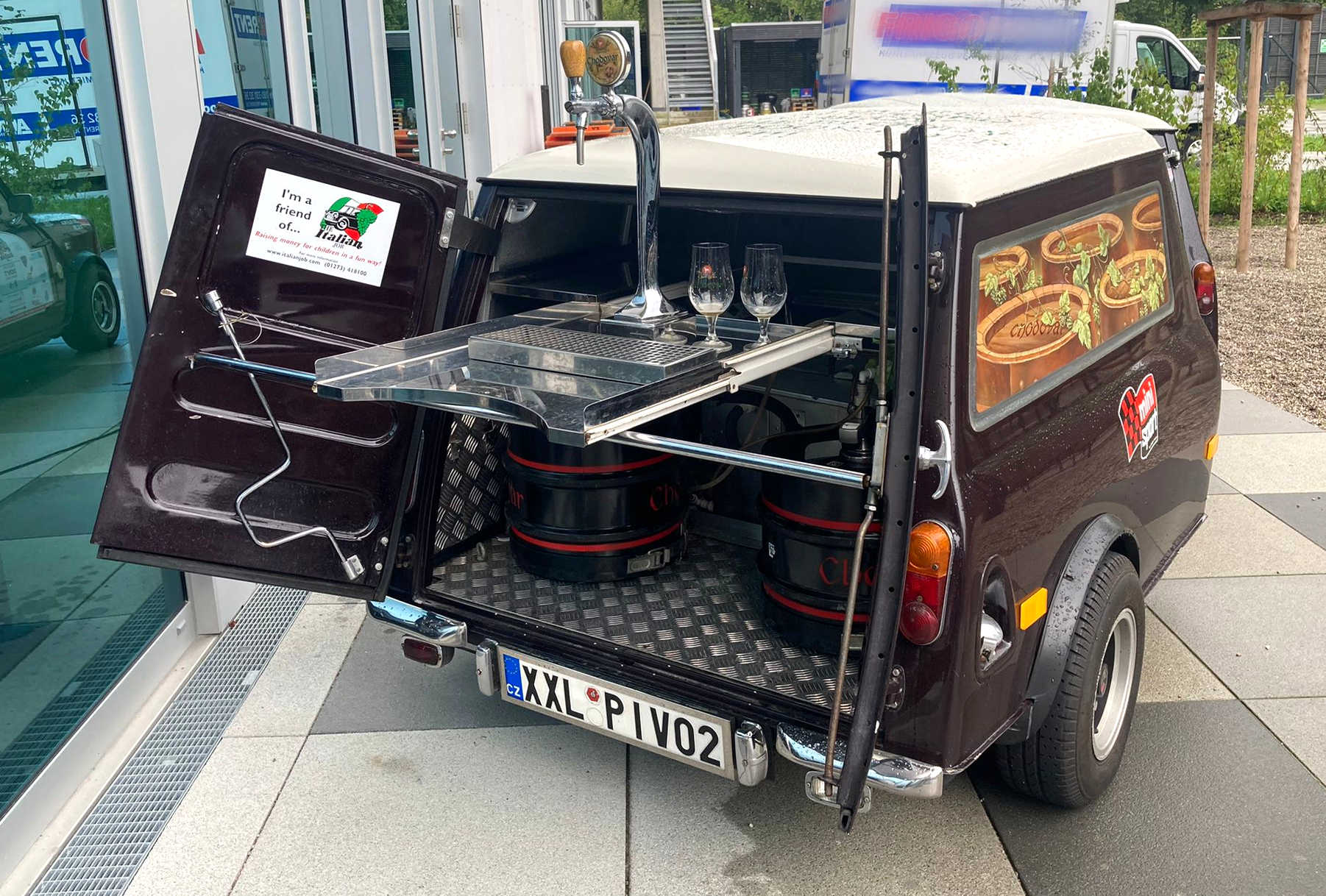 The event started off on Saturday night with an opening speech and the presentation of the teams, followed by dinner at the Doemens Academy. A couple of people were applauded for participating for the fifth(!) time this year, including Hugues Leroux-Kelly from Canada, still a team on his own, still going strong! Another significant participant this year was Lana Svitankova from Ukraine, also a single-woman team, who received a standing ovation. Other single person teams included the Czech Republic, Belgium and the US. But contrary to former competitions, Edu Villegas from Mexico was not alone this year, he brought a team of three this time!
So, 82 beer sommeliers from 18 countries from around the world, the countries I did not mention before being Brazil, France, Italy, Paraguay, Portugal, South Korea, Spain, Switzerland, Venezuela and of course Austria and Germany.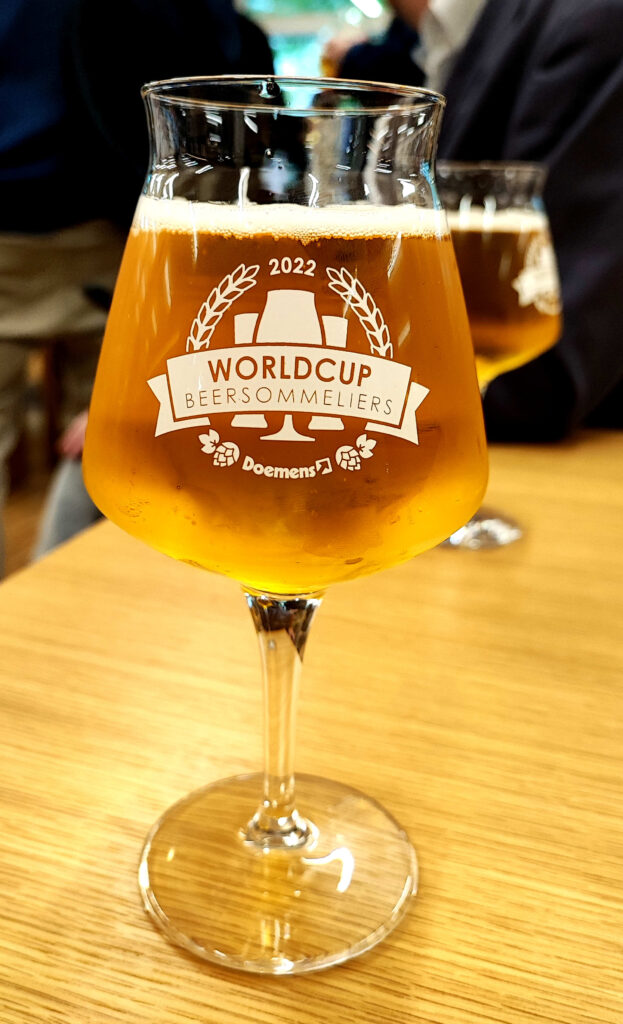 Compared to Rimini this first evening was quite sober, but a good chance to reconnect with other beer sommeliers nonetheless. You could feel all the excitement and nerves across the room though and most people went to bed quite early, for the next day would be early and intense.
To qualify for this competition, most countries had their own National Championships, like we had in the Netherlands. Others could apply individually for participation in the World Cup. Like last time, the qualifying rounds were from 9 to 12 behind closed doors and were similar to those of the Dutch Championships. The participants had to blindly recognise ten beer types, followed by a multiple choice test about beer theory and then they had to blindly recognise ten off flavours. For the tastings the participants received a list of 30 possibilities out of over 120 defined beer types and over 90 defined off flavours.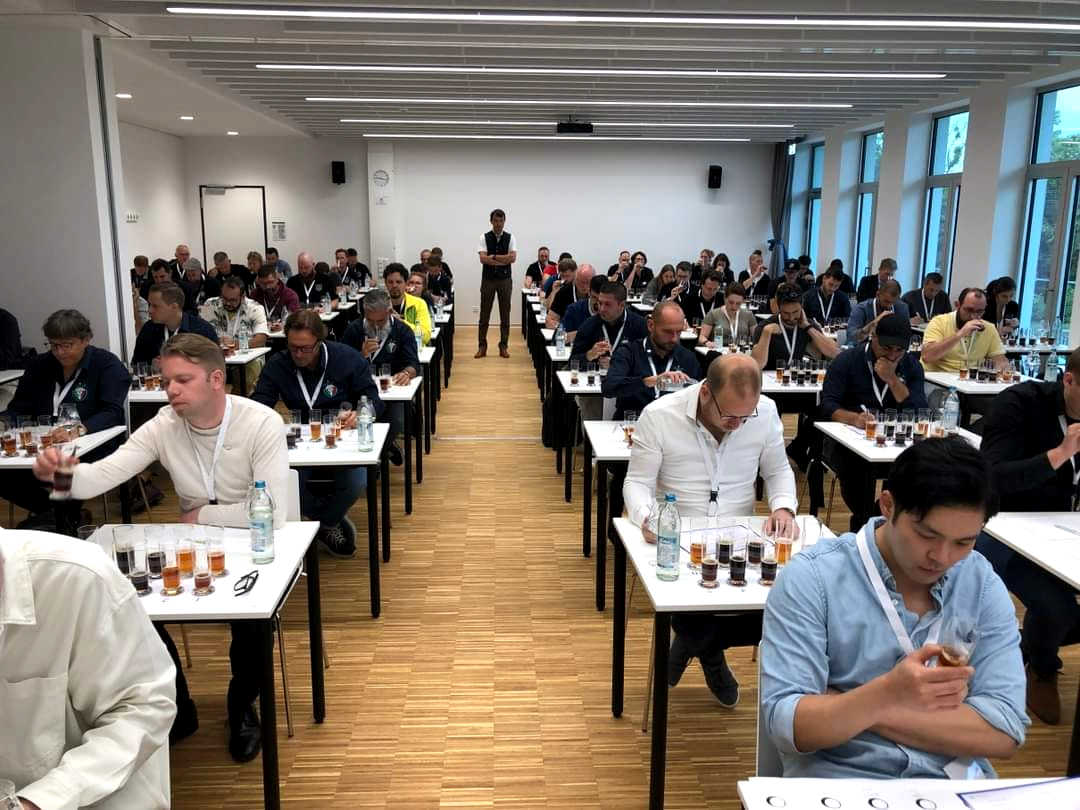 At 12 all the guests could join the participants again for lunch while awaiting the announcement of the finalists. This year there were no semi-finals, instead eight (or well nine) participants would be placed straight for the finale.
The selection of the finalists was a bit different than usual. The first five spots were for the five best beer sommeliers overall, based on the scores of the two tasting rounds. Only in a tie would the theoretical test be taken into account as well. The next three spots were for the best candidates in three non-German languages; English, Portuguese and Italian.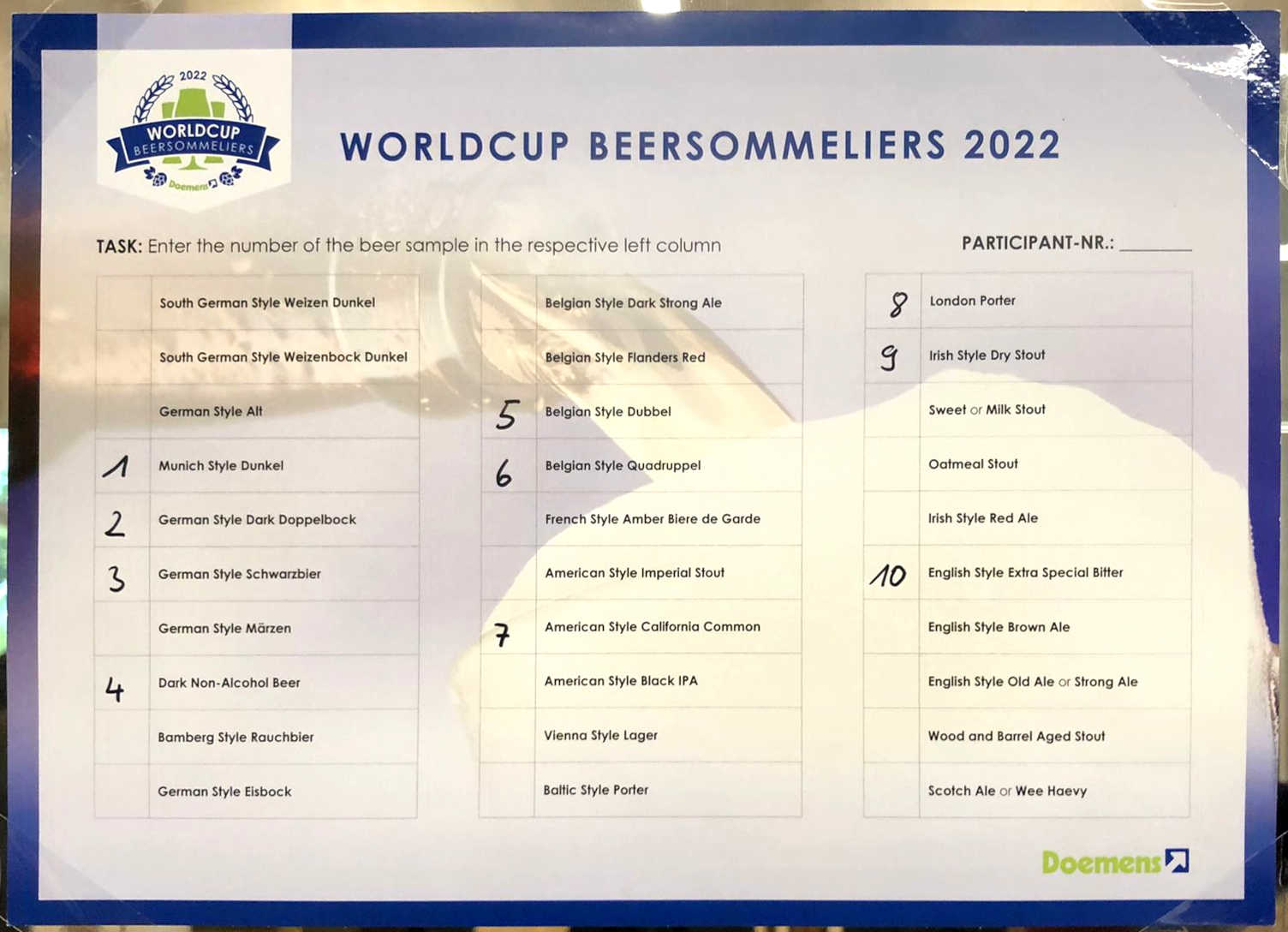 During lunch the answers were shared (see above) and after comparing these to the answers of the Dutch participants it was… actually looking pretty good for the Dutch team. With such scores the top ten definitely seemed a possibility. There was even a realistic chance at least one of our team would be in the top five. So, maybe? Of course the tension at the table went through the roof…
And… and…. and….
drum roll….
AND THE DUTCH TEAM MADE IT TO THE FINALE! THEY DID IT! And that is not all! Not just one, but two!! of our Dutch competitors made it on stage! Léon Rodenburg and Hubert Hecker both were in the top ten and secured themselves a spot in the limelight!
WOOHOO! GO DUTCHIES!
The other finalists were Lukas Porro (Switzerland) with a whopping score of 140 (he had 9 out of 10 off flavours right!), Oliver Klamminger (Austria) (remember he was one of our Austrian beer sommelier teachers?), Mareike Hasenbeck (Germany), Dr. Markus Fohr (Germany) (for the second time), Felix Schiffner (Austria), Giuliano Genoni (Switzerland) and Vitor Hugo Meirelles de Macedo (Portugal).

With three buses all 150 people (the participants and their guests) were brought to the Messe for the finale, where the finalists would have to present a beer. They would be judged on their sensory description of the beer and their background knowledge of the beer, like the type, history, culture and/or brewery. They would also be judged on their proposed beer food pairing and of course their stage presence and presentation skills overall. The finale was open to the general public, and among others Georg Schneider joined the audience, being the Präsident of Doemens. The organisation provided headsets for the public for translation purposes and there was a livestream via Facebook for everyone else at home and a separate stream for the announcement of the winners. The finalists would be judged by the following judges combined with a public vote: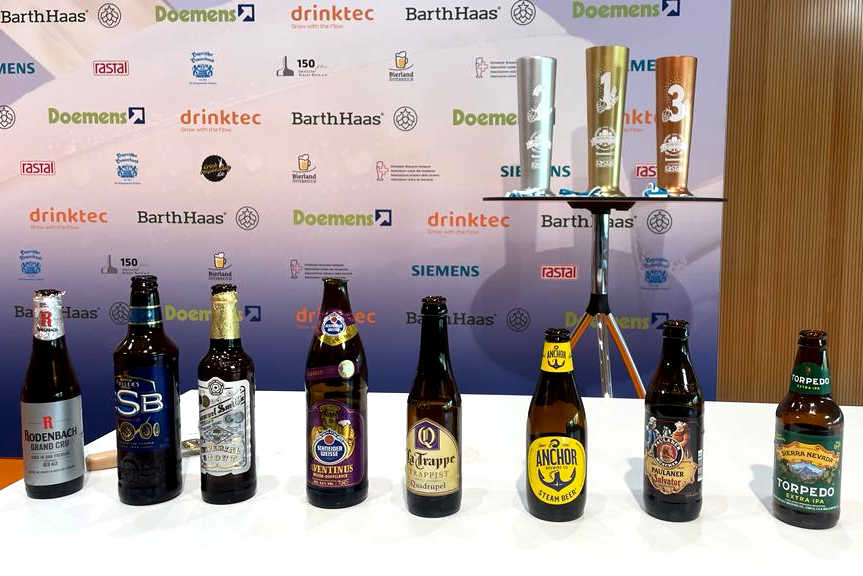 This year the finalists could not choose a beer out of three, instead they would draw a number to determine the order and would get a beer assigned based on that order. Both Dutch finalists had to present the same beer. As it turned out we all had a chance to drink the finale beers the night before at the dinner party, which was a nice twist of events.
Oliver was first with Rodenbach Grand Cru, Vitor second with Fuller's ESB, Léon and Hubert third and fourth with Samuel Smith's Imperial Stout, Felix fifth with Schneider Weisse Tap 6 Aventinus, Lukas sixth with La Trappe Quadrupel, Mareike seventh with Anchor Steam beer, Giuliano eighth with Paulaner Salvator and Markus last with Sierra Nevada Torpedo Extra. Again, just like last time, the presentations were impressive and they all shared excellent stories about their beers.
After the presentations everyone went to the foyer to drink a beer. It took the jury a nail-biting 45 minutes to come to a consensus about the winners and again, the chances for the Dutch finalists were looking good, or so we heard it on the grapevine. So with mild excitement and a healthy dose of nerves we streamed back into the hall at a quarter to six.
And and and…..
drum roll….

THE FIRST WINNER THAT WAS CALLED TO THE STAGE WAS LÉON RODENBURG!! He did it! He had won bronze in the World Cup Beer Sommeliers! Go Léon!
Next up was FELIX SCHIFFNER for silver and the winner of the World Cup was….. GIULIANO GENONI with a perfect beer – ambience pairing of Salvator and Jingle Bells! 😉
CONGRATULATIONS, YOU ALL!!!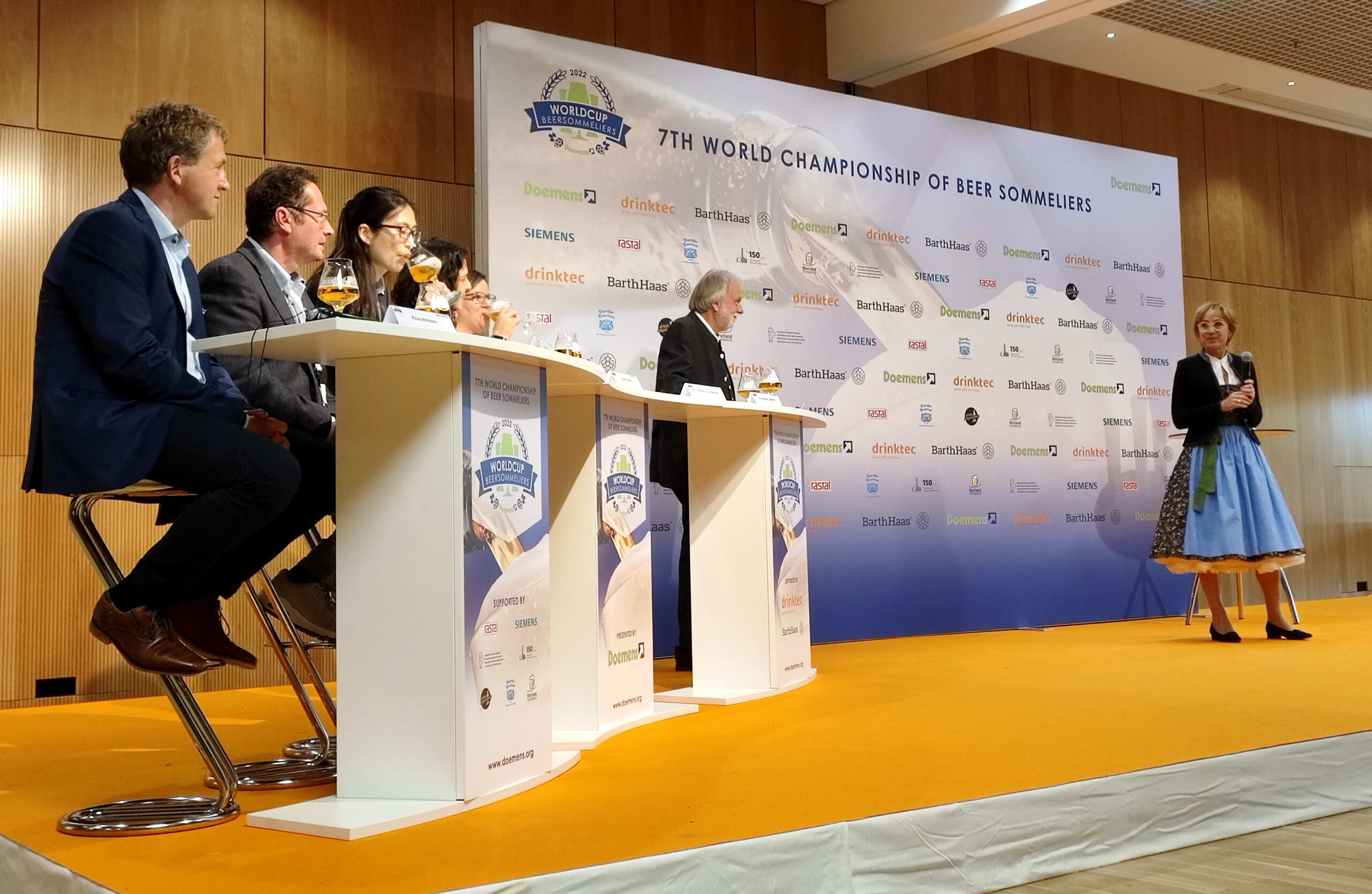 So screaming, singing and celebrating we all went back on the bus again to be driven to our final destination for a festive evening at the Hofbräukeller!
I am so proud of the Dutch team and their accomplishments! Not only did one of them win bronze and did they all score really well overall, they also showed so much dedication, sportmanship and companionship, and it really was the best team the Netherlands could hope for.
All in all it was again an awesome event and I am so glad I could experience it all again this year! I regret that I didn't really find the opportunity to talk properly again with Edu (Mexico), but I am sure we will meet again soon. I did meet Claudio Botelho who was very glad I wrote about the world championships last time, because it helped him prepare for the championships this year. The next World Cup could be in Switzerland in 2024. But first we will have the Dutch Cup in September 2023.
Will I see you there and will you participate this time as well?
I certainly hope so! 😀
Of course a lot has been published already about the Dutch victory! A small selection of the news articles about the championships: