Last Thursday I had the honour to be a judge for the Brabant's most tasty beer competition, Brabant being the most awesome province of the Netherlands. Seriously. Skip Amsterdam and Holland. Come to Brabant, we have it all! The most gorgeous nature, perfect bicycle paths, the best theme park (Efteling) in the world (better than Disney), all kinds of entertainment, lots of great museums, including preHistorisch Dorp Eindhoven, wonderful breweries, great pubs, gorgeous cities, the newest technologies, you name it, we have it. But back to the competition.
This competition is organised by three local newspapers; Brabants Dagblad, Eindhovens Dagblad and BN de Stem. But it couldn't have happened without the wonderful care of the volunteers of Bierbrouwerij de Roos. It's different from other competitions I talked about before, like the Dutch Beer Challenge, because in this competition we judged a variety of beers, not in categories of beerstyles, but all 53 of them on the criterium of tastiest beer. The beers range from low alcoholic pilsners to high alcoholic whisky infused stouts and everything inbetween and far out. The most interesting recipes passed the revue. You can find them all below this Dutch article: Brabants Lekkerste Bier.
The jury originally consisted of seven people, but unfortunately one couldn't make it in these corona times. The chairman was Madeleine van Toorenburg, a politician. The others were Martijn Broeders, a fellow biersommelier and owner of Bier Broeders, Remco Bekkers, a zytholoog and manager of a local beer pub, Gijs Hartman, De Bierhemel and Michael de Marco, a passionate beer lover. And yours truly of course.
The evening took place a Museum brewery De Roos, about which I'll tell you next time. The volunteers of the brewery took care of a perfectly organised evening. Chapeau for all their work!
In other times we would have shared a table, but alas, in these times we all had our own table. Not that it stopped us from discussing all the beers, the arguments getting louder as the evening progressed. Well, no. not really, despite all evidence, most of us didn't actually drink that much. Let me calculate that for you:
1 unit of alcohol = 10 grams of alcohol = a normal portion of alcohol, like a normal glas of pilsner, wine or liquor. We tested 53 beers. Of each beer I took one sip, maybe two when it got difficult, so say 80 sips. The alcoholic percentage ranged from 4 to 13, and the average was 7,9%. One sip is 10 ml, according to the interwebz. So I had 800 * 0,8 * 7,9 = 5 units of alcohol over 4 hours.
After the competition I had two more full beers of 6,5% from tap, so I added 500 * 0,8 * 6,5 = 2,6 units, which made it a total of 7,6 units over 5,5 hours.
You could add to the calculation the knowledge that your liver handles 1 unit per one and a half hours, but all the alcohol you add keeps running around through your body running amok until it's their turn in the liver, so I'll just stick to the 7,6 units of alcohol over 5,5 hours.
At the end of the evening three beers were deemed the tastiest and out of those we chose the most tasty of Brabant, of which all of you can read in the newspapers of September 12th.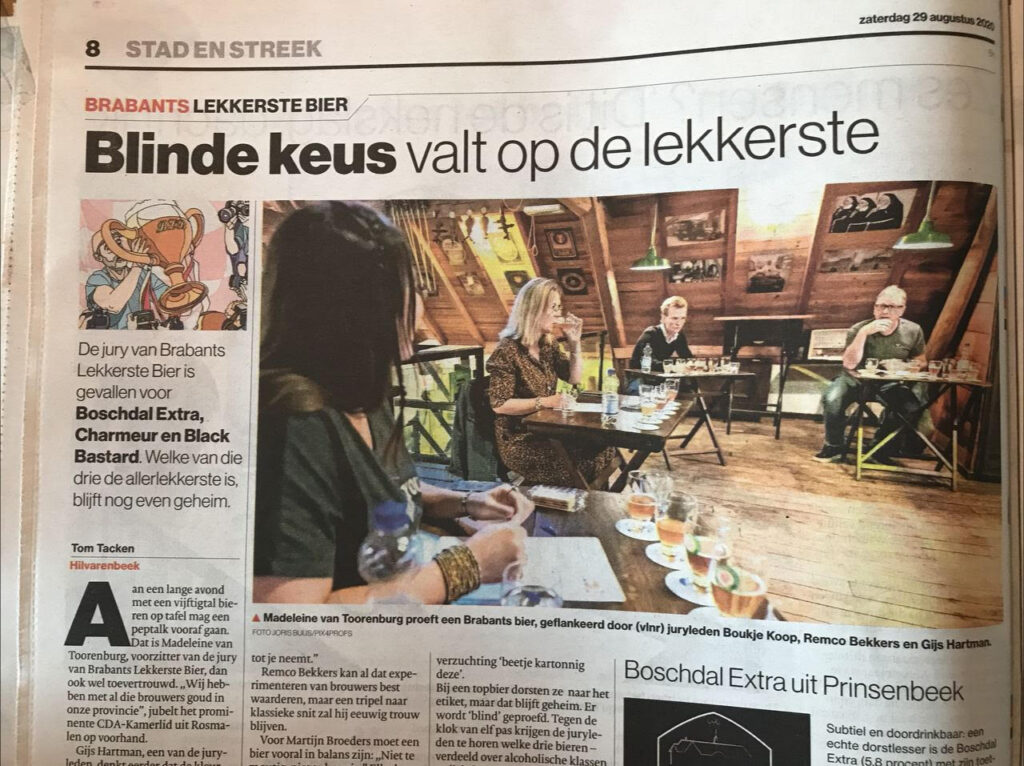 The three beers we deemed the tastiest were Boschdal Extra from Boschdal in Prinsenbeek, Charmeur from De Pimpelier in Budel-Schoot and the Black Bastard special edition from Muifelbrouwerij in Oss. You can read an article, in Dutch again, about that here: Welk bier wordt Brabants lekkerste?
Roughly translated: The judges of Brabant's tastiest beer chose Boschdal Extra, Charmeur and Black Bastard. Which of these three was the tastiest, will remain a secret for now. Madeleine began the long evening with a peptalk: "With all these brewers in this province we already have gold in our hands!" Gijs thinks his blood is probably yellow:"Don't pour, but enjoy" (which does not translate well AT ALL). Even though, the judges of this fifth competition, organised together with museum brewery De Roos, proved to be critical as well. Boukje recognised an infection as well as some stress on the yeast (can you call it stress, they were obviously very happy with the high temperatures, producing that candy like aroma we know as pear drups). Madeleine wonders how such a beer (I'm not going to tell you which one) can be sold. Of course there were also good things to tell about the beers and the only criterium was Tasty: Michael's first association with tast is a high alcohol one to sip at a cold winter night in front of the fireplace. Remco appreciates the experimental beers, but shall always prefer a good classical tripel. For Martijn a beer has to be balanced. Halfway the night Madeleine even tastes some typical Dutch cookie flavours, but unfortunately also a salami like beer was served. The judges really wanted to know what each beer was, but it was a blind tasting, so even the judges don't know which beer was which. Around eleven o'clock it's announced which three beers were the tastiest after which the judges had to discuss and choose the most tasty one. Who that was, you'll read in the newspapers of september 12th.
Which beer do you think was the tastiest of all?