I've been to Düsseldorf several times and no doubt I will visit the city again in the future. It's one of my most favorite beer cities! It was mentioned once in an episode of Anthony Bourdain when he visited Cologne and that says something about Düsseldorfian and Colognian beer cultures: These are connected (hides under a table).
Supposedly Düsseldorf and Cologne have a longstanding 'feud' and one of the subjects is the beer: Cologne's Kölsch versus Düsseldorf's Altbier. Düsseldorf is a city where you can feel and experience how almost every German city, or at least region has its own beer culture. Düsseldorf is about a one hour drive from Eindhoven, or two hours by train (which will be better in the distant future).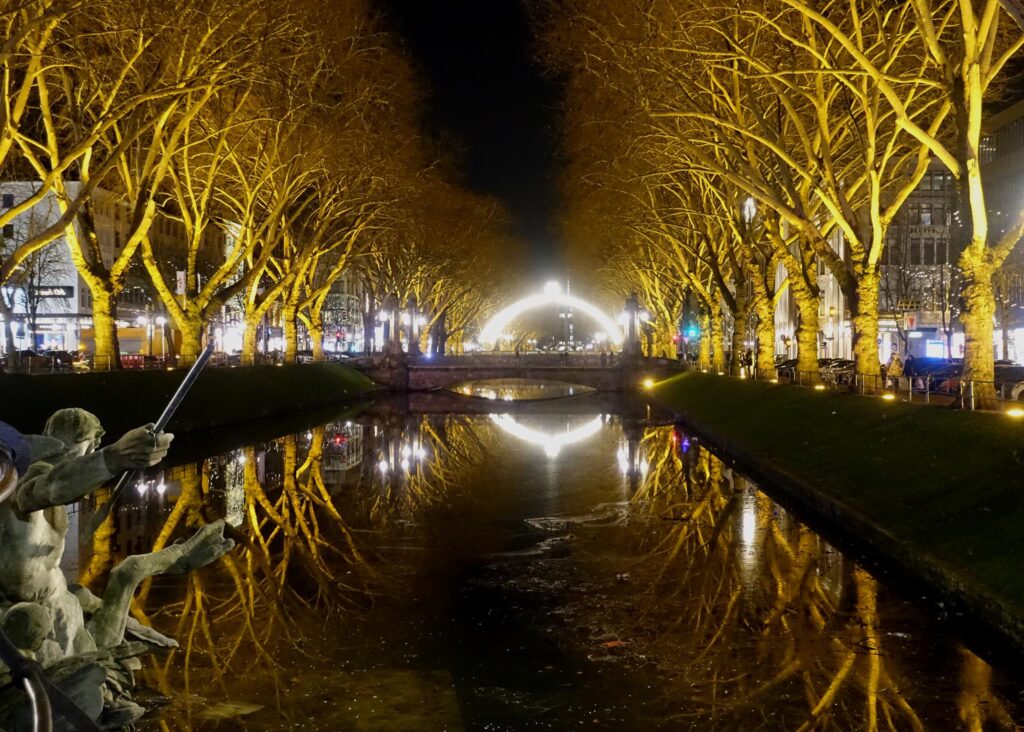 Düsseldorf is all about the Altbier. Altbier is a darkish beer and it is called an alt because it's following an older recipe, one from before the paler ales and from far before the pilsner revolution. Therefore it is a top fermented ale. it's aged or lagered on a temperature near freezing point though, which makes it a fruity, complex ale, with the clean and crisp finish of a lager. In contrary to the English, who tend to go all the way when they want to do something of old, including using old equipment, the Germans tend to use new and very high tech equipment for their beers, also for the ones based on older recipes, like the Altbier. An alt is mostly on the darker side, not Stout dark, but generally darker than amber. The flavours ranges between quite bitter (up to 50 IBU) and sweet and malty, but never with the sticky, sugary mouthfeel, like most Belgian beers, but the crispy mouthfeel of a lager and it has the fruity aromas you get from top fermentation. Alt is full bodied and brewed with the infusion method, which means a multiple level mashing on several different temperatures.
Nordrhein-Westfalen, the region from Bonn to Bielefeld is also known for a special breed of waiters, the Köbes, who have a reputation of being harsh. As promised before, I will get back more indept to the Köbes, but not today. I'm still making my way through the book: Der Köbes, ein Eheinisches original by Jens Prüss.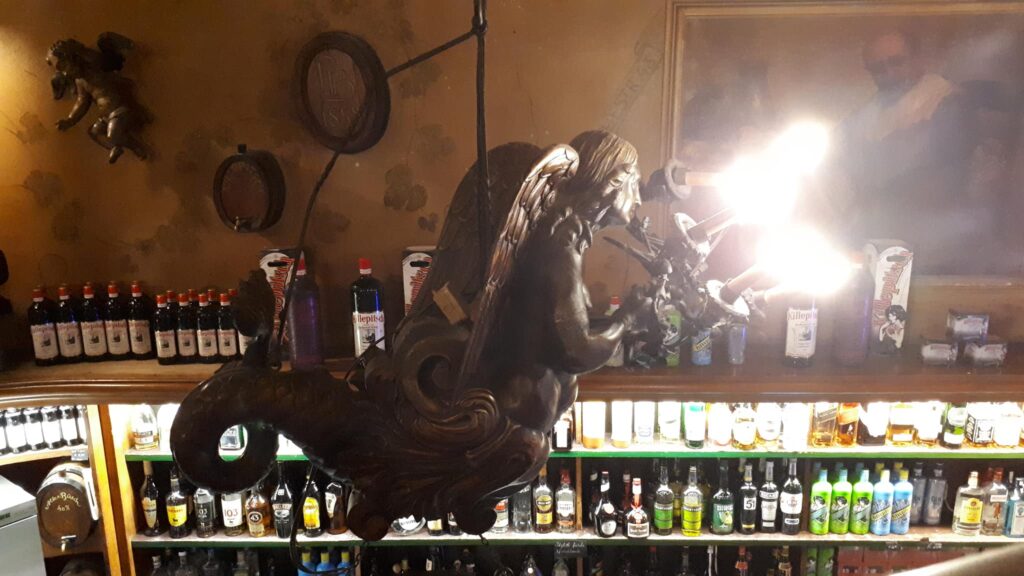 There are several Altbreweries in Düsseldorf, e.g. Schumacher, Uerige, Zum Schlüssel, Kürzer, Fuchsen, Gulasch and Joh. Albrecht. There is also Olbermann, which is under construction at the moment and it is not sure yet if they will brew altbier as well. I visited all of them at least once during my visits to Düsseldorf and I have drank all the different Altbiere at least once as well. I also tried other Altbiere, like Frankenheim, but neither Frankenheim nor Schlösser are in/from Düsseldorf anymore, although Frankheim still has a bar on their old location. Schlösser became a club. Similarily I don't mention Bolton in this list, because they are based outside Düsseldorf. Interestingly enough, so is Diebels (Issum), which is apparently an internationally well-known altbier, according to wiki. But this is about Düsseldorf. I like Schumacher Alt and Kürzer Alt the best. Schumacher seems to be the standard for altbier. Uerige is more bitter than the others, where Zum Schlüssel is the least bitter. Kürzer has more pronounced burned notes. My experience with Füchsen wasn't particularly good. Uerige might have the most gorgeous drinking establishment of them all though, based in Düsseldorf's famous row of connected bars. Düsseldorf supposedly has the longest row of connected bars in the world! Or at least in the vicinity. Well, I can say it is a very long chain of bars, consisting of several connected streets and almost all establishments have a large outside area, where a lot of the drinking seems to take place at any given time, so it's certainly the most festive of neighbourhoods. You can find it, and most of the Altbier drinking establishments in the city, in the Altstadt of Düsseldorf, between the Rhine and Stadtmitte. Although I mostly visit Düsseldorf for the beers, I cannot not mention the Killepitschstube, which you can also find in this part of town, where you can get liquor 'from the wall'. The stube is very cute and small on the inside, but most people stay out and drink their Killepitsch on the Flingerstraße. Of course, for the people who don't come for the beer, apparently Düsseldorf also has a reputation regarding its shopping facilities with all the major expensive brands on the Königsallee, but I cannot tell you anything about that. I have been to the Christmas market though, which is spread all over town in 5 or 6 themed areas and is very cosy. Certainly worth a visit in better times.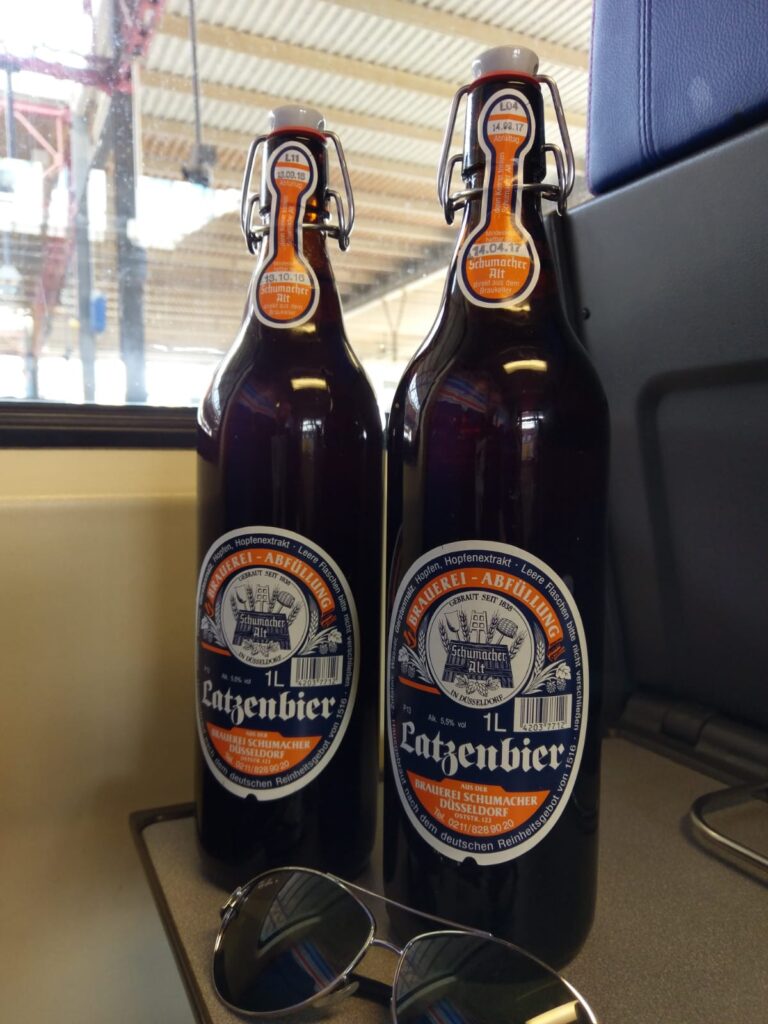 As for the Altbier, I'm especially partial to Schumacher. I have been to their (in)famous Latzentag. Latzentag is the day where Latzenbier is available, which is certainly ground for a party, which takes place thrice a year on the third Thursdays in March, September and November. The story is that Latzenbier was the special beer that stood on the Latt (shelf), only for special guests and good friends. It's stronger than the normal Alt, with a alcohol percentage of 5,5%, and has a fuller taste. If you want to visit Latzentag, be sure to be there early. There's always a line and full is full. We had the honour of being on the guestlist last time, so we could get in either way. Or well, in, we had a spot outside. When you visit Latzentag, you have to make a choice: inside or outside. That's where you stay the whole party. Next to the special beer there's always live music and a lot of dancing and drinking.
Schumacher also has a special version, their Schumacher 1838 (achtunddreißiger). This is a special recipe from braumeister Sascha Brunow. 1838 is the year the brewery was established. It's a top fermented beer, where the main fermentation takes place on a temperature of 20 degrees for three days. The beer is just filtered lightly, so it keeps its fuller mouthfeel and a good foam stability, but because of that the expiration time on the label is only one or two months, because after the chances are the beer will become hazy again because of the proteins, although the beer is still drinkable and tasty. It also has more aroma hops than their standard Alt. The beer was first brewed in 2013 because of the 175th anniversary celebration and is best drunk fresh when you are in Düsseldorf. But did you know you can also get it from the tap in Eindhoven at the Drinkers Pub?
Have you ever had an Altbier and which one did you like best?